Description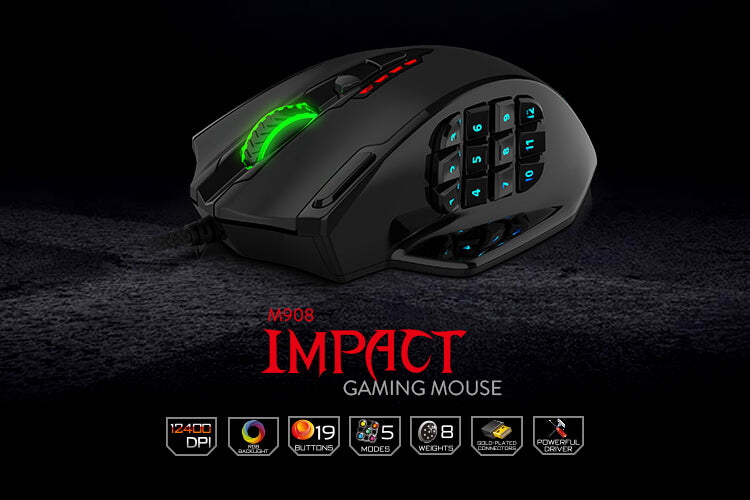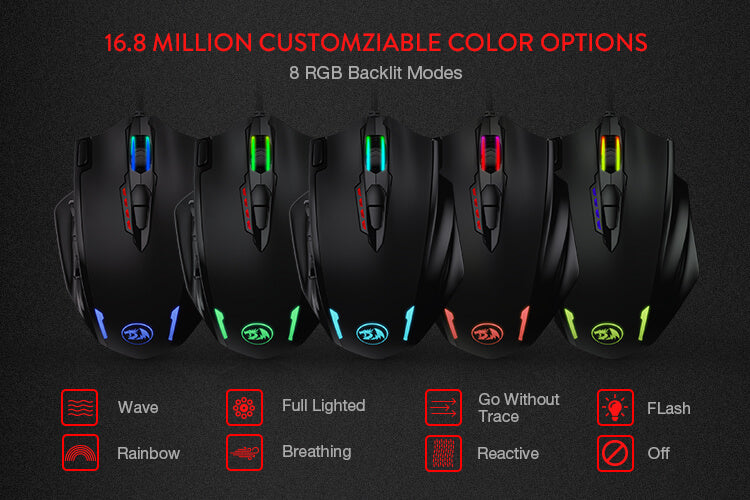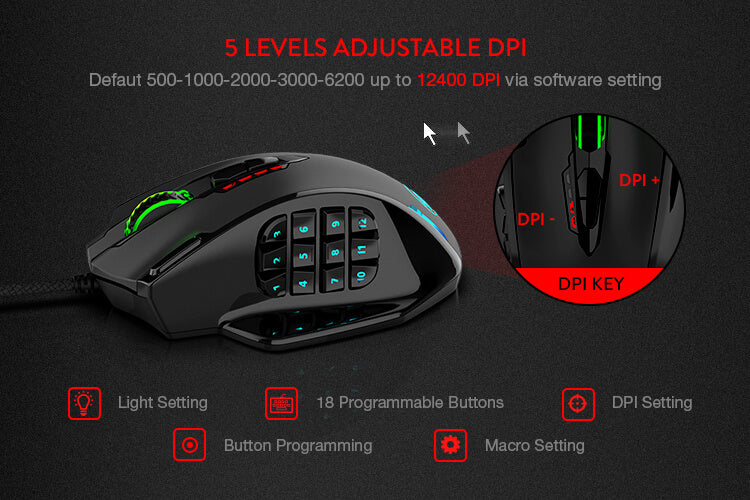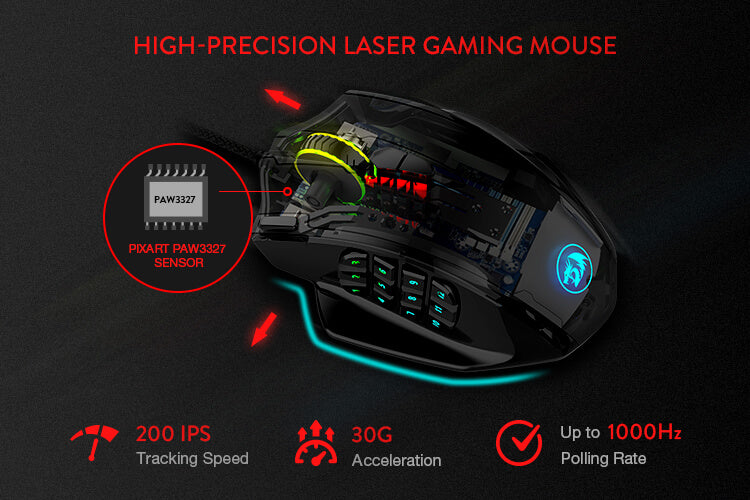 Reviews
Reviews
I first learned of Red Dragon from a Linus Tech Tips video where he went over the top budget mice/keyboards, and Red Dragon came up. I bought their 12 dollar mouse and was so impressed with the quality that when their newest MMO Mouse came out (The Impact) I had to get it. It came up as a lightning deal and I'll tell you, I would pay full price for it.
I am constantly impressed with the quality that Red Dragon can manage for a price that would communicate otherwise. The Impact is a great MMO mouse that fits my needs and with a price point that no other mouse in this price bracket can even touch. Red Dragon may not have the brand recognition of other companies like SteelSeries, Razor, or Logitech, they still hold their own in this crowded market.
Pros: The addressable RGB is done tastefully, the logo on the mouse, plus scroll wheel and the side buttons light up with several different options of illumination.
The DPI setting gives you four different modes, that light up to tell you which one is on.
The size is great, it's smooth on the sides, with more grip on the top.
The included weights are great, and allow you to customize the weight of your mouse.
Braided cable is a great touch as well for a mouse in this price range.
Comfortable grip as well (I have big hands so this is nice)
Cons: Not many but here they are
Software: It was a little bit of a pain to find the software to download which allows you to change the settings on the mouse. I wish a link or something was included in the box it came in.
Size: okay I have big hands so this isn't an issue for me, but if you have smaller hands, this mouse will seem huge to you. It has 12 buttons on the side, plus your usual top two, plus a sniper/auto fire button to the left of the left mouse button. All these buttons are great, but if you have smaller hands you may struggle a little.
(remember it's called an MMO mouse for a reason)
All in all this is the third Red Dragon product I've purchased (I'm typing this review on their Red LED Kumara mechanical keyboard) If you haven't purchased from them you should. My friends are constantly impressed with the quality of their products versus the cost. Buy this mouse if you are in the market for a good solid MMO gaming mouse.
And if this isn't your style, they have TONS more to choose from.
Ok so i got this mouse because i was looking for something I that i could play pc games that required a lot of keybinds. I wasnt sure what to expect exactly. I mean it is a budget mouse. So the mouse arrived within two days which i was surprised to see. I opened it up and the mouse looked amazing. picking it up feels even better. I was expecting t to not fit my hand right because its so big and my hand is the opposite but it fit like a charm. it has a very comftorable coated plastic on the top of it, and it feels very good on your hands. the RGB's are also amazing with a wide variety of colors to change from, and customizable options too. The buttons everywhere except the side have a VERY nice click feel and sound to them. The mouse also has a comftorable thumb rest which is VERY convienent, and it has pinky and ring finger support which is very nice. moving the sides of the mouse. It definetly has a cheaper plastic that gains more fngerprints, but personally i dont mind. The 12 side buttons are harder to click than the top and require more force, while the top buttons require minimal force to click them. All in all, i would reccomend this mouse to someone looking for a nice budget quality mouse!
The mouse came in a sturdy plastic box with a snap seal on each side, making it resealable for transport if needed.
Pros:
The mouse has a good shape to rest your hand on for long usage. The attached cord is rather long at almost 6 feet. RGB lighting is customizable with the Red Dragon Software. It has the typical solid color pattern as well as several other patterned lighting effects such as breathing and wave patterns. DPI settings are very customizable with multiple cycles of usage. This is done by presetting the DPI profiles using the software and can be changed by using the top buttons below the scroll wheel. Also this mouse has a rapid fire button next to the left click mouse button. The mouse has 12 hotkey buttons on the left side of the mouse that are programmable with the software. These buttons are slightly tilted the opposite direction for each row. This makes it a lot easier to tell which button you are pushing without needing to look at it.
Cons:
Not so much of a con ... the mouse has a covered compartment on the button of the mouse to put in or remove weights which is a nice extra feature most mice don't have, however I would have liked it to be a bit heavier with all of the weights added.
Overall I particularly enjoy the mouse.
Download