Description
SLEEK DESIGN FOR GAMING GLORY
Embrace the sleek and transparent design that sets this keyboard apart from the rest. A true masterpiece, the K617 SE is crafted with transparent materials, from the keycaps to the switches and even the whole board, creating a mesmerizing and futuristic look on your desktop. Allow the glorious light to shine through at its maximum brilliance, enhancing your gaming experience to new heights.
CUSTOM LINEAR SWITCH AND DEDICATED FPS FEATURES
Equipped with custom linear switches, each keystroke is smooth, precise, and incredibly responsive, providing an edge in fast-paced FPS games. The 61 keys' compact layout ensures quick access to all your essential commands without the clutter of a full-sized keyboard.
VIBRANT RGB BACKLIGHTING
Take control of your gaming ambiance with the K617 SE's vibrant RGB backlighting. Choose from an array of up to 20 presets backlighting modes, each one adding a unique flair to your setup. Adjust the brightness and flowing speed on the keyboard itself, tailoring the lighting to your preferences.
PRO SOFTWARE CUSTOMIZATION
Design your own backlighting modes and effects to make your setup truly one-of-a-kind. Create macros with different keybindings or shortcuts for seamless execution of complex commands, enhancing both your work efficiency and gaming prowess. The K617 SE empowers you to make your mark on the gaming world and express your unique style.
Choose the keyboard switch that's right for you
Purple
Mint Lemon
Transparent
Gold-Melt
Bean
Rose
Maple
Cypress
Carnation
Stars
Neon
Parrot
Wukong
Silver
Peach
Lime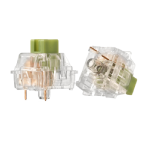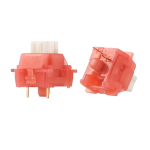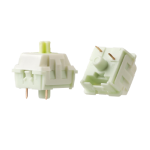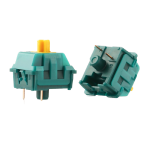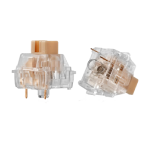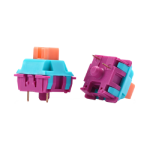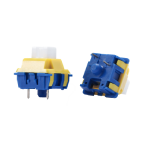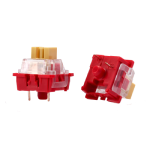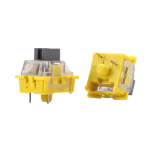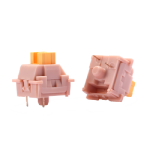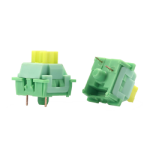 Operation Style
Tactile
Linear
Linear
Linear
Linear
Linear
Linear
Tactile
Tactile
Tactile
Linear
Clicky
Tactile
Linear
Linear
Tactile
Operating Force
35±10gf
37±5gf
42±5gf
42±15gf
35±5gf
40±10gf
45±10gf
50±10gf
45±5gf
40±10gf
40±5gf
40±10gf
40±10gf
35gf
40±10gf
35±10gf
Actuation Point
1.8mm
1.8mm
1.5mm
1.3mm
2.0mm
2.0mm
2.0mm
2.0mm
2.0mm
2.0mm
2.0mm
2.0mm
2.0mm
2.0mm
2.0mm
2.0mm
Total Travel Distance
3.3mm
3.8mm
3.6mm
3.5mm±0.4mm
4.0mm±0.3mm
3.6mm
3.5mm±0.4mm
3.5mm±0.4mm
4.0mm±0.3mm
3.2mm
4.0mm±0.4mm
4.0mm±0.4mm
3.3mm
4.0mm
3.3mm
3.3mm
Life Span (Keystrokes)
50 million
50 million
50 million
50 million
50 million
50 million
50 million
50 million
50 million
50 million
80 million
50 million
50 million
50 million
50 million
50 million
Sound Level
Soft
Soft
Gentle
Quiet
Soft
Slient
Soft
Clicky
Clicky
Slient
Gentle
Clicky
Gentle
Quiet
Slient
Slient
Suitable For
Office/Gaming
Office/Gaming
Office/Gaming
Office/Gaming
Office/Gaming
Office
Office/Gaming
Office/Gaming
Office/Gaming
Office
Office/Gaming
Typist
Office
Office/Gaming
Office
Office
Specifications
Features
Ultra-Portable
Custom Linear Switch
 Translucent Board
Pro Keyboard with Pro Driver
Design
USB Connector
Detachable Type-C Cable
Keyboard Size
11.5*3.9*1.4 inches
Keyboard Connectivity
Wired
Matrix
61 Keys (Full Rollover)
Package Included
1 x Redragon K617 SE Wired Keyboard
1 x Detachable USB Type-C Cable
1 x Keycap & Switch Puller
Spare Switches
1 x User Manual
Compare with other Redragon keyboards here.
Reviews
Reviews
Super Solid Keyboard
I love this keyboard! It's super comfortable to type on and sounds great out of the box! The RGB is awesome to, especially with the Redragon software to customize it! I recommend it for either gaming OR typing!
Obvious that i love,, this keyboard
it's wired, prelubed transparent switches, and lots of rgb to choose from ~
A great transparent keyboard
Recently I received the FIZZ K617 SE Full-Transparent Mechanical Keyboard white edition. Ive had it for a little over a week and its been my daily driver for that time. Personnally ive really enjoyed using it so far.
Pros and cons
Starting off with pros, Its a generally great keyboard. All aspects of it I like and there really isn't much I can find fault with.
Only con I can think of is the flip out feet are maybe a bit cheap feeling.
What's in the box?
Upon opening the box i was graced with a plethora of items. First off we had the keyboard itself in perfect condition after its journey to my base. In the box was also a white cable which connects via USB-C on the left side of the keyboard, a keycap puller plus extra switches, which is always nice to see, and a manual along with some stickers, which is always a nice touch for gaming companies.
Build Quality
As touched on in the first point the build quality is great. all from the switches to the keycaps and casing. The only thing that i would critique is the flip out feet as they do feel somewhat cheap. The weight of the keyboard is nice as it also helps the feet allow to not move around even when I'm using it more intensely.
Sound Quality
The sound quality on the board is very nice. Its a somewhat creamy sounding and even the spacebar which is the hardest key to make sound good sounds amazing. Im sure with some time if you so desired you could lube the switches and it would fix up the sometimes a little more rough sounding keys. But others its completely great sounding and I see no reason to go out of your way to improve it.
Lighting
The lighting on this bored is incredible. With the transparent keys I can see the light from the keyboard splashing onto the ceiling in the night from the street across my yard. Sometimes it can be a bit bright and harsh on the eyes but it can be turned down and is otherwise some amazing lighting.
Software
The software works as expected and is in the same style as all the other redragon software but what I did enjoy was I can now set different colors for each key and there were more color options than some of the older redragon keyboards like the Shiva.
Pricing
The keyboard costs $49.99 USD and I believe for the quality of the build it is a great price to pay. many keyboards cost the same or more but dont have the same lighting quality, software, or great sound.
Final Thoughts
Concluding this I thing this is a very great keyboard. Only thing that may throw some people off is the transparency of the keyboard yet you can still read the keys very well. I'm looking forward to continuing to use this keyboard!
It sounds really great, and its very nice to type on! I'm really liking it so far
This is a 60% wired, fully transparent budget keyboard, and I'm honestly really impressed with the quality of the board AND the sound! It's a super lightweight, hot-swap board with linear switches, and software to completely customize the RGB!
Download