Description
Bluetooth/2.4Ghz/Wired Tri-Mode Connection 
Introducing Redragon's state-of-the-art 1st-Gen 3-mode connection technology, featuring USB-C wired, BT 3.0/5.0 & 2.4Ghz wireless modes, for an unparalleled user experience in all aspects.
HOT-SWAP Low-Profile
The transformative innovation with 100% low profile switches compatible with free-mod hot swappable Redragon K632 PRO low profile keyboard. The unique exclusive structure design of the socket makes the switch mounting easier and less wobbling.
60% Wireless RGB Mechanical Keyboard 
The standard 60% compact layout with a 14.8 oz lightweight combo, makes it a perfect fit for on-the-go use. Save your luggage space and weight, terrifically suitable with portable laptops.
30% Cutted Ultra-Thin
The low profile is designed throughout the whole keyboard from the bottom board, middle low-profile red switches (actuation force: 40g), and the top keycaps aim to shorten the distance to actuation as much as possible.
More Extra Practical 
Set with 4*4 on-the-fly macro keys and a dedicated function area for media control. Convenient to rec frequently used macros without software, play the next song, or just scroll for volume adjustment.
Choose the keyboard switch that's right for you
Low Profile Red
Low Profile Blue
Low Profile Brown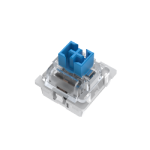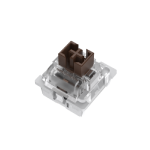 Operation Style
Linear
Tactile
Tactile
Operating Force
45±10gf
55±10gf
45±10gf
Actuation Point
1.2mm
1.2mm
1.2mm
Total Travel Distance
3.0mm
3.0mm
3.0mm
Life Span (Keystrokes)
50 million
50 million
50 million
Sound Level
Quiet
Clicky
Soft
Suitable For
Office/Gaming
Typist
Office/Gaming
Specifications
Features
Bluetooth/2.4Ghz/Wired Tri-Mode
Low Profile Linear & Quiet Red Switches
Double-Shot Keycaps for Fast & Accurate Actuation
Professional Software
RGB Backlit
Dedicated Media Control
HOT-SWAP Low-Profile
Design
Switches
Low Profile Red Switches
Keyboard Connectivity
Wired/BT/2.4Ghz
Matrix
61 Keys (Full Rollover)
Package Included
1 x Redragon K632 PRO gaming keyboard
1 x Detachable USB Type-C Cable
1 x User Manual
Compare with other Redragon keyboards here.
Reviews
Reviews
awesome little keyboard. i bought this for my home PC, got the DITI for my gaming laptop and a vishnu for my office. i like this one because of it being low profile and i dont need a wrist wrest over top of my full desk mouse pad.
Great keyboard
Love the red switches
Rgb is great but the top buttons for Media don't light up this is odd.
The software for PC needs a lot of work
Will buy again
This is the Noctis K632 PRO mechanical keyboard from @redragon_usa that they kindly sent me and I'm enjoying it! I like that it's hot-swappable and low profile! It's such a great gaming keyboard if your looking for something easy, that doesn't take up a lot of space, and has RGB lights! Some other features include:
3-mode connection technology, featuring USB-C wired, BT 3.0/5.0 & 2.4Ghz wireless modes
60% compact layout with a 14.8 oz lightweight combo
Red Switches
Download