Description
60% Layout In Wired
Brand New Redragon 60% design in wired-only mode due to popular demand. 61 anti-ghosting keys for ultra-compact and minimalistic design. Frees up precious desk space for less clutter.
Vibrant RGB
Up to 13 presets backlighting modes are free to choose by the keyboard itself. Brightness and flowing speed are also adjustable on board. Select your own preferred modes for any playing.
Dedicated for FPS Gamer
Place the keyboard properly straight on your desktop and a no more crooked way for mouse space-saving, your mouse will never hit the keyboard anymore. Enjoy waving the mouse without any worries and go get that Team Kills.
Hot-Swappable Switches
Blue Switches: Distinctive tactile blue switch offers fantastic audile typing feedback. Brown Switches: Tactile brown switches provide a soft bump but no click. Red Swtiches: Most quiet mechanical switch, linear and soft key travel makes every click easy to register. Hot-swappable with other Redragon switches. Made to last with switches rated for 50 million keypresses.
New Blue-Magnetic Switches
Highly sensitive and long-lasting with a lifespan of 80 million keypresses, triggering each key accurately without excessive effort and keep you worry-free about the lifespan of the keyboard.
Pro Software Customizable
Expand your options using the available software to design your own new modes and effects found on Redragonshop. Macros with different keybindings or shortcuts for more efficient work and gaming.
Choose the keyboard switch that's right for you
Outemu Red
Outemu Blue
Outemu Brown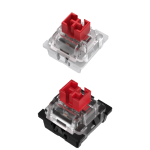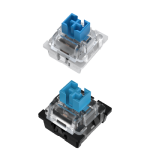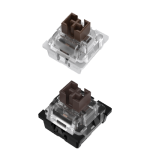 Operation Style
Linear
Clicky
Tactile
Operating Force
40g
60g
55g
Actuation Point
2.0mm
2.3mm
2.0mm
Total Travel Distance
4.0mm
4.0mm
4.0mm
Life Span (Keystrokes)
50 million
50 million
50 million
Sound Level
Quiet
Clicky
Gentle
Suitable For
Office/Gaming
Typist
Midway (Office/Gaming)
Specifications
Features
L shaped type C cable
Ultra-Portable
No-Slip Stand
60% Layout In Wired
Pro Keyboard with Pro Driver
No Worries about the Connection
Design
USB Connector
Detachable Type-C Cable
Keyboard Size
11.5*3.9*1.4 inches
Keyboard Connectivity
Wired
Matrix
61 Keys (Full Rollover)
Package Included
1 x Redragon K630 Wired Keyboard
1 x Detachable USB Type-C Cable
1 x User Manual
Compare with other Redragon keyboards here.
Reviews
Reviews
DRAGONBORN K630 Wired 60% Keyboard
Awesome keyboard, fast response, low input lag, fast red linear switches.
PROS
+ Low input lag
+ Very reasonably priced
+ swappable mechanical switches
+ Chrome RGB
+ Fast response
+ Perfect for gaming and typing.
CONS
- noisy and non PBT keys.
FINAL VOTE 9
Better than a higround keyboard
I tried this keyboard and straight out the box it looked really sleek, the rgb was perfect and the stabilizers were not loud. It sounded perfect and I'm using it over my higround keyboard which costs over 2x the price.
Quality gaming on the go!
The Dragonborn K630 Wired 60% keyboard is a portable size to make sure you can bring a quality keyboard wherever you go. Big plus is that you can remove the cable completely making sure you can transport it in a safe way while preventing any damage to your cable. I've got the keyboard with red switches as these trigger directly which is great if you play games in which you need to have a fast response. Besides good performance the keyboard has beautiful backlights. Especially the pastel colored lights match perfectly with the white keycaps. They're easy to swap with the assigned hotkeys and I like that there is no seperate program needed in order to use this keyboard. All in all a perfect choice if you're looking for a keyboard that is portable, has good performance/quality AND has a nice aesthetic to it!
really like the tactile of this keybaord!!
One of the standout features of the K630 is its mechanical key switches. They provide a satisfying tactile feedback and a pleasant audible click with each keypress, making it a joy to type on. The keyboard is available in various switch options, allowing you to choose the one that suits your typing preferences best, whether you prefer a quieter typing experience or a more tactile response.
Download