Description
100% HOT-SWAPPABLE FOR PERSONALIZED GAMING EXPERIENCE & RED SWITCHES FOR QUIET TYPING EXPERIENCE
The Redragon K556 SE RGB Gaming Keyboard is equipped with a hot-swappable feature that allows you to change the switches as per your preference without having to replace the entire keyboard. Equipped with linear red switches that enable smooth and gentle keystrokes without any jams, these keyboard switches provide a flawless and quiet typing experience with satisfying click feedback.
ORIGINAL ALUMINUM BOARD
The K556 SE features a tank-solid aluminum metal board material covered with the classic brushed surface process. This not only gives the keyboard a premium feel, but it also keeps it steady and elegant on your desk. The aluminum construction also makes the keyboard durable and long-lasting, so you can enjoy it for years to come.
BLUE GRADIENT KEYCAPS
The K556 SE features a beautiful blue gradient color design with a shine-through font. This design makes the keyboard's RGB lighting effect even more dazzling and creates a vibrant gaming atmosphere. The keycaps are made from high-quality materials, ensuring they're durable and long-lasting.
VIBRANT RGB LIGHTING
With up to 18 preset backlighting modes to choose from, the K556 SE's RGB lighting is vibrant and eye-catching. You can adjust the brightness and flowing speed of the lighting directly on the keyboard, so you can select your preferred modes for any playing or working situation. Press FN+ Ins- PgDn to enter pro-gaming mode. You can also adjust their brightness with FN+"↑"and"↓".
PRO SOFTWARE SUPPORT
The K556 SE is supported by pro software that expands your options. With this software, you can design your own new modes and effects to suit your preferences. The software also lets you create macros with different keybindings or shortcuts for more efficient work and gaming.
Sound-absorbing Foam
Adding 3.5MM sound-absorbing foam between the PCB and positioning plate effectively reduces the noise created by the shrapnel spring, significantly improving the keyboard's sound performance, and delivering pure auditory pleasure and the ultimate smooth typing & gaming experience.
Choose the keyboard switch that's right for you
Outemu Red
Outemu Blue
Outemu Brown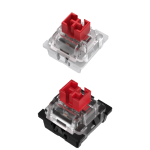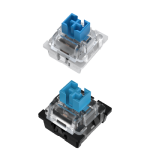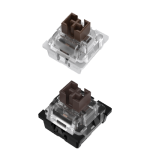 Operation Style
Linear
Clicky
Tactile
Operating Force
40g
60g
55g
Actuation Point
2.0mm
2.3mm
2.0mm
Total Travel Distance
4.0mm
4.0mm
4.0mm
Life Span (Keystrokes)
50 million
50 million
50 million
Sound Level
Quiet
Clicky
Gentle
Suitable For
Office/Gaming
Typist
Midway (Office/Gaming)
Specifications
Features
Aluminum Base
Fully Anodized Aluminum Frame Brushed
3.5mm Sound Absorbing Foams
16.8 million colors backlit with 18 backlight models
Hot-Swap Linear Quiet Red Switch
Blue Gradient Keycaps
Pro Software Supported
RGB LED Backlit Keyboard
Design
Switches
Outemu Red switches
Keyboard Connectivity
Wired
Package Included
1 x Redragon K556 SE Keyboard
1 x User Manual
1 x Detachable USB Type-C Cable
1 x Keycap Puller
8 x Spared Switches
Compare with other Redragon keyboards here.
Reviews
Reviews
A solid competitor
Overall quality and build is on par with the established brands. I'm eager to see how this brand will prove themselves.
What a cool keyboard! A MUST for any gamer or fan of mechanical Tastauren!
The keyboard arrives at home very neatly packaged. When you unpack it, you immediately get the feeling that you're dealing with a high-quality product.
On the basis of the scope of delivery, you immediately notice that this is clearly a hot swapping product. There are 3-pole and 5-pole replacement switches, nicely packed safely in foam, as well as the tools necessary for replacement included.
I also find it very nice that this wired keyboard does not have a built-in cable, but the cable can be connected separately via USB-C to USB-A cable. The USB-C to USB-A cable included here also makes a very high-quality impression and also comes with a Velcro loop attached to the cable.
And then you pick up the keyboard and I say "WOW!". The part is heavy, but it feels really great in the hand! Exactly as you would imagine a high-quality mechanical keyboard. The aluminum plate has a great feel and you don't want to put it down. And even the blue color, which I was a bit skeptical about before, I really like now. The slightly curved shape of the keys, which is created by slightly different shapes of the keys themselves as well as by different heights of the switches, really makes something and makes the keyboard look very special. Also the small but fine distances between the individual keys as well as the fact that their switches still remain visible underneath, create this incomparably cool look, a mechanical keyboard!
So material and workmanship quality as well as haptics and design, are here in my opinion absolute top!
Even with the fold-out feet on the bottom, for the typical beveling of the keyboard, reflects the quality of this product. The feet just buckle in and out and are super solid!
I think you can tell, I'm thrilled!
has become daily driver at work for my boss
so my boss wanted something quiet but that looked good and could type well as well so i finally found him a blue keyboard that has quiet switches that was nice and easy for him to type on and he loves this one
A very solid and incredibly build keyboard
This keyboard is a full aluminum build on the body and it is very heavy an solid. I have picked up various versions of Redragon keyboards and this has to be the heaviest one yet. Definitely not going to slide across the desk, ever. Redragon has made a bunch of quality mice and keyboards over the years and this one is no exception to that line up and they are usually half the price of any of the major name brand gaming companies but at the same or better quality.
This keyboard has unique blue paint scheme with 20+ RGB lighting effects. And as everyone knows, RGB makes the gaming work better. The Red Switches are nice with the expected full depression and release mechanical noises. The keyboard also came with 8 extra Red Switch keys, a cap puller, and switch puller. The detachable USB C to A cable is also always welcome plus stickers, because why not.
Just another excellent product from Redragon. 5 stars.
Stunning Keyboard 1000x YES
I fell in love with this as soon as I unboxed it!! Colors are divine. Does the clicky sounds I wanted. Feels good to type in. LED gives it a nice touch smooth touch. Overall it is a eye stopper in my desk at work. I get nonstop comments of it. I definitely enjoy typing and doing my work in my desk now.
Download