Description
Wireless Version 
Introducing Redragon's state-of-the-art 1st-Gen 3-mode connection technology, featuring USB-C wired, BT 3.0/5.0 & 2.4Ghz wireless modes, for an unparalleled user experience in all aspects.
Wired Version 
The Wired K632 offers a classic USB connection along with the modern convenience of a Type-C port. This dual connectivity ensures compatibility with a wide range of devices and future-proofs your setup.
HOT-SWAP Low-Profile
The transformative innovation with 100% low profile switches compatible with free-mod hot swappable Redragon K632 PRO low profile keyboard. The unique exclusive structure design of the socket makes the switch mounting easier and less wobbling.
60% Wireless RGB Mechanical Keyboard 
The standard 60% compact layout with a 14.8 oz lightweight combo, makes it a perfect fit for on-the-go use. Save your luggage space and weight, terrifically suitable with portable laptops.
30% Cutted Ultra-Thin
The low profile is designed throughout the whole keyboard from the bottom board, middle low-profile red switches (actuation force: 40g), and the top keycaps aim to shorten the distance to actuation as much as possible.
More Extra Practical 
Set with 4*4 on-the-fly macro keys and a dedicated function area for media control. Convenient to rec frequently used macros without software, play the next song, or just scroll for volume adjustment.
Choose the keyboard switch that's right for you
Low Profile Red
Low Profile Blue
Low Profile Brown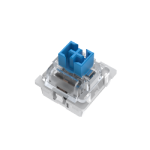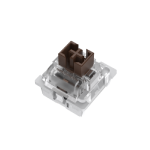 Operation Style
Linear
Tactile
Tactile
Operating Force
45±10gf
55±10gf
45±10gf
Actuation Point
1.2mm
1.2mm
1.2mm
Total Travel Distance
3.0mm
3.0mm
3.0mm
Life Span (Keystrokes)
50 million
50 million
50 million
Sound Level
Quiet
Clicky
Soft
Suitable For
Office/Gaming
Typist
Office/Gaming
Specifications
Features
Bluetooth/2.4Ghz/Wired Tri-Mode
Low Profile Linear & Quiet Red Switches
Double-Shot Keycaps for Fast & Accurate Actuation
Professional Software
RGB Backlit
Dedicated Media Control
HOT-SWAP Low-Profile
Design
Switches
Low Profile Red Switches
Connections for "Wireless"
Wired/BT/2.4Ghz
Connections for "Wired"
USB+Type-C
Matrix
61 Keys (Full Rollover)
Package Included
1 x Redragon K632 PRO gaming keyboard
1 x Detachable USB Type-C Cable
1 x User Manual
Compare with other Redragon keyboards here.
Reviews
Reviews
Overall opinion
Products insructions were't that usefull and I needed to watch some youtube viedos but now everything is working fine, I don't use the macro buttons but it is a really usefull feature for people that need to have them near the wsad keys also the keyboard is really small and compact, comes with a nice box and I really like the quick sound adjustment with the scroll on the upper right side of the keyboard also the multimedia keys work and are usefull. 4 stars.
This keyboard is perfect for connecting to laptops. If you like the feel of the flatter laptop keyboards, this is up your ally.
🌿 Features:
- 60% compact layout
- Thinner keycaps and low profile switches
- RGB lights
- Lightweight, durable, and portable
Vergy good keyboard
I was searching for a keyboard to use in school w my ipad. I didnt want one of these overpriced apple ones that can oonly be used for the ipad.
With this keyboard im conpletely satusfied. i havent noticed any malfunctilns nor have i had any problems with connection. The battery is just different. Ive been using it for days now and it didnt even show any signs of weaker battery.
Thank you for thid amazong keyboard
Great customer service
I purchased a keyboard and it worked fine but one of the led lights did fail and was stuck on one color. This did not affect the functionality of the keyboard but I still contacted their customer service. Customer service was very responsive and helpful. They made sure to replace the defective keyboard with a new one which works perfectly.
Amazing 60% Keyboard
This is a great keyboard, clearly competes with the Logitech G915 at 1/3rd the price. There is little to no deck flex, the knurled metal volume knob is great, and the low profile linear switches are wonderful. I don't have a way to measure latency but it's very responsive, none of the keys stick or misfire, and the range is actually pretty impressive.
The board is hot swappable and includes a few spare switches, a keycap puller and a switch puller. I personally prefer tactile to linear, but I was sold on this keyboard because it's a hot swappable low profile.
Software is a little clunky but nothing too crazy. Download it from Redragon's website to change LEDs (over a dozen patterns to choose from or create your own), various brightness and speed levels. Not sure if this is intentional or a bug but the software did not detect my keyboard until I was in wired mode (but I will be using 2.4Ghz mode). Not worth deducting a star in my opinion.
Redragon knocked this one out of the park. Seriously. There is also a TKL and full size version of this same board available, but I love 60% boards for gaming.
Would absolutely recommend this or the other versions to anyone.
Download