Description
Upgraded Redragon Draconic K530 PRO
Function Upgraded YES✔, Price Increased NO✗, that is the ultimate brand-new K530 Draconic PRO. New 3 modes connection, 61 keys fully hot-swappable PCB plus original compact 60% layout. This time, you will not regret having one, the wait is over. Dynamic 13 presets illumination modes are free to choose by the keyboard itself. Millions of color options and reactive typing effects make you the designer of your ultimate gear with a pro driver.
Bluetooth/2.4Ghz/Wired 3-Mode 61 Keys Compact Gaming Keyboard
Geared with Redragon's innovative tri-mode connection technology, USB-C wired, BT 3.0/5.0 & 2.4Ghz wireless modes which make the user experience upgraded to another level in all fields.
YES! TRUE HOT-SWAP
The transformative innovation with 99.8%+ switches compatible free-mod hot swappable Redragon keyboard is available now. The unique exclusive structure design of the socket makes the switch mounting easier and less wobbling. It is compatible with almost all the MX style 3pin ("~" key supports 3pin only) and 5pin mechanical switches on the market (including Gateron, Kailh, etc.)
Wireless Made Easy
Built-in upgraded 3.0/5.0 Bluetooth and 2.4Ghz wireless chips, K530 Pro offers a real-wireless and no-latency connection for all devices. Easy to toggle among 3 different wireless devices via side switch (2.4Ghz/BT1/BT2).
Hot-Swappable Brown Switches
Hot-swappable with almost all switch types in the market no matter 3-pin or 5-pin. Basic tactile mechanical switches, soft tactile feedback with low noise. Easy to mod or update it with your wishing preference, no forum researching required.
Pro Keyboard with Pro Driver
Download it and use it to have a different user experience, endless typing and backlighting are waiting for you.
USB-C & USB-A In One
K530 PRO upgraded the keyboard itself and the included cable accessory too, making the standard USB-C to USB-C wired cable to a 2 in 1 wired cable (with both USB-C/A jacks). Make the wired connection more easier and convenient with your devices.
Choose the keyboard switch that's right for you
Outemu Red
Outemu Blue
Outemu Brown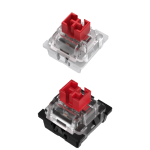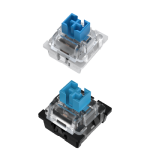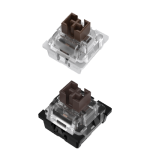 Operation Style
Linear
Clicky
Tactile
Operating Force
40g
60g
55g
Actuation Point
2.0mm
2.3mm
2.0mm
Total Travel Distance
4.0mm
4.0mm
4.0mm
Life Span (Keystrokes)
50 million
50 million
50 million
Sound Level
Quiet
Clicky
Gentle
Suitable For
Office/Gaming
Typist
Midway (Office/Gaming)
Specifications
Features
Bluetooth/2.4Ghz/Wired 3-Mode 61 Keys Compact Gaming Keyboard
100% Hot-Swap Socket
1600mAh Battery
 No drivers required for RGB lighting control
Hot-Swappable OUTEMU Box Brown Switches
Free-Mod Plate Mounted PCB
Dedicated for FPS Gamer
A converter or adapter is needed to work with NS, XBOX, PS4 and other platforms except PC.
Design
USB Connector
Detachable Type-C Cable
Dimensions
291.7 x 101.7 x 36mm (11.48 x 4 x 1.42in)
Keyboard Connectivity
Wired/Wireless (Bluetooth v5.0)
Matrix
61 Keys (Full Rollover)
Key Switches
Redragon Mechanical Brown Switches
Anti-ghosting
full N-Key rollover
Media Keys
Available as a layered function
Backlighting
Yes, 16.8 M per-key RGB lighting
Package Included
1 x Redragon K530 White Wireless Keyboard
1 x Detachable USB Type-C Cable
1 x Switch Puller
1 x Keycap Puller
Spare Switches
1 x User Manual
Compare with other Redragon keyboards here.
Reviews
Covered by Other Major Media
Reviews
all around great package
"First things first, I'm not much of a gamer, so I can't speak to that experience. However, I type a lot for work and for fun and performance is a key factor for me.
My first mechanical was a clicky Logitech, which I rather liked a lot, but I found myself gravitating more and more to the quieter switches. I've currently got Bullet QL switches plus dampeners to really keep things quiet. It can keep up with me (I type fast) without sounding overwhelming to others around me, it looks great, and the form factor is fantastic.
I also like the multi connectivity (though I admit I've never used the 2.4GHz) and the option to go wired (and luckily USB-C) or not. The keyboard has been used on Linux (Ubuntu if you're counting), OS X, iOS, and Android.
The battery tends to last long enough that I don't really find myself being aware of how long it lasts ;) When it does go back, the keyboard output gets kind of wonky and the red LED on the side that indicates power starts blinking, which I find a useful and reasonable indicator.
As far as the keyboard itself, I've found using FN1 a reasonable way to get to those ""missing"" keys: function, arrows (on ASWD, which makes logical sense), page, insert/delete, home/end, print screen. It also works for backtick and tilde but I always find it a bit confusing as FN1+escape will provide both of those (you add shift to get the tilde). These characters are extremely valuable in the Linux command line, so I'm a little sensitive about it. That's a relatively small gripe given how much is jammed together in such a small space without doing weird stuff like having overly short keycaps. A compromise has to be made somewhere.
As for the bad stuff: the stabilizers are a little loud, especially the space bar. This is a mod I plan on dealing with soonish and I'll update accordingly. If you run clicky switches, you probably won't even notice.
Oh, and can't comment on the software as I've yet had the need to use it.
Regardless of any negatives, the price is fantastic for what you get. If you're looking for a functional and still upgradable mechanical keyboard but you don't want to pay prices normally associated with more custom mechanical keyboards, this is a great way to go."
I really enjoyed the sound of the keys and they were comfortable to type on. The only problem that I had was how small it is. I have generally small hands so I thought it wouldn't be a problem but I still felt smooshed when using it so I returned it. It was also pretty difficult to return and I needed to send multiple emails. I also had to pay for shipping to send it back which was pretty expensive.
So I have had a Razer Cynosa Lite and it got bad over time so I replaced it with the Redragon Kumara K522 and it was way better than the Razer Keyboard but I wanted something smaller and better so I got the Redragon Draconic K530 Keyboard and it was literally the best keyboard I've ever owned the keys feel amazing while being used and it has a sort of weight to it that I love and on top of that it's great for using wirelessly and if I'm using up another port or gaming it's perfect for that plus it last a heck of a long time I give the keyboard a 9/10 the only thing is that the Caps Lock doesn't glow up but other than that it's perfect!!!
No complaints from the kid! Uses it everyday for gaming and homework.
Download
FREQUENTLY ASKED QUESTIONS
Q
Does it support multimedia function keys like brightness and volume adjustment on Mac?
A
Sorry that K530 is not compatible with Mac functional combo keys currently.