Description
UPGRADED TRUE HOT-SWAP
The transformative innovation with 99.8%+ switches compatible free-mod hot swappable Redragon keyboard is available now. The UPGRADED exclusive structure design of the socket makes the switch mounting easier and less wobbling.
3-Mode Connection
Geared with Redragon's innovative tri-mode connection technology, USB-C wired, BT 3.0/5.0 & 2.4Ghz wireless modes which make the user experience upgraded to another level in all fields.
Creative 65% Size In 61 Keys
K644 geared with the advanced unique design in size, updated the traditional 60% 61 keys size to 65%. 1.2x LARGER than the standard keycaps, dedicated for big hands, along with the custom mixed color matching.
Hot-Swappable Red Switches
Hot-swappable with almost all switch types in the market no matter 3-pin or 5-pin. Quiet basic linear mechanical switches and soft key travel makes every click easy to register. Easy to mod or update it with your wishing preference, no forum researching is required.
Vibrant Groovy RGB
 Up to 20 preset backlighting modes are free to choose from by the keyboard itself. Brightness and flowing speed are also adjustable on board. New marvelous music sync mode will light up your desktop discotheque vibe, quite a light show to get immersed.
Compact Size
32 x 11 cm compact 65% size in 61 keys layout, save space and same good for huge-hand gamer.
Choose the keyboard switch that's right for you
Outemu Red
Outemu Blue
Outemu Brown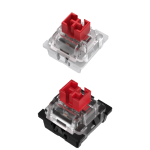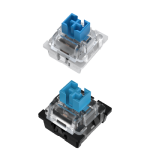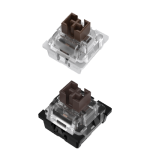 Operation Style
Linear
Clicky
Tactile
Operating Force
40g
60g
55g
Actuation Point
2.0mm
2.3mm
2.0mm
Total Travel Distance
4.0mm
4.0mm
4.0mm
Life Span (Keystrokes)
50 million
50 million
50 million
Sound Level
Quiet
Clicky
Gentle
Suitable For
Office/Gaming
Typist
Midway (Office/Gaming)
Specifications
Features
Bluetooth/2.4Ghz/Wired 3-Mode
100% Hot-Swap Socket
Free-Mod Plate Mounted PCB
 No drivers required for RGB lighting control
Hot-Swappable Quiet Red Linear Switch
Creative 1.2X Larger Size Keycaps
Design
USB Connector
Detachable Type-C Cable
Dimensions
323 x 112 x 36mm (12 x 4.4 x 1.42in)
Keyboard Connectivity
Wired/Wireless (Bluetooth v5.0)
Matrix
61 Keys (Full Rollover)
Key Switches
Redragon Mechanical Red Switches
Anti-ghosting
full N-Key rollover
Media Keys
Available as a layered function
Backlighting
Yes, 16.8 M per-key RGB lighting
Package Included
1 x Redragon K644 Wireless Keyboard
1 x Detachable USB Type-C Cable
1 x Switch Puller
1 x Keycap Puller
Spare Switches
1 x User Manual
Compare with other Redragon keyboards here.
Reviews
Reviews
Great for gaming
I have been using this for a couple months now and it is great. No issues with lag or response while gaming. Its pretty cool that you can also change the color for each individual key. Great size and the clicking sounds nice too
GREAT AS STRAIGHT-UP KEYBOARD - LOTS OF FUNCTIONALITY!
OVERALL -
Very well-made and solid.
Compact design doesn't feel "compact" when typing long documents.
Can customize to your taste with lights and keys.
Three ways to connect! Always be connected!
DEETS:
HOLY COW - TRANSFORMER KEYBOARD!
This Red Dragon keyboard has a lot more functionality than I'll probably ever use, which is actually a very good indicator for how happy your gamer will be with all it does. They'll want to customize keys to their particular setup, and this keyboard is 100% ready to be a bespoke keyboard.
GOOD FOR THE OLD FOLKS' SENSE OF PRODUCTIVITY, TOO!
I was in the market for a slightly clackety keyboard, as I learned to type on a manual typewriter (while riding in a covered wagon to school, more or less), then moved up to delightfully noisy electrics, and then a decade-plus of clackey computer keyboards before it became the cool thing to have quiet places to type. In retrospect, I'm grateful that most of my time in cubicle-prison was with quiet keyboards, because I didn't understand exactly HOW neuro-divergent I was until my 30s, and had I been imprisoned (via the labor market; not a felony) in a clackety-clack farm, I surely would have been sent to the macadamia ranch long, long ago. Or prison, for murder, perhaps, after listening to the imperfect rhythms of co-workers' typing. The era of quiet keyboards was great, but now, I just...NEED something a little different, especially as someone who does 50% of their work on a keyboard.
In my mind, clack = productivity, and lemme tell ya, you're gonna feel pretty dang productive with this little guy. Glad my dog is semi-deaf, because I suspect she'd be a little annoyed by the clacking.
GOES 50% OLD SCHOOL "CLACK"
This isn't your old-school IBM PS2 level of clack (and probably thank goodness for that?), it's a very nice, modulated level of clack. Just enough to give you the background hum of "clacks equal quarters!" (the keyboard is a slot machine for writers, no?), without the "this clack is so loud I cannot hear myself think" quality. It's the perfect amount of clack.
LIGHTS, ACTION, TYPING!
Since my dog has been more convalescent, I've taken to being productive where and when I can, which sometimes means working in bed with the lights down low (people with dogs who have a tiny bladder will know what I mean by this - how many trips out a night can you take?! Bless their little, furry hearts!). A light-up keyboard is the schizzle here, because you know no two keyboard makers want to put all the keys in the same location, and I've been Thinkpad/Lenovo inculcated since 2007. So you can FIND the traveling keys without a problem, thanks to the lights.
Could I reprogram those keys? Of course, but that would require reading some instructions, so I will get around to it sooner or later, but right now, typing in the dark is the way to go. And isn't that really a metaphor for so much of life?
DO YOU MISS YOUR BLACKBERRY? TYPE ON YOUR PHONE WITH CONFIDENCE!
When you're thumbing all over your touchscreen phone, do you long for a Blackberry you can type on without the benefit of looking? I do. And that's why I absolutely LOVE this keyboard for hooking up to my Samsung phone to type long-haul documents! Can hook up via WiFi, Bluetooth, or via cable. I'm partial to a right-angle USB cable with a magnetic connector, because I have some wired keyboards that have lost their mojo over the cable getting strangled (magnetic = so glad I live in this era!).
It's great to hookup for using phone as a desktop, too.
OVERALL:
Construction of this is super-solid. Ports are firm, no wobble, keys are evenly springy and solid, and the case has already endured a little banging around with zero complaints.
Very good investment, not just for your gamer, but for anyone who would like to feel productive when they type! :-)
I really like it.
I think this is a cool keyboard. It does everything a normal keyboard does. There are some perks though. This is a wireless keyboard, which is awesome!
The keys and the spaces between them light up. They are multicolored like a rainbow. The lights can stay on as you type, and that makes it easy to see in the dark. Each key lights up the letter or number on the buttons. The lights go off when you're not using it to preserve battery power. The battery lasts for a good while.
It's a good keyboard for gaming. There are no dedicated arrow keys, but W-A-S-D is designated for the arrow keys. One may have to do some hot-key adjustments.
It came with some tools and parts to switch the buttons for repairs or customization. There are tabs on the bottom, so it can be sit at an angle. It comes with some cool stickers too.
This worked out great for me. I enjoy using this classically styled keyboard.
Excellent compact keyboard
Excellent compact gaming keyboard with extra large mechanical keys. I would buy same key board again seems very well made.
LOVE IT
The size of the keys is near perfect. I am 6 and a half feet tall with very large hands. Finding this gem was absolutely amazing. Once adjusted to the size difference, it is amazing for large hands. I still occasionally understep keys while typing fast but that would eventually go away if I continued to use it. I do a bit of coding so the layout is my major gripe. I just need arrow keys. I knew it was a 60% on purchase, but I would love a 75 or 80 version.
Download