Description
Ultra-Thin Designed Wired Gaming Keyboard w/Low Profile Keycaps
Introducing the Red Dragon K619, featuring three different switch options: Blue, Brown, and Red. With its 30% cut ultra-thin design, this keyboard offers a low-profile experience. The Blue switches are click-style switches, providing a satisfying tactile feel and a distinct "click" sound when pressed beyond the tactile point. The Brown switches offer a subtle tactile response, while the Red switches give a smooth and linear feel.
Worry-free Wired Trans
A USB-A to USB-C solid cable guarantees you the most stable key registrations from any precise daily work or intense gaming case. Blocks out any possible signal interference and removes the psychological concern of cordless delay.
Frosted Metal Cover
The top board of the Horus keyboard is made from durable aluminum material makes the structure steady and still with slim form. The classic black frosted surface process offers an advanced minimalist look and nice fingerprint-resistant touch.
More Extra Practical
Set with 4*5 on-the-fly macro keys and a dedicated function area for media control. Convenient to rec frequently used macros without software, play the next song, or just scroll for volume adjustment.
More Details Redefinable
Along with tank-solid material is the Redragon core software driver support, 16.8 million colors backlighting, standard keys remapping, and infinite keybindings are all available for personal re-mod.
Multi-Function Scroll
Geared with an easy-to-access scroll section, makes media player and backlit control easier to adjust. Press the button and slide the scroll to make your preference about the volume, playlist and backlit brightness.
Choose the keyboard switch that's right for you
Low Profile Red
Low Profile Blue
Low Profile Brown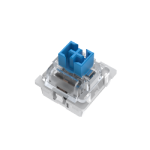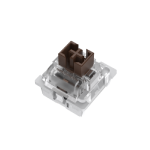 Operation Style
Linear
Tactile
Tactile
Operating Force
45±10gf
55±10gf
45±10gf
Actuation Point
1.2mm
1.2mm
1.2mm
Total Travel Distance
3.0mm
3.0mm
3.0mm
Life Span (Keystrokes)
50 million
50 million
50 million
Sound Level
Quiet
Clicky
Soft
Suitable For
Office/Gaming
Typist
Office/Gaming
Specifications
Features
Wired Ultra-Thin Low Profile Gaming Keyboard
Low Profile Switches
30% Cutted Ultra-Thin with Dedicated Media Control
Professional Software
RGB Backlit
Design
Keyboard Size
437*147*17mm
Switches
Low Profile Blue/Brown/Red Switches
Keyboard Connectivity
Wired
Matrix
104 Keys (Full Rollover)
Package Included
1 x Redragon K619 gaming keyboard
1 x Detachable USB Type-C Cable
1 x User Manual
Compare with other Redragon keyboards here.
Reviews
Reviews
Muy satisfecho!
Excelente calidad, la estetica esta genial! tiene bastante funcionalidades, las cuales estoy probando
this keyboard is great in every way shape and form... nice keys, soft when you type on them, amazing for gaming as well... audio control is cool, its jus a roller to adjust the volume on music or movies... soft rubber buttons to skips songs and what not... the list goes on..
Download