Description
Onboard Macro Keys 
There are 5 programmable macro keys(G1~G5) on the keyboard which can be recorded macros on the fly without any additional software required to be installed. Easy to edit and DIY your stylish keyboard. 
RGB Side Lights
18 backlight models allow you to type in the dark. You can adjust its brightness with a control wheel or FN + Up/Down. 5 modes of RGB side edge lighting. The color of each key lighting on the keyboard can be customized easily without installing software, a great choice to DIY your stylish keyboard. Angled down and to the side, they will dazzle up your desktop!
Dedicated Media Controls
The multimedia controls let you quickly play, pause, skip the music right from the keyboard without interrupting your game. Also, designed with a volume/backlight adjust the wheel, it's easy to adjust volume or backlight brightness directly with the wheel in the upper right side of the keyboard. Very convenient and cool looking.
Hot-Swap Blue Switches
Experience the classic feel of traditional mechanical keyboards with the K580 gaming keyboard's original blue switches. Clear tactile feedback and the iconic "clicky" sound make typing a pleasure.
Hot-Swap Brown Switches
Perfect for gaming and typing, Brown switches offer a tactile bump without the click. Enjoy a great gaming experience with fast response and less noise.
Note:
Hot-swappable is exclusive to the US; other regions are temporarily equipped with OUTEMU switches.
N-KEY ROLLOVER
104 keys anti-ghosting allows you to simultaneously click multiple keys. The floating keys and OUTEMU blue switches will give you great gaming experience with fast response and nice clicky sound.
Choose the keyboard switch that's right for you
Outemu Red
Outemu Blue
Outemu Brown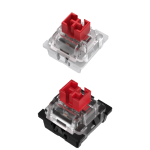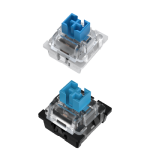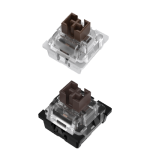 Operation Style
Linear
Clicky
Tactile
Operating Force
40g
60g
55g
Actuation Point
2.0mm
2.3mm
2.0mm
Total Travel Distance
4.0mm
4.0mm
4.0mm
Life Span (Keystrokes)
50 million
50 million
50 million
Sound Level
Quiet
Clicky
Gentle
Suitable For
Office/Gaming
Typist
Midway (Office/Gaming)
Specifications
Features
Full dynamic RGB backlighting
50 million times keystroke test
Professional Software
Design
Package Size
17.3 x 6 x 1.8 inches
Switches
Blue/Brown switches
Package Included
1 x Redragon K580 RGB Mechanical Gaming Keyboard
1 x User Manual
1 x Keycap Puller
8 x Free Switches for DIY
Compare with other Redragon keyboards here.
Reviews
Reviews
awesome
brought a open box one, swap out the keycaps to a gskill black top clear ones works awesome didnt have a problem. Great RGB only thing i do wish is you can change the rgb on the side of the keyboards, very good for a chep keyboard and music command
BEST KEYBOARD I'VE EVER USED (AND I'VE HAD A LOT)
I go through keyboards like my underwear, at least one every 6 months, with work, video editing, gaming, everyday use, I go through these things like crazy. I have gotten the cheapest ones from 5Below, and some of the most expensive ones. I took a chance on this budget friendly keyboard as it had checked 95% of the check marks I was looking for in a keyboard (RGB, full size, blue switches, metal housing, media controls, macros keys). I have used this keyboard for about 6 months now, and this has by far, been the best keyboard I have ever used. Beating the higher end brands. The blue switches are amazing, nice, tactile feel. Metal housing provides a nice feel, with hardly no flex. RGB on the keys, and the side of the keyboard is amazing. media controls are great. The only downfall I would say it that is doesn't have a wrist rest (have to purchase one separately) And the wrist rest isn't magnetic (like the past Redragon keyboard I have purchased before. That and a USB passthrough for items like your mouse, would be great. If those 2 items were on here, this would be a solid 10/10 for me. Amazing keyboard tho, at a great price.
Even after much use of the keyboard and after a year and a half, every time I type on it I get excited by the clicks it makes. The smartest purchase I have made, an excellent and much better keyboard than expensive keyboards from other companies
Man, I am so impressed! The keyboard sounds GREAT! Clickety click click CLACK!! I freaking LOOOOVE it! Super solid, well built, great lights. Redragon PROVES that a company DOESN'T have to take advantage of it's clients. Companies CAN make great hardware, that enhances the computing experience for all, without charging $200 for a darn keyboard! Redragon knows this, they charge a fair price, it's one of the top keyboards I have EVER owned, and I don't feel like they took advantage of me. Life is good, friends.
I have purchased two of these keyboards. One for my home (the original purchase) and one for my office at work (latest purchase). I have found the keyboard to be very well built and great to type and work with. In terms of gaming, it has additional features that I don't really use, but you can program keyboard macros and things like that with it.
The RGB effects are very easy to set up and the stock effects will probably satisfy most users.
I selected blue switches for both of my keyboard purchases because I love the clickety-clack! And boy do these keyboards have the clickety-clack! Nothing is more satisfying than typing up an annoying work e-mail and being met with a symphony of clicking and clacking (my opinion).
The frame of the keyboard is composed of an aluminum top piece, which is very sturdy and a typical hard plastic bottom. It has little legs for propping the board up at an angle if you prefer. The keyboard also comes with additional spare switches and special tools for removing the keys for cleaning or replacement.
On the whole, I don't think you will find a finer keyboard for this price. The Red Dragon brand has impressed me and it makes me think twice about some of the more prominent brands and their aggressive pricing.
If anything comes up with either keyboard, i'll modify my review, but I've had the one at home for quite some time with no problems or complaints.
Download
FREQUENTLY ASKED QUESTIONS
Q
How to record a keyboard macro without software?
A
Step 1: Press [Rec] to start record (The four LEDs flash simultaneously).
Step 2: Press one of the five G keys and it lights up (G1~G5).
Step 3: Press keys to be recorded Step 4: Press [Rec] once again to save the recording. The [Rec] also lights up. For example, record 123 on G1: [Rec]→G1→123→ [Rec]
Q
How to change side lighting on K580 keyboard?
A
Press FN + [PAUSE] to switch 5 lighting modes on two sides.
Press FN + [SCRLK] to adjust the lighting speed on two sides.