Description
Decent Rainbow Backlight
With 9 vibrant rainbow backlight modes + 8 preset gaming lighting ways, different vibes for your daily working/gaming use. 2 customizable backlit modes ready for dedicated use.
Redragon Switch
Equipped with the classic mechanical blue switch, suitable for long-time typing use. It offers the typical tactile feature of mechanical switches, along with audible clicky feedback sound. Equipped with the classic mechanical brown switch, suitable for both gaming and working. It offers soft tactile feedback with small bump on each keystroke with a moderate noise. Equipped with the classic mechanical red switch, ideal for intensive gaming. It offers linear and smooth straight up and down travel, no-bump consistent keystroke with a quiet noise.
100% Anti-ghosting
NKRO 104 keys ensure the most accurate simultaneous key actuation while any gameplay. No matter how fast your gaming move is, the damage will precisely strike on your target.
Smooth Brushed Plate
All 104 keys are stably fixed in the brushed surface board, solid material build without losing the modern minimalist style. Adjustable stand supports for different board angles.
Neat Floated Design
Full keys in floated layout form makes the keyboard spacing both look and feel natural and ample. And the better point is that you no longer have to worry about dust-build, easy to handle it with a hairdryer.
Choose the keyboard switch that's right for you
Outemu Red
Outemu Blue
Outemu Brown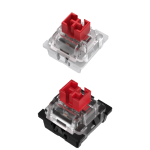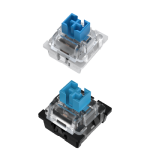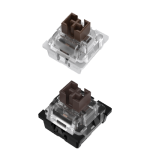 Operation Style
Linear
Clicky
Tactile
Operating Force
40g
60g
55g
Actuation Point
2.0mm
2.3mm
2.0mm
Total Travel Distance
4.0mm
4.0mm
4.0mm
Life Span (Keystrokes)
50 million
50 million
50 million
Sound Level
Quiet
Clicky
Gentle
Suitable For
Office/Gaming
Typist
Midway (Office/Gaming)
Specifications
Features
104 Keys NKRO Mechanical Keyboard
100% Anti-ghosting
Decent Rainbow Backlight
Hot-Swappable Blue, Red and Brown Switch
Design
USB Connector
Type-C Cable
Keyboard Connectivity
Wired
Matrix
104 Keys (Full Rollover)
Package Included
1 x Redragon K608 Wired Keyboard
1 x User Manual
Reviews
Reviews
its rilly good you all don't cut corners
It is a nice mechanical keyboard, and it complies with what is offered, and the price is very excellent. In my case, I asked for the brown switches since they have a more serious sound.
I bought this keyboard because I thought the brown switches with the bump would let me know when I typed two characters at once while entering passwords that I can't see. No luck; it will register a key that is not pressed enough to "bump" but that character is in the text anyway, so I still have to check my passwords. I bought this when it was twice as much as it is now on sale. Not sure if the switches are of lesser quality or same quality as the rest of their boards, but I think this would be fine for gaming, just not coding or encryption.
It's truly amazing love the lighting effects the blue switchs is the type i love the loud mechanical feel and touch is outstanding.
All redragon gaming products are definitely built for durability I also have another keyboard and mouse from RD (redragon)
And never had a issue with the functionally of any product.
Any description of this product that says it has a decent backlight which it's definitely wrong, the lighting on the keyboard is very bright at least to me obviously there is a option to brighten or lower the brightness and it's pretty bright.
Pros: become a better gamer with redragon products - gaming keyboard never ever had any issue and I own only redragon products.
Cons: none available till months later to ne determined by built quality or any technical difficulties with the keyboard such as the functionality overall definitely will be updating for months ahead.
Definitely is worth the purchase of this keyboard I also have VISNU K561 I already knew the VAIHEIM K608 - Blue Switch was definitely another great purchase from Redragon I will be buying more products soon ?
When it comes to one gaming keyboards, Redragon is a company that has no doubt caught attention with its release of their Redragon K530 Draconic Wireless Mechanical Keyboard in 2020, has no doubt grown in favor among gamers wanting quality keyboards in that mid price-range.
For today's review, I am reviewing the Redragon K608 Valheim Rainbow Wired Gaming Keyboard featuring Red Switches.
The keyboard is linear, the buttonpresses are pretty good, but not as quiet as other red switch keyboards I do own. And utilizes durable doubleshot frosted keycaps.
The keyboard features multimedia modes for F1-F12.
You get 9 rainbow backlight modes and 8 preset gaming lighting ways, and two customizable backlit modes.
They keyboard features 100% Anti-ghosting NKRO 104 keys and a brushed plate.
The keys are in floated layout form and for the most part, it's a good keyboard for those who want gaming sensibilities, but those who need the 10 key and those who need a keyboard that has a caps lock key and num lock key LED lighting indicator.
In a way, I find this keyboard as a meeting in the middle for gamer and those who need it for work (especially those who type a lot and uses the ten key often).
While Redragon has won a lot of fans with their 61 key keyboards, for those who are looking for a red switch, 104 key gaming keyboard, will like the Redragon K608 Valheim Rainbow Wired Gaming Keyboard for its price, but also the compromise of using it as a for work keyboard.