Description
Master Your Realm with 108 Keys
When gaming or multitasking, you need a keyboard that can keep up. Our Full Size Layout is equipped with 104 keys that offer anti-ghosting, so you can simultaneously click multiple keys without a hitch. But we didn't stop there; we added an extra 4 shortcut keys, making your life more convenient and practical in both the virtual and real worlds.
Hot-Swappable Red Switches
Ever dreamed of customizing your typing experience down to each keystroke? Our Hot-Swappable Red Switches make that dream a reality. These quiet, basic linear mechanical switches offer soft key travel, ensuring each click is not only effortless but also discreet. Outfitted with 3.5mm sound-absorbing foam, you get a clear and crisp typing sound with zero annoying noise. Unlock the freedom to swap almost all types of switches on the market, whether 3-pin or 5-pin.
Light Up Your World with Groovy RGB
Set the mood with our Vibrant Groovy RGB settings, offering up to 19 presets of backlighting modes. Adjust brightness and flow speed right on the board to match your vibe. Plus, our new music sync mode transforms your desktop into a personal discotheque. Witness a stunning light show that not only immerses you but also elevates your gaming and working environment.
Designed for Unmatched Comfort
Step into a world of comfort with our Ergonomic Design. The 2-stage adjustable feet make typing more comfortable and help relax your wrists. Get lost in the creative fun of our 3 colors Mixed Keycaps, ensuring each gaming session feels fresh. Say goodbye to wrist fatigue and hello to endless comfort.
Pro Software for Pro Users
With Pro Software Support, you're in control. Design your own modes and effects through redragonshop and optimize macros with different keybindings or shortcuts for unparalleled work and gaming efficiency.
Be Productive Your Way
Default with 4 keys for Mute, Calculator, Screenlock, and Desktop, or define these shortcuts via software. Whether you're in a game or the office, you're equipped to excel.
Choose the keyboard switch that's right for you
Outemu Red
Outemu Blue
Outemu Brown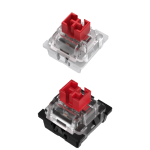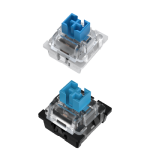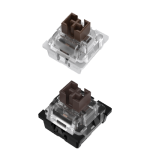 Operation Style
Linear
Clicky
Tactile
Operating Force
40g
60g
55g
Actuation Point
2.0mm
2.3mm
2.0mm
Total Travel Distance
4.0mm
4.0mm
4.0mm
Life Span (Keystrokes)
50 million
50 million
50 million
Sound Level
Quiet
Clicky
Gentle
Suitable For
Office/Gaming
Typist
Midway (Office/Gaming)
Specifications
Features
Full Size 108 Keys Layout
Sound Absorbing Foams
Definable 4 Shortcuts
Pro Software Supported
Hot-Swappable Red Switches
Upgraded Hot-swappable Socket
Vibrant Groovy RGB
Mixed Color Keycaps
Design
Compatible Devices
PC, Laptop
Package Included
1 x Redragon K668 Keyboard
1 x User Manual
1 x Keycap Puller
1 x Switch Puller
1 x USB-C Cable
1 x Redragon Sticker
4 x Red Switches
Compare with other Redragon keyboards here.
Reviews
Reviews
cool
i got this for my little boy since he is learning to game. it works for him. great product
Download