Description
N-key Rollover  
100% anti-ghosting 104 keys ensure the most accurate simultaneous key presses. Fully programmable - Reassign any key or set up the most extreme macros for effortless gaming.【No CD software included, please download software from http://bit.ly/K582keyboard】
Dynamic RGB Backlight
6 backlight themes and 18 backlight models allow you to type in the dark. You can adjust its brightness with FN + Up/Down. Arrow Key in any non-breathing mode.
Extreme Durability  
50 million times keystroke test, small actuation force, and short travel make it. Solid base with double injection ABS keycaps design, it is built to withstand a lifetime of gaming.
Wide Compatibility
Supports computer system including Windows10, Windows 8, Windows 7, Mac OS X, Windows XP, Windows VISTA, etc. With a USB golden plated port to ensure the stability of data transmission. No delay, no error.
Choose the keyboard switch that's right for you
Outemu Red
Outemu Blue
Outemu Brown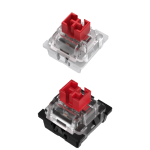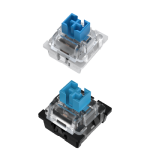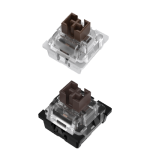 Operation Style
Linear
Clicky
Tactile
Operating Force
40g
60g
55g
Actuation Point
2.0mm
2.3mm
2.0mm
Total Travel Distance
4.0mm
4.0mm
4.0mm
Life Span (Keystrokes)
50 million
50 million
50 million
Sound Level
Quiet
Clicky
Gentle
Suitable For
Office/Gaming
Typist
Midway (Office/Gaming)
Specifications
Features
Hot-swappable OUTEMU brown switches
6 themes backlights & 12 backlight models
Interchangeable arrow keys and WASD keys
Dedicated media controls and volume/brightness adjusting wheel
WIN keys can be disabled when gaming
Laser engraved chiclet keycaps
Compatible with: Windows10, Windows 8, Windows 7, Mac OS X, Windows XP, Windows VISTA, etc
Design
Package Size
17.3 x 5 x 1.7 inches
Switches
Outemu brown switch
Package Included
1 x K582 Keyboard
1 x User Manual
Compare with other Redragon keyboards here.
Reviews
Reviews
Amazing full size keyboard for under $50! The sounds of the red switches are deep and have some thock with keycaps, nice response time, and the feel of the keyboard is amazing. The rgb looks very nice. Only problem is that the keys rattle a lot so that kind of messes up the thock and nice sound of the keyboard. Overall this keyboard is so great for its price, if you're on a little of a budget this is the keyboard for you.
Got for the office. The switches themselves aren't true mechanical- at least they don't feel like it- or should I say they dont seem like they are true. For comparison, I have the logitech g pro keyboard at home- thats a true mechanical kb ($120+). But the keys on the redragon depress more softly than the logitech- as in they arent as clicky. Yes they do make the sound, but comparatively, they arent the same. For $50 this thing awesome. I dont miss my logitech kb when im on it. The software is really easy to use. You can customize the lights and macros to your hearts content- 10+ different lightning effects to choose from. There are 3 profiles u can set the colors to and once set, its just a click to switch to it. You can change them for different times of the day or just set it and forget it. Im not much of a guy for flashing colors, but if you are, you will not be disappointed. If I had known this thing existed, I probably wouldnt have spent so much money on the logitech. This thing rocks. Buy it.
I have bought three keyboards over this pandemic period, trying to ease the constant use (both personal and for work) and was about to throw the towel... don't get me wrong, I have no complaints about my other purchases... BUT OOOOMMMMGGGGG I have finally found what I was looking for... and here are some thoughts:
First: For those of us who learned to type on an actual typewriter (yeah, back then on ANOTHER century)... a Mechanical Keyboard is what makes sense; it just feeeeels right.
Second: This keyboard in particular is AMAZING!!!! The light configuration is simple and useful to match your particular taste. It's a feature that I really appreciate.
Third: Materials makes me wonder if I'll ever need a replacement. Good build quality and considering the price... THIS IS A BARGAIN!!!
Note: Don't know how I got this far without saying: YOU SHOULD STOP, AND BUY THIS KEYBOARD... NOW!
Great keyboard. Great price.
An exceptional value for the dollar. There are probably better gaming keyboards out there, but not for this price.
Download