Description
94 Keys Layout
The Redragon K648's innovative 90% design offers a compact layout without compromising on functionality. With 94 keys, this keyboard maintains the functionality of a standard 100% layout but eliminates unnecessary space for a sleeker, more efficient gaming setup. You're not just losing 10 keys - you're gaining a streamlined, ergonomic gaming experience.
Relentless Durability for Hardcore Gamers
The Redragon K648 gaming keyboard boasts a sturdy, rock-solid aluminum body, making it a durable powerhouse for relentless gaming sessions. Weighing in at a solid 1100g, this keyboard stays firmly anchored on your desktop, no matter how intense your gaming gets. Plus, the silver-frosted surface repels sweat and oil prints, ensuring your keyboard always stays neat and clean - a perfect companion for those marathon gaming nights.
Moving Fast But Quiet
Experience a powerful gaming performance without the noise. Thanks to the built-in 3mm thick EVA noise-absorbing foams, the Redragon K648 reduces noise to the maximum, whether from the switches or the board itself. It's equipped with quiet red linear switches, allowing you to conquer your enemies silently and efficiently - a stealthy weapon for the tactical gamer.
Hot-Swap Upgrade for Ultimate Customization
With its new hot-swap upgrade, the Redragon K648 takes customization to a whole new level. The keyboard supports nearly all switches (3/5 pins), making switch mounting easier and more stable than ever. This exclusive feature lets you design your gaming setup exactly how you like it - the power is in your hands.
Essential Accessories for Enhanced Comfort
The Redragon K648 goes beyond just being a keyboard - it's a complete gaming solution. The included mobile device stand and detachable wrist rest are designed to enhance your gaming experience. Keep up with mobile notifications or work while gaming, and alleviate fatigue from long hours of typing with wrist support. It's the little details that take your gaming to the next level.
Splendid Both In & Out
16.8 million RGB backlighting support customizable for the personal vibe, along with mixed color keycaps look (two extra grey keycaps included) for more styles.
Pro Software Support for Advanced Gaming
Unleash your creativity with Redragon's pro software support. Design your own modes and effects, and create macros with different keybindings or shortcuts for more efficient work and gaming. The Redragon K648 is not just a keyboard, it's an extension of your gaming prowess.
Choose the keyboard switch that's right for you
Outemu Red
Outemu Blue
Outemu Brown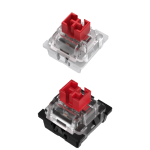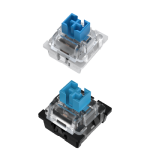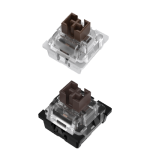 Operation Style
Linear
Clicky
Tactile
Operating Force
40g
60g
55g
Actuation Point
2.0mm
2.3mm
2.0mm
Total Travel Distance
4.0mm
4.0mm
4.0mm
Life Span (Keystrokes)
50 million
50 million
50 million
Sound Level
Quiet
Clicky
Gentle
Suitable For
Office/Gaming
Typist
Midway (Office/Gaming)
Specifications
Features
Aluminum Gaming Keyboard
94 Keys Layout
Wrist Support
 Hot-Swappable Red Switch
Pro Keyboard with Pro Driver
Built-in Noise Absorbing Foams
Detachable Wrist Support
Design
USB Connector
Detachable Type-C Cable
Keyboard Size
14.0 x 5.2 in
Keyboard Connectivity
Wired
Matrix
94 Keys (Full Rollover)
Switch
Hot-Swappable Red Switch
Package Included
1 x Redragon K648 Wired Keyboard
1 x Detachable USB Type-C Cable
1 x User Manual
1 x Keycap and Switches Puller
4 x Spared Switches
2 x Extra Orange Keycaps
Compare with other Redragon keyboards here.
Reviews
Reviews
<3 OLAF <3 Redragon
OLAF caught my eye because my daughter watches Frozen regularly. While it's my first RGB and mechanical keyboard, as a mechanical engineer with some manufacturing and material science expertise, I am completely blown away by this excellent product! Not only is it everything I wanted functionally, ie. small form w/ numpad, amazing feel, lights up for my old eyes at night, but the fit and finish on the aluminum base, I am just beyond speechless at this entire package at such an economical price!
I may be biased due to my homeland roots, growing up in the mainland in the 90s. But having spent the last 2 decades in North America and finally seeing a home-grown brand that offer such quality really brings tears to my eyes. Too long have I had to deal with trash products with American brands yet made in China and have the locals blame us for the low quality of manufacturing. While these American companies made massive profits paying pennies for barely useable products they designed then scapegoat it on the manufacturer.
In the past I have bought regular keyboards from Belkin and Logitech that costs the same as what I just paid for OLAF.... I will stick with Redragon and other Chinese brands from now on because they are still building their brand name and are willing to put great quality products at an economical price! Something only China can do since they have the economy of scale! 祖国加油 <3
Really love this keyboard !
I love the keyboard, it is soft to the touch and stable since it is heavy.
Exceeded my Expectation. First review on K648.
So, I've been a Reddragon user for over 5 years and I've been using the K556 keyboard since that date. Back then I bought that keyboard with brown switches and until now I had no need to change it because we all know the reputation of the brand: Sturdy keyboards with neat features for half the price. Recently I was in need of a second keyboard for my old computer so I decided to venture into buying a new one, staying on the same brand. THIS K648keyboard is perfect. First of all, I wanted an aluminum base keyboard, I love heavy keyboard because they stay in their position. This keyboard excels in that, it is around 4.5 pounds heavy and its aluminum body helps with the noise absorption. I'm beyond impressed by the included switches (quiet red). My fingers glide through the keys compared to my old K556. It's an amazing experience. The palm Rest adds a lot of comfort, it's texturized surface gives your palm a little bit of grip but writing this review I feel like my hands are getting a little bit warm so I may end removing it (not a deal breaker).The RGB is amazing, I didn't extend the pictures to show that but I tested it and they look great. It has 20 modes and 20 more for solid colors.The legs to incline the keyboard are sturdy and give the keyboard more height which I love it. It makes typing easier. Lastly, it includes a Phone Holder which I won't be using but its free. It has 5 red switches as a replacement, the removal tool and another set of ESC and Space key for aesthetics.Overall this keyboard exceeded my expectations, hope this review helps other people get some questions answered.
Download