Description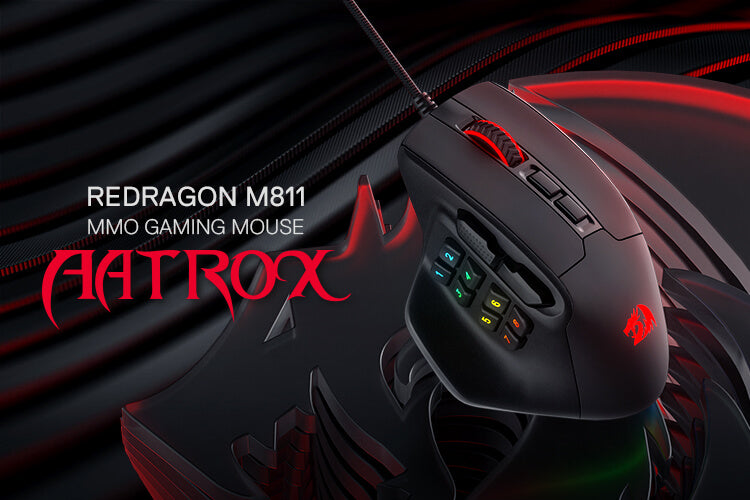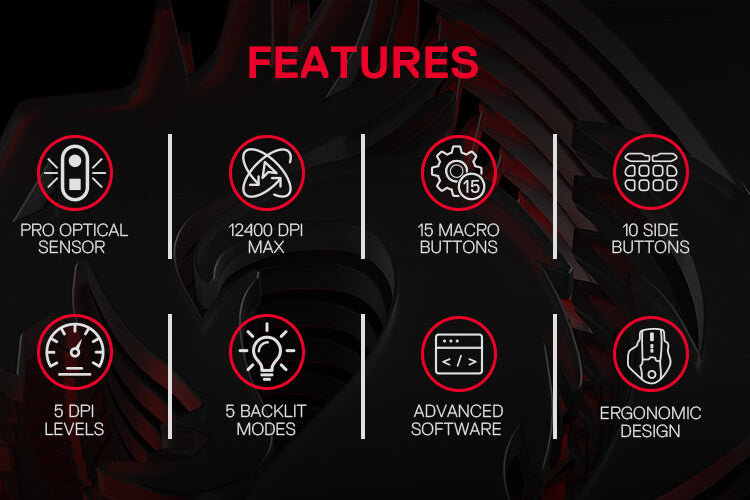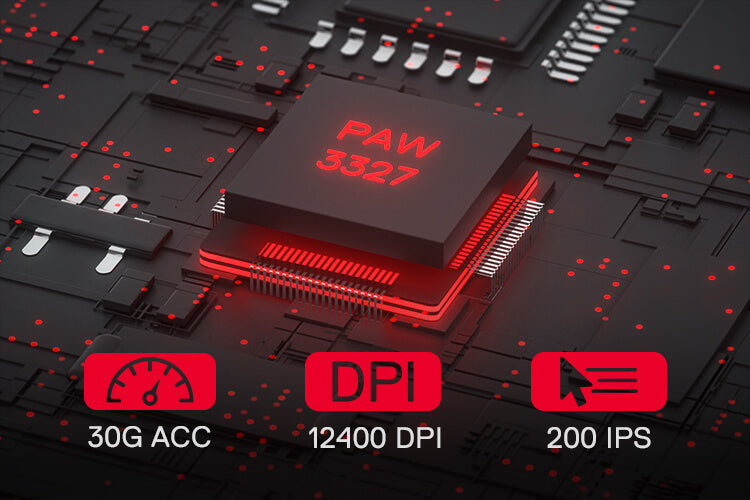 15 Programmable Buttons
15 programmable buttons are all editable with customizable tactical keybinds in whatever game or work you are engaging. Default 2 + 8 epic MMO side buttons will get you all covered, hit your hotkeys/keybinds faster than ever with M811.
Pentakill, 5 DPI Levels 
Geared with 5 redefinable DPI levels (default as: 500/1000/2000/3000/6200), easy to switch between different game needs. Dedicated demand of DPI options between 500-12400 is also available to be processed by software.
Comfort & Natural Grip
Following the natural structure of the human hand, the M811 is perfectly shaped for long-lasting use. It makes you easily to handle am to pm gaming parties or overtime & overdue work with less fatigue.
5 Decent Backlit Modes
Turn the backlit on and make some kills in your gaming battlefield. The hyped dynamic RGB backlit vibe will never let you down when decorating your gaming space, it would be better with other Redragon accessories with lights on.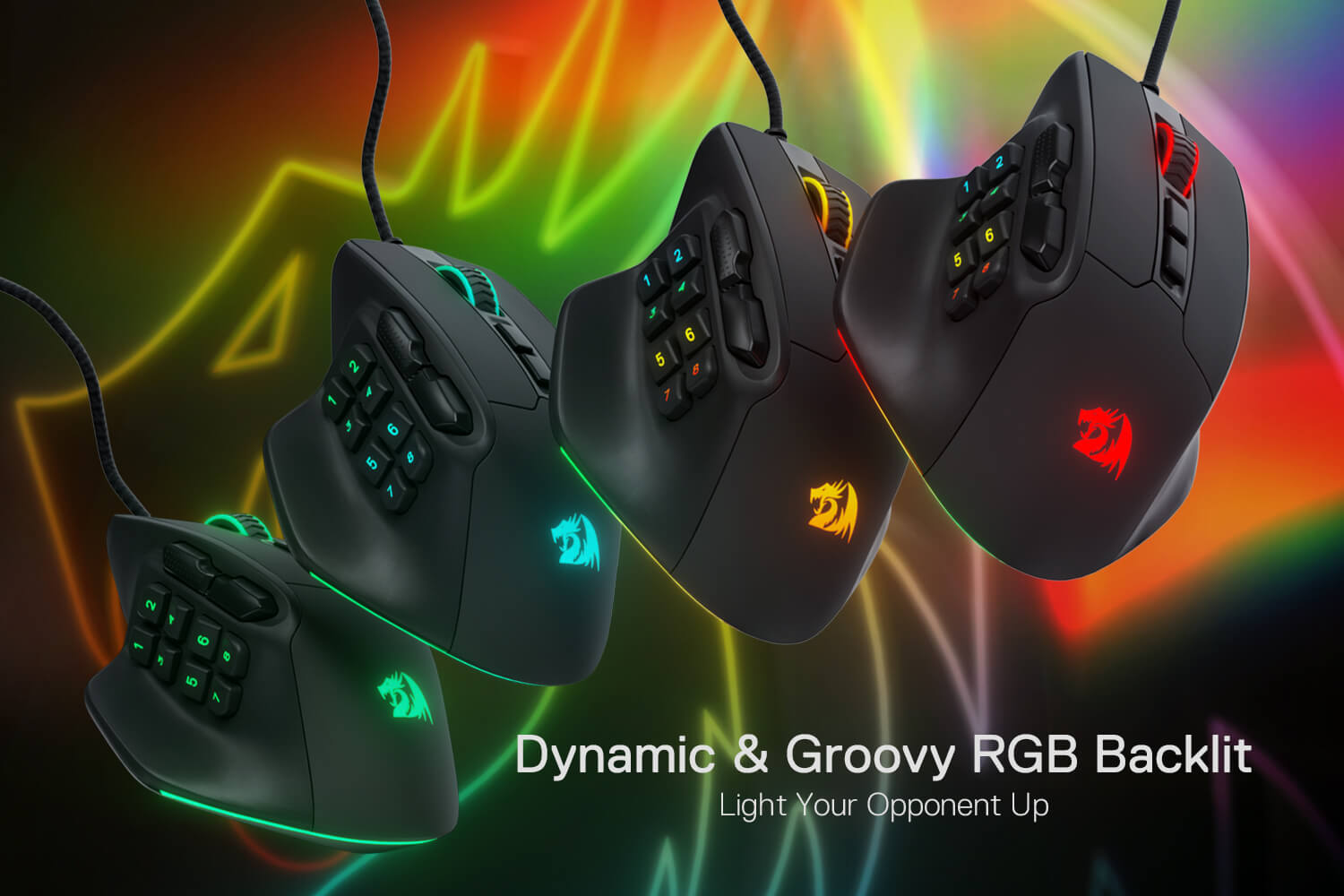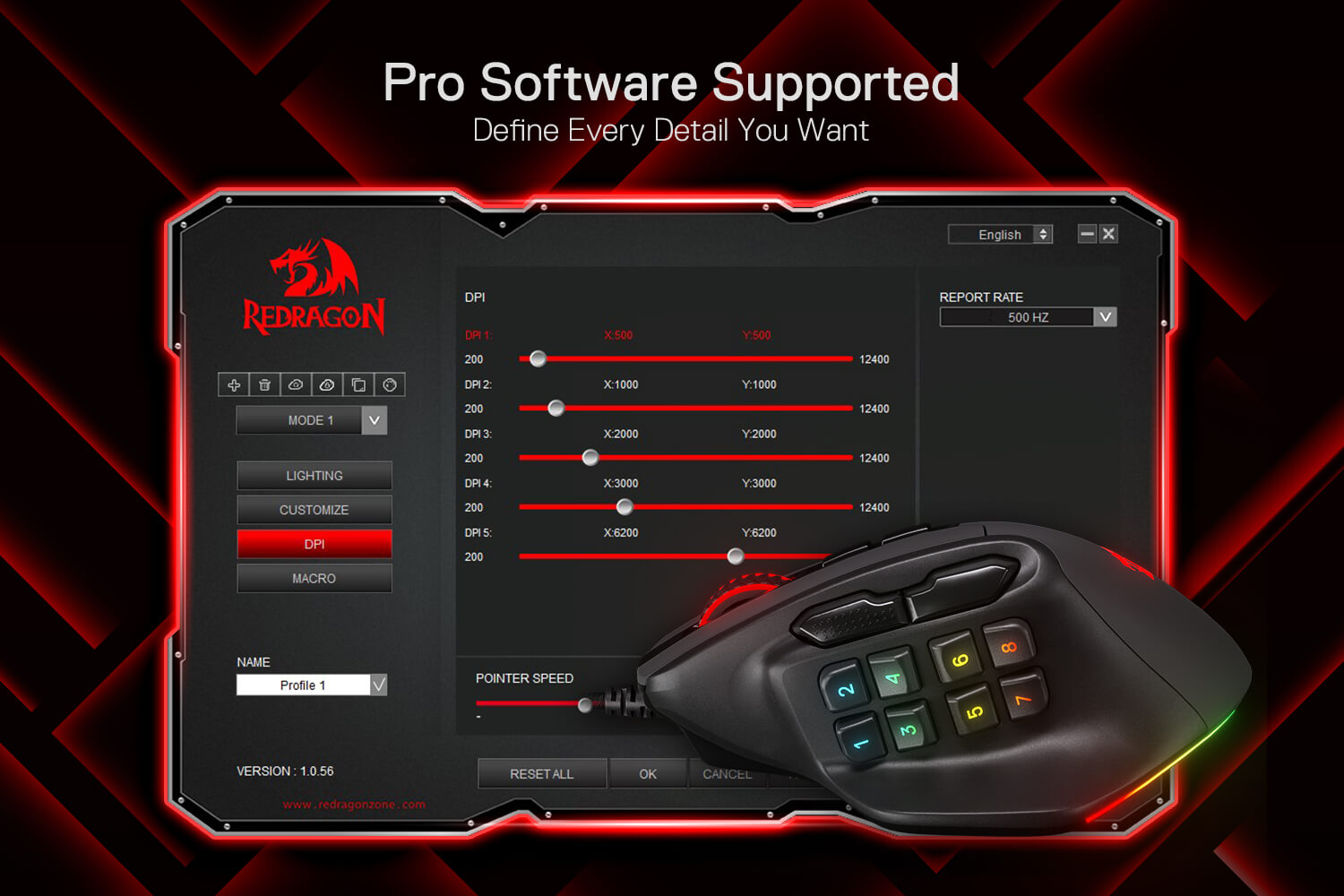 Uncompromised Driver Support 
All 15 buttons with hotkeys, media, DPI settings and 16.8 million color lighting effects are all customizable with Redragon dedicated software. Pre-aim your opponents and get overwhelming to the victory in your exactly wanted way.
Remap The Buttons Out
All buttons on M811 are able to be reassigned and keybinded, set macros from one click to complex combo keybinds easily. Other functions like rapid fire, profile switch, media control are all ready to go with your order.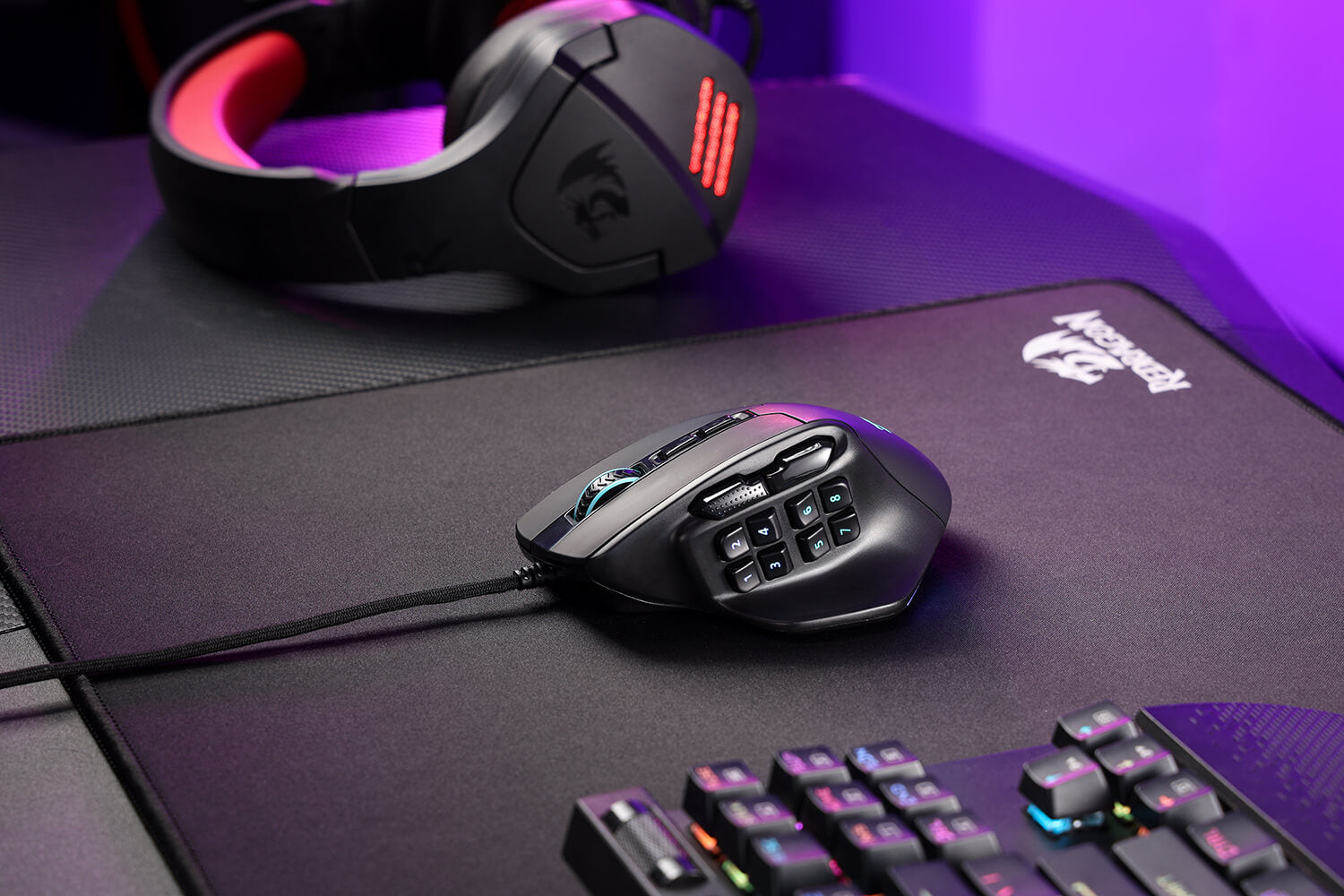 GAMING MICE COMPARISON
Wired/Wireless
Sensor
DPI
ACC
Backlit
Programmable Buttons
Adjustable Weights
Switch Type
Software
Wired/Wireless
2.4G Wireless/Wired
Sensor
Optical Pixart 3395
DPI
100-26,000
ACC
50G
Backlit
RGB
Programmable Buttons
15
Adjustable Weights
×
Switch Type
HUANO
Software
✓
Wired/Wireless
Wired
Sensor
Optical Pixart 3327
DPI
100-12,400
ACC
30G
Backlit
RGB
Programmable Buttons
15
Adjustable Weights
x
Switch Type
HUANO
Software
✓
Specifications
Features
15 Programmable Buttons
Professional Programming Software
5 onboard DPI levels (500/1000/2000/3000/6200)
Ergonomic Natural Grip Build
10 Side Macro Keys
Design
Mouse Button Durability
20M L/R Click
Sensor
Optical Pixart 3327
Polling Rate
125/250/500/1000 Hz
Size
4.85" x 3.38" x 1.94" (123.4mm x 86 mm x 49.5 mm)
Hardware Platform
PC/Mac/Linux/Unix
Package Included
1 x Redragon M811 Gaming Mouse
1 x User Manual
Reviews
Reviews
Decent product
I love red dragon products but the on thing that i absolutely hate is that the software you are able to download for the products requires a 3rd party download. Which in my opinion is a joke for a company that makes such good products. The company does not let you know what 3rd party website is best to use, you just have to test you luck and see if anything is going to work.
As a female gamer, a good mouse is hard to find. This MMO mouse deals with the, I can't reach the buttons problem. Or the I can't find the right button problem. With the two bar buttons on the side and the two groups of 4 buttons, I can now reach and find the button I need when I need it. The tip of my thumb fits perfectly on the 1st group of 4 and the back of my thumb can easily individually reach the second group of 4. And the glide is great...when you remember to take the plastic off the pads... heh.
Feels reminiscent of the MX Master series, but with gaming sensor and MMO buttons. Works great so far!
This mouse is very well built. No defects or weak points can be seen. The surface material is not rubber, but provides just enough grip to feel good when using it. The cord is protected by a woven fabric, which is good due to its very flexible nature. All connections on both ends of the cord are reinforced well. The mouse itself has satisfyingly clicky mouse buttons that have zero wobble. They are low profile and easy to click.
Lighting - Full 16.7 million color customizable RGB lighting with several pre programmed modes to choose from.
Software - As always, the Redragon Software link provided in the box will take you to the download page. The software gives you full control over button assignment and some color options for the mouse as well. It is an archived file, not a *.exe file, so you will need to unpack it before installation.
1.Pros - Ergonomic, many programmable?buttons Cons - The 1 & 2 button are a stretch to reach.?
2.Whats in the box - Comes with the M811 Mouse, Stickers, and information on where to get the drivers.
3.Build Quality - SOLID, great grip, nice weight.?
4.Lighting - RGB lighting with several modes to choose from - Rainbow by defaul
5.Software -?Redragon Software. It's currently a .rar file. Most of the other Redragon Mice have a .exe file that doesn't require any special software to run it. This is a small thing, but if you get an end user that's not tech savvy, this could be a deal breaker if they are looking to customize the mouse for their purposes.?
6.Conclusion - Redagon continues to build high quality gaming mice at a phenomenal?price point, backed by a limited warranty, and great customer satisfaction, it's a deal that is hard (if not impossible) to beat. I'd love to see a Wireless version of this mouse perhaps with an index button like the M913 has.?
For a video explanation, please review this video:?https://www.youtube.com/watch?v=cgSfwwWqsXs
Download