Description
5.0 BT/2.4 Ghz/Wired Three Modes 80% TKL Wireless Gaming Keyboard
Here comes Redragon's innovative 1st-Gen 3-mode connection technology, USB-C wired, BT 3.0/5.0 & 2.4Ghz wireless modes which advanced your user experience to the next level in all fields. Built-in upgraded 3.0/5.0 Bluetooth and 2.4Ghz wireless chips, K621 offers a real-wireless and no-latency connection for all devices in the market. Easy to toggle among different devices in 3 modes set no limits of possibility.
80% TKL Low-Profile
Compact tenkeyless 87 keys in a low-profile design, offer more space for mouse movement and shorter actuation distance. Provides precise performance at half the height while retaining white simplicity style.
More Extra Practical
Set with 4*5 on-the-fly macro keys and a dedicated function area for media control. Convenient to rec frequently used macros without software, play the next song, or just scroll for volume adjustment.
Endless Redefine Ways
With powerful software support, whatever backlit modes, key reassignments or combo keys macro records all enable for easy access. Level up your working efficiency and gaming performance in the best way.
Superb RGB For Gamer
Up to 20 preset vibrant backlight modes can be adjusted easily by FN + Ins, the brightness is also adjustable by scroll section. Redragon logo filled with the same RGB colors offers extra active buff for gamers.
Solid Use Durability
Equipped with an advanced 1900 mAh lithium battery, the keyboard provides a prolonged using time in wireless mode. A low battery indicator makes sure the keyboard will always be online if you don't forget to recharge.
5 Devices Switchable
With 3 Bluetooth devices storable, a 2.4Ghz wireless mode, a wired mode, K618 can save and switch connections to five devices simultaneously. One keyboard is good enough for most of the devices in your home.
Choose the keyboard switch that's right for you
Low Profile Red
Low Profile Blue
Low Profile Brown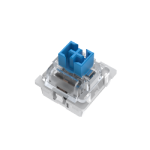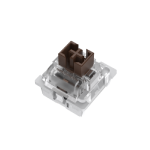 Operation Style
Linear
Tactile
Tactile
Operating Force
45±10gf
55±10gf
45±10gf
Actuation Point
1.2mm
1.2mm
1.2mm
Total Travel Distance
3.0mm
3.0mm
3.0mm
Life Span (Keystrokes)
50 million
50 million
50 million
Sound Level
Quiet
Clicky
Soft
Suitable For
Office/Gaming
Typist
Office/Gaming
Specifications
Features
Bluetooth/2.4Ghz/Wired Tri-Mode Ultra-Thin Low Profile TKL Gaming Keyboard
Low Profile Linear & Quiet Red Switches
30% Cutted Ultra-Thin with Dedicated Media Control
Professional Software
RGB Backlit
Design
Switches
Low Profile Red Switches
Keyboard Connectivity
Wired/BT/2.4Ghz Wireless
Matrix
87 Keys (Full Rollover)
Package Included
1 x Redragon K621 TKL gaming keyboard
1 x Detachable Type-C Cable
1 x User Manual
Compare with other Redragon keyboards here.
Reviews
Reviews
Nice daily low profile
I'm quite satisfied with this keyboard. I wanted a sleek looking keyboard on my desk. Also I wanted white colour and backlighting is a must for me, so I can use in the dark. This keyboard checked all the boxes and added media keys and a roller on top my checklist. So it was a great purchase. The build quality is pretty good as usual with redragon. The backlight colour is bright. The wireless connections are pretty good too. I didn't use the bluetooth connection. The 2.4usb connection didn't disappoint. To add some negative comments I can say that the letters print is not very consistent. Some letters seem thinner than others. Rarely some key presses are not registered. It might be due to the switches themselves. The volume roller not working when the keyboard sleeps is annoying I must say. Especially when watching a movie. For gaming I'm not too fond of it. The low profile switches and the flat keycaps don't make a good gaming experience in my opinion. Overall, I'd say this product is a rare find and worth the price. If you're not too picky with the letter prints and can work around the media keys not working during sleep, then this would be a pretty good daily general use keyboard. With the sleek, low profile, clean design almost everyone around the office/house would say they like your keyboard on your desk.
Sooo good
Very good keyboard for a good Price, can even be upgraded in the Long run
Great keyboard
Before buying the keyboard i read some of the reviews most of them were good, few of them were bad saying the keyboard is bad, loosing connection, that something is not working, not in my case, keyboard working great, battery up time is good, have no problem with connections, would recommend especially with the price it's really worth it.
Best keyboard ive ever own and I got my family to use redragon and they only products I use is only redragon.
I just got this keyboard, and the rgb is beautiful, as well as they keys and switches are fantastic. My main problem is, and its a big problem, is that when the keyboard goes to sleep in wireless mode, when it wakes back up the latency is unbearable, if the keystrokes are even recorded at all. It's pretty much useless in wireless mode for this reason. If you let it go to sleep, its not functional when it wakes up..I can use it in wired mode...but i could have gotten a different keyboard for the money for a wired kb. So far my initial reaction is very unhappy with the product.
Download