Description
Slim and Tactile 
The K585 keyboard gets rid of those extra keys and keeps the most useful ones in a slim & portable package. All of your keyboard action keys are in one convenient place. No need to worry about misclicked keys. The crisp tactile click of OUTEMU Blue Switches allows you to master the rhythm of the battlefield and make you the MVP.
Play to Win
With 7 programmable macro keys, binding multiple commands and activating them instantly is simple and quick. Assign single or multiple keystrokes to any macro key to save precious time in the middle of battle.
Light it Up in Your Way 
5 RGB backlit modes are selectable with 16.8 Million Colors. Glorious & amazing lighting effects let the light of victory wreak havoc in the dark.
Form & Function
Ergonomically designed with a detachable wrist-rest section connected by magnets, the wrist-rest offers great support to make use more comfortable.
Unleash Power with Red, Feel Tactility with Brown, Hear Precision with Blue
Choose Quiet Red for stealth and precision, Soft Tactile Brown for a subtle, rhythmic edge, or Iconic Blue for audile feedback and lasting resilience. Each switch is designed to make you the undisputed MVP. Game on.
Gaming Keyboards Comparison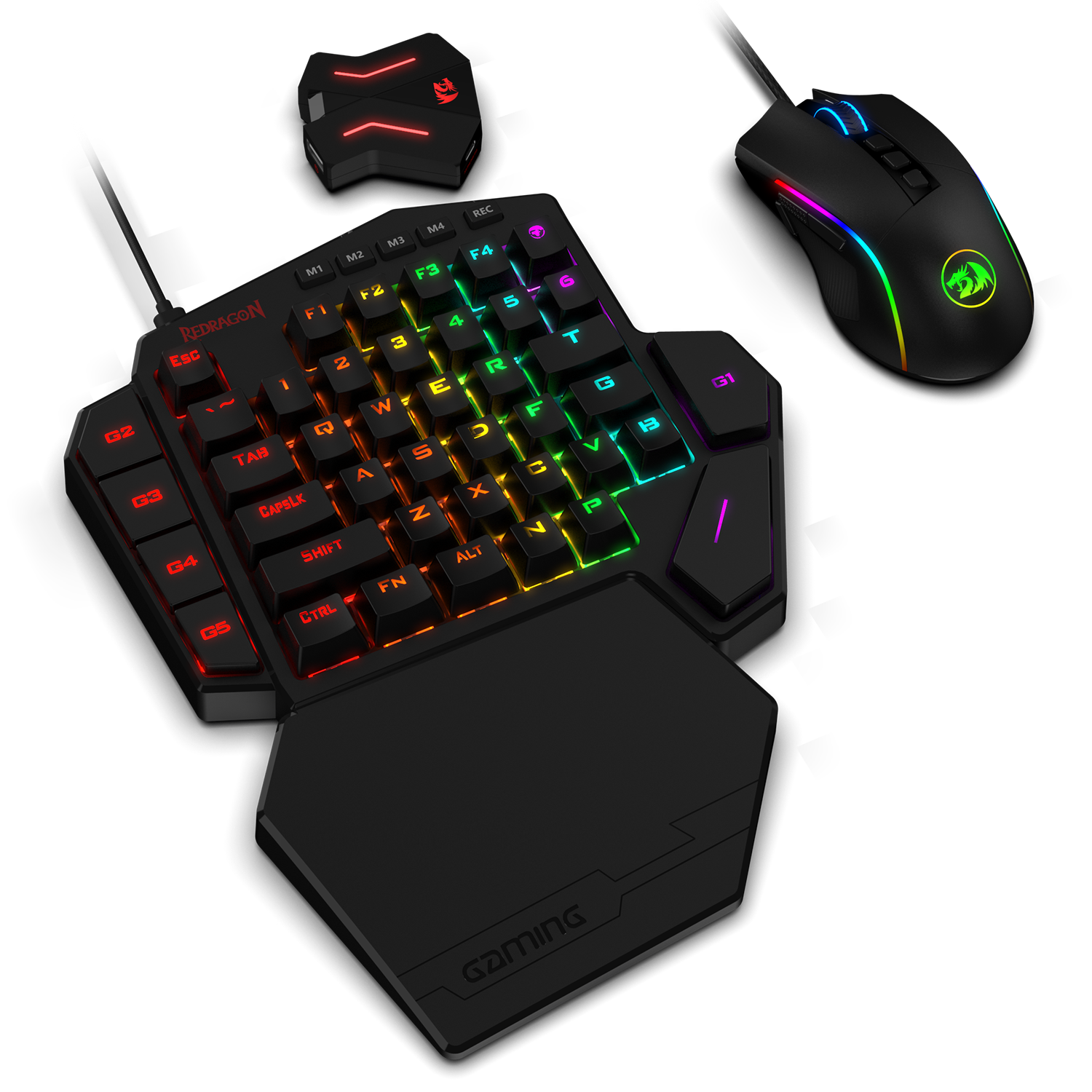 K585
DIMENSION
WEIGHT
SWITCH
KEYS
CONNECTION
EXTRA G KEYS
RGB
SOFTWARE
K585 DITI
DIMENSION
10.3×8.5 in
Weight
0.61 kg
Switch
Blue/Brown/Red Switch
Keys
42
Connection
Wired
Extra G Keys
5
RGB
✓
Software
✓
Specifications
Features
Professional software
USB Pass-Through Port
7 programmable macro keys
Ergonomically designed with a detachable wrist-rest section
5 RGB backlit modes are selectable with 16.8 Million Colors
Design
Package Size
10.3 x 8.5 x 2 inches
Switch
OUTEMU Blue/Brown/Red Switches
Matrix
42 Keys (Full Rollover)
Keyboard Connectivity
Wired
Application
Desktop & Laptop
Keyboard Standard
Mini Keyboard
Package Included
1 x Redragon K585 mechanical keyboard
1 x Detachable Type-C Cable
1 x User Manual
Compare with other Redragon keyboards here.
Reviews
Reviews
DITI Wired Keypad
I think that this is a great option is you are not looking for a full size keyboard. I have been using it for a while and love it.
I love this thing next one I get will be brown switches.
Well made and great for fps games
Wish the software was way better
I enjoyed my K585 but for some reason on profile one, Whenever I press the T key it flips out and macros about 20 other buttons. and now I cannot switch any key binds at all.
Do you hate remapping all of your keys just so you can play left handed? Here's the solution! Put this on the right side of your keyboard and you're good to go. Left hand on mouse, right hand on this game pad. I keep this on the right of a Microsoft Natural Ergonomic keyboard, so my right hand still has access to all of the number keys. Perfect! I would change two things; I'd make it wireless and change the angle of the wrist rest. Although neither of those two things detract from my game play.
Download
FREQUENTLY ASKED QUESTIONS
Q
How to create a static lighting profile for the K585 keyboard as I do not like pulsing lights?
A
Please try to download the updated software from the drive here https://drive.google.com/file/d/1sil1I_acOAJash0XkWzieUB6SsNa6_6S/view?usp=sharing, And then, Press: FN+space to switch the static 8 colors.