Description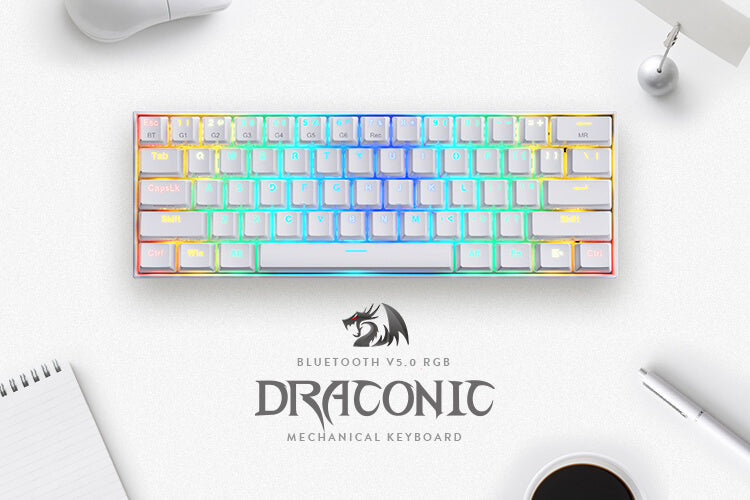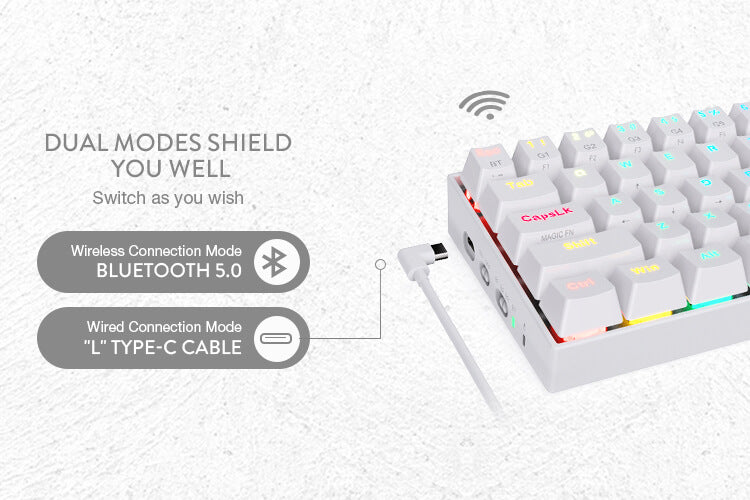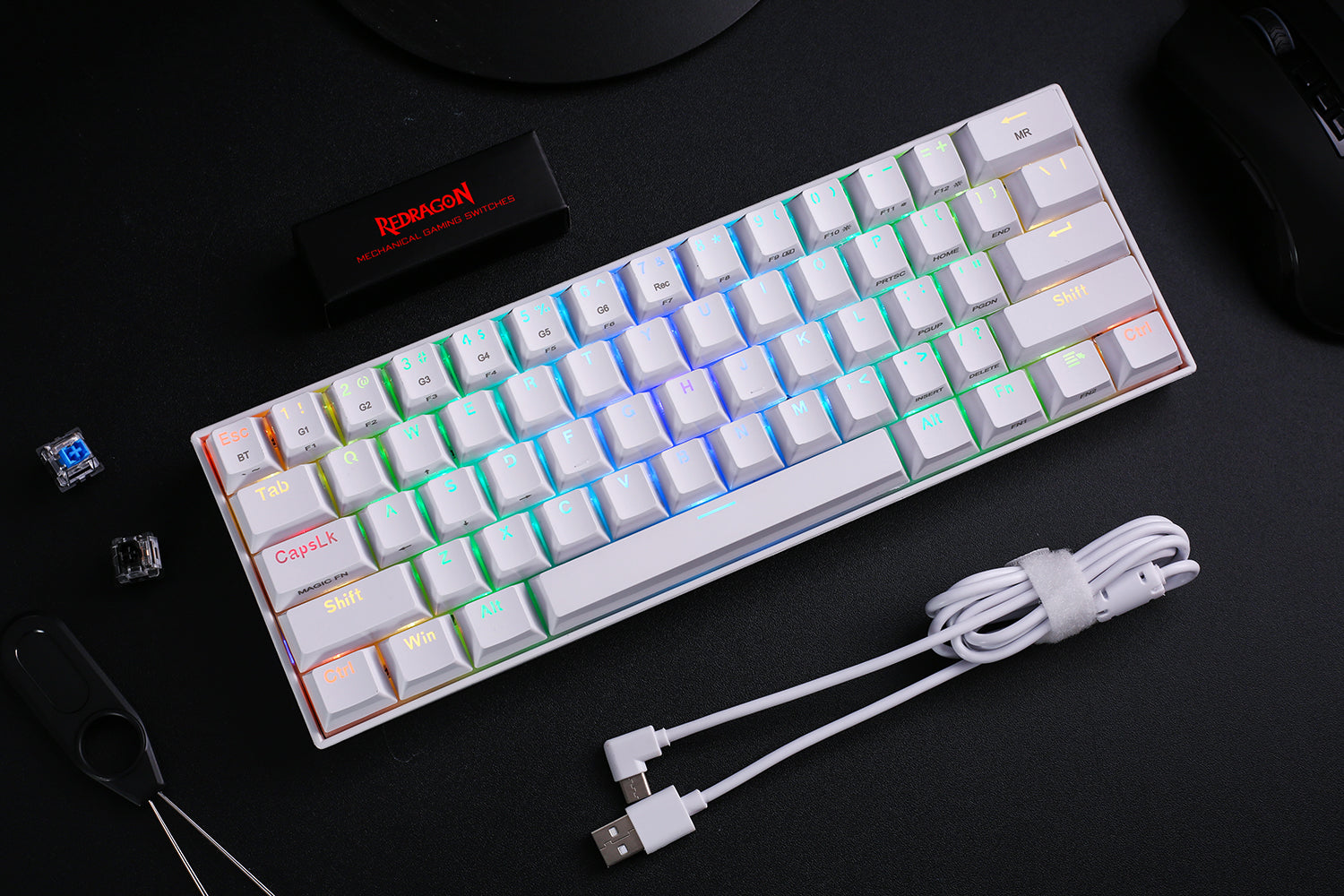 First Redragon 60% Keyboard
Ultra minimalistic tenkeyless (TKL) design with 61 keys portable layout frees up table space for mouse movement, which offers the purest performance for FPS pro.
Wireless Made Easy
Enjoy the freedom of wirelessness with a Bluetooth 5.0 connection and 3000mAh long-lasting battery capacity. Reliable and fast connect hassle-free with devices such as laptops, tablets, and even phones that support Bluetooth.
Dual Mode Switch
Easily switch between wireless and wired modes with the mode switch on the side. The included USB-C cable gives you the option to go wired for competitive games.
RGB Illumination Builder
13 Dynamic presets available onboard. Millions of color options and effects make you the designer of your ultimate gear with a pro driver.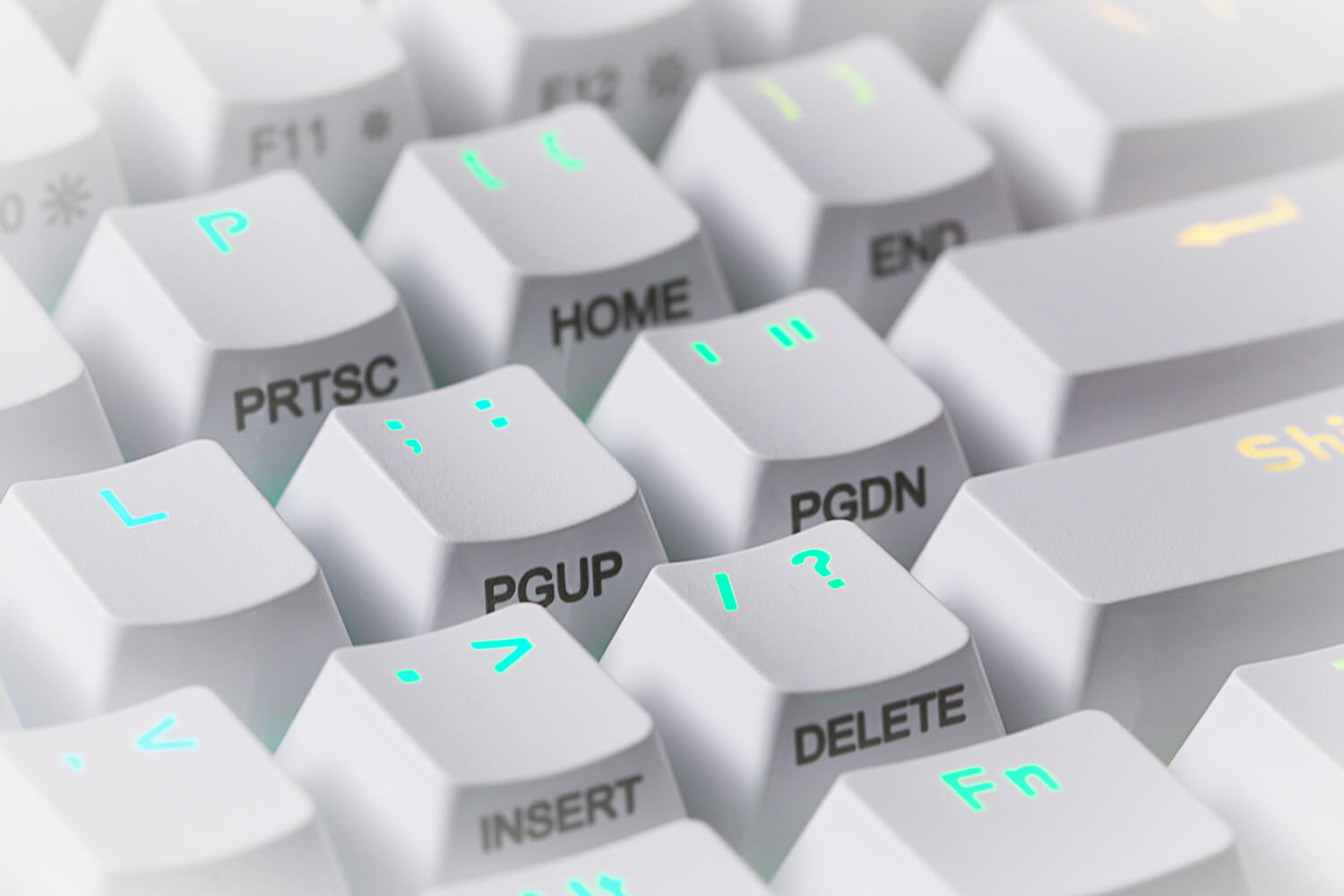 Magic Functional Side Print
Clear, concise and easy-to-read side-printed characters meet all needs for multiple function keys, compact with functional use.
Specifications
Features
L shaped type C cable
Bluetooth & Wired Connectivity
Macro Support
High capacity 3000mAh Battery
 No drivers required for RGB lighting control
Wireless Bluetooth connection (3 switchable pairings)
A converter or adapter is needed to work with NS, XBOX, PS4 and other platforms except PC.
Design
USB Connector
Detachable Type-C Cable
Keyboard Size
11.5*3.9*1.4 inches
Keyboard Connectivity
Wired/Wireless (Bluetooth v5.0)
Matrix
61 Keys (Full Rollover)
Package Included
1 x Redragon K530 White Wireless Keyboard
2 x Switch Puller
Spare Switches
1 x User Manual
Reviews
Reviews
Prior to acquiring this open-box K530, I had procured the identical keyboard in black from MicroCenter as the white version was not available at the time. When I chanced upon the K530 in white on the Redragon Shop, I discerned that it was destined for me, prompting my purchase. While I anticipated encountering certain issues with its build quality given its open-box status, such as sticky switches or blemishes on the case, I was mistaken as the keyboard arrived in a pristine, like-new condition. In my estimation, the K530 Pro stands out as one of the most outstanding budget 60% keyboards available, catering well to those new to PC gaming or seeking a more compact form factor for office use. I have utilized several Redragon products, and I can affirm that each of them, particularly the keyboards, boasts exceptional build quality for their intended purpose. Having purchased the Kumara upon its release, it still performs impeccably to this day. This purchase represents a sound investment, and I wholeheartedly recommend it without hesitation.
Download
FREQUENTLY ASKED QUESTIONS
Q
Unable to connect K530 to device(BT4.0 and above) in BT1 mode.
A
Make sure the switch of BT1 is on with red flashing light, long press FN2 + ESC till the backlit of the keyboard twinkle one time quickly. Then you will be able to find "Dracomic-1" in your Bluetooth device list, click it and to pair.
Q
How MAGIC FN key (CapsLK) works?
A
MAGIC FN key can only be used and programmed with software to FN1 or FN2. For example, set macro FN1 on MAGIC FN key to use ←↑→↓ keys by one hand with pressing CapsLK + WASD.
Q
Does the keyboard work with xbox?
Q
How to do keybinding or macro without software?
A
Yes, 6 keys (G1-G6) can be macro on-board (64 keys at maximum). For example, set 000 on G1: press FN2 + 7(Rec) → press FN2 + G1 → press 000 → press FN2 + 7(Rec) to store the keybinding and quit macro mode.
Q
Does it support multimedia function keys like brightness and volume adjustment on Mac?
A
Sorry that K530 is not compatible with Mac functional combo keys currently.