Description
Original Aluminum Board
The upgraded K556 PRO version keeps using the same tank-solid aluminum metal board material covered with the classic brushed surface process. Keep the keyboard steady and elegant on the desk, for a premium typing experience.
3-Mode Connection
Geared with Redragon's innovative tri-mode connection technology, USB-C wired, BT 3.0/5.0 & 2.4Ghz wireless modes which make the user experience upgraded to another level in all fields.
YES! TRUE HOT-SWAP
The transformative innovation with 99.8%+ switches compatible free-mod hot swappable Redragon keyboard is available now. The unique exclusive structure design of the socket makes the switch mounting easier and less wobbling.
Hot-Swappable Red Switches
Hot-swappable with almost all switch types in the market no matter 3-pin or 5-pin. Quiet basic linear mechanical switches and soft key travel makes every click easy to register. Easy to mod or update it with your wishing preference, no forum researching is required.
Vibrant Groovy RGB
Up to 20 preset backlighting modes are free to choose from by the keyboard itself. Brightness and flowing speed are also adjustable on board. Select your own preferred modes for any playing.
Pro Software Supported
Expand your options using the available software to design your own new modes and effects. Macros with different keybindings or shortcuts for more efficient work and gaming.
Durable Battery
Up to 150+ hours durability with lights off, and a 50+ hours lifetime with RGB lights. Fast less than one-night charging will get it back to life for the next day's new challenge.
GAMING KEYBOARD COMPARISON
Choose the keyboard switch that's right for you
Outemu Red
Outemu Blue
Outemu Brown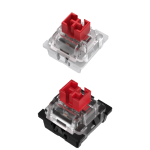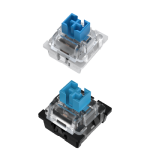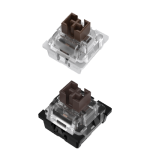 Operation Style
Linear
Clicky
Tactile
Operating Force
40g
60g
55g
Actuation Point
2.0mm
2.3mm
2.0mm
Total Travel Distance
4.0mm
4.0mm
4.0mm
Life Span (Keystrokes)
50 million
50 million
50 million
Sound Level
Quiet
Clicky
Gentle
Suitable For
Office/Gaming
Typist
Midway (Office/Gaming)
Specifications
Features
Bluetooth/2.4Ghz/Wired 3-Mode
100% Hot-Swap Socket
Free-Mod Plate Mounted PCB
 No drivers required for RGB lighting control
Hot-Swappable OUTEMU Red Switches
Aluminum Board
Design
USB Connector
Detachable Type-C Cable
Dimensions
435 x 124 x 39mm (17.1 x 4.9 x 1.6 inches)
Keyboard Connectivity
Wired/Wireless (Bluetooth v5.0)
Matrix
104 Keys (Full Rollover)
Key Switches
Redragon Mechanical Red Switches
Anti-ghosting
full N-Key rollover
Backlighting
Yes, 16.8 M per-key RGB lighting
Package Included
1 x Redragon K556 PRO Wireless Keyboard
1 x Detachable USB Type-C Cable
1 x Switch Puller
1 x Keycap Puller
Spare Switches
1 x User Manual
Compare with other Redragon keyboards here.
Reviews
Download