Description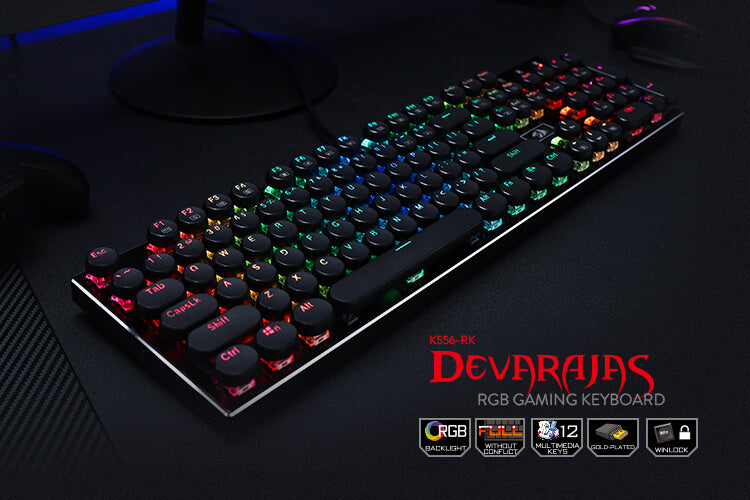 N-KEY ROLLOVER. ERGONOMIC AND DURABLE
This keyboard is made of full metal material, with matte-finish texture, solid and robust enough to protect it from scratch. It allows multi-keys to work simultaneously with high speed. Each key is controlled by independent switch, delivering reliably accurate performance to players without any program error.
MECHANICAL BROWN SWITCHES 
Offering the best tactile typing experience, also being ever so slightly quieter, fitting for office or gaming use. The switches can be easily pulled out for dust removal or cleaning or replacement with 8 spared switches.
VINTAGE KEY CAPS
Redragon features vintage-inspired round keycaps. With its concave surface and touch-type support, it's equally ergonomic and beautiful. It took many iterations in both the digital and physical domain to bring this balance of style and function. The automotive strength chrome accent is extremely durable while maintaining the highest shine. That is, it's interesting and gorgeous!
18 BACKLIT MODES 
Press FN+INS-PgDn to enter Pro-gamer mode. RGB LED adjustable lighting with 6-themed backlight -18 lighting models. You can also adjust their brightness with FN +"↑"and"↓" Besides, there is a 9-color single backlit mode for this keyboard.
WIDE COMPATIBILITY
A support computer system including Windows 10, Windows 8, Windows 7, Mac OS X, Windows XP, Windows VISTA, etc.
Specifications
Features
Vintage Style Design with round keycaps
Professional Software
Tactile but not clicky Brown Switches
16.8 million colors backlit with 16 unique modes
Design
Package Size
17.13 x 4.88 x 1.59 inches
Switches
Outemu brown switches
Keyboard Connectivity
Wired
Connector
Gold-plated USB 2.0,3.0
Package Included
1 x Redragon K556-RK RGB 104-key mechanical gaming keyboard
1 x User Manual
1 x Keycap Puller
Switch Puller
8 x Spared Switches
Reviews
Reviews
Love this keyboard. It's my first mechanical keyboard and I couldn't have asked for a better one to pop my cherry! It's such a quick and concise response when used for both typing and gaming.
I love this keyboard, the looks are what I was looking for. I'm switching out the brown switches with blue switches for more of a typewriter sound. This is a personal preference.
The switch layout seems a little condensed compared to my other mechanical keyboards or it could be that I'm having to get used to the round keys. I use this for my gaming rig where I don't do as much typing as work PC.
Overall I really like this keyboard, if you're thinking about it get it. You'll love the look and performance.
I hope they come out with a wireless version I'd buy that on pre-order if I could.
Absolutely amazing design. Love Love Love the retro keys and the colors. ANS, it's not a plastic housing. Stay put better than a plastic housed keyboard that is much lighter.
The product looks amazing but, right out of the box I had issue with the A key not working unless Appling ample force down on it, luckily they send you replacements with the key board and everything works well after that
Download