Description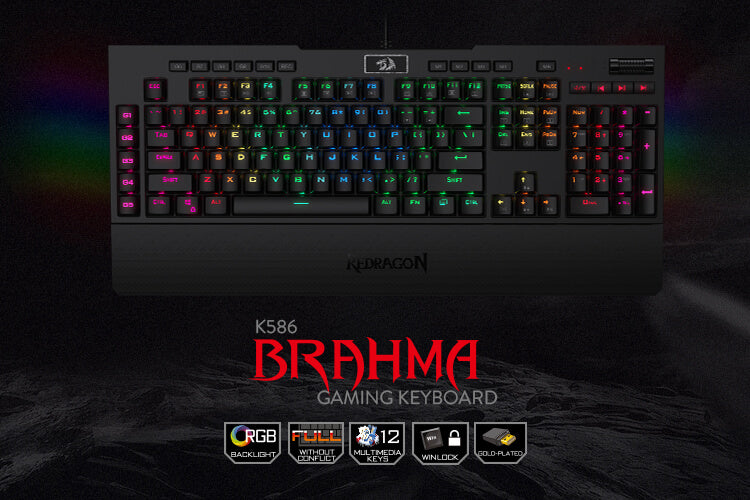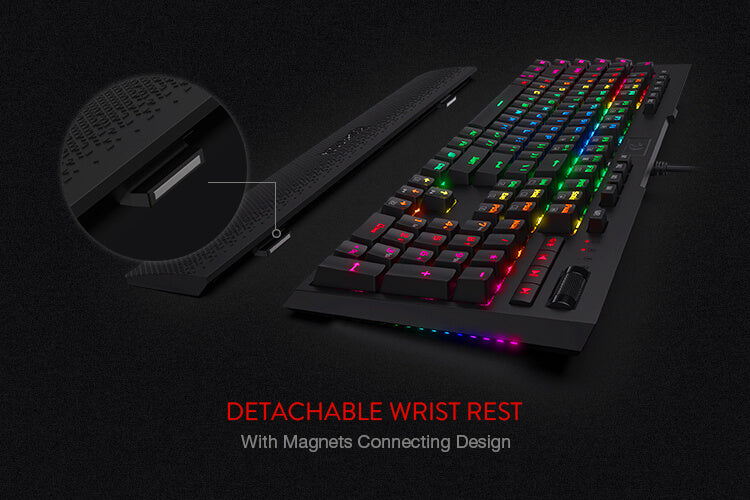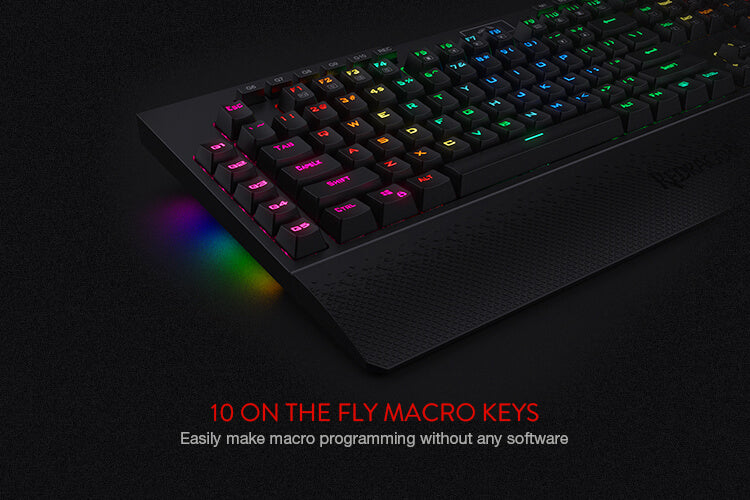 Versatile Switch Options
Choose Your PlaystyleUnlock the ultimate gaming and typing experience with our switch options! Our Redragon K586 comes standard with Linear Red Switches, which offer a smooth, easy-to-press action with rapid actuation but no tactile "bump." Perfect for both intense gaming sessions and long workdays, these red switches let you make your moves with seamless precision.

But that's not all. If you crave a more tactile feel under your fingertips, consider our optional Mechanical Brown Switches. These offer a satisfying tactile typing experience that's still quiet enough for both office and gaming environments. It's time to choose the switch that suits your unique playstyle and work needs, making every keystroke a rewarding experience.
Customizable Charming RGB
16.8 Million RGB backlights with 18 modes will never fail you when you need a fancy and cool vibe for play or work. Make your show if the pre-programmed them is not your type, all keys' lighting effect and brightness level are customizable and adjustable just like a palette.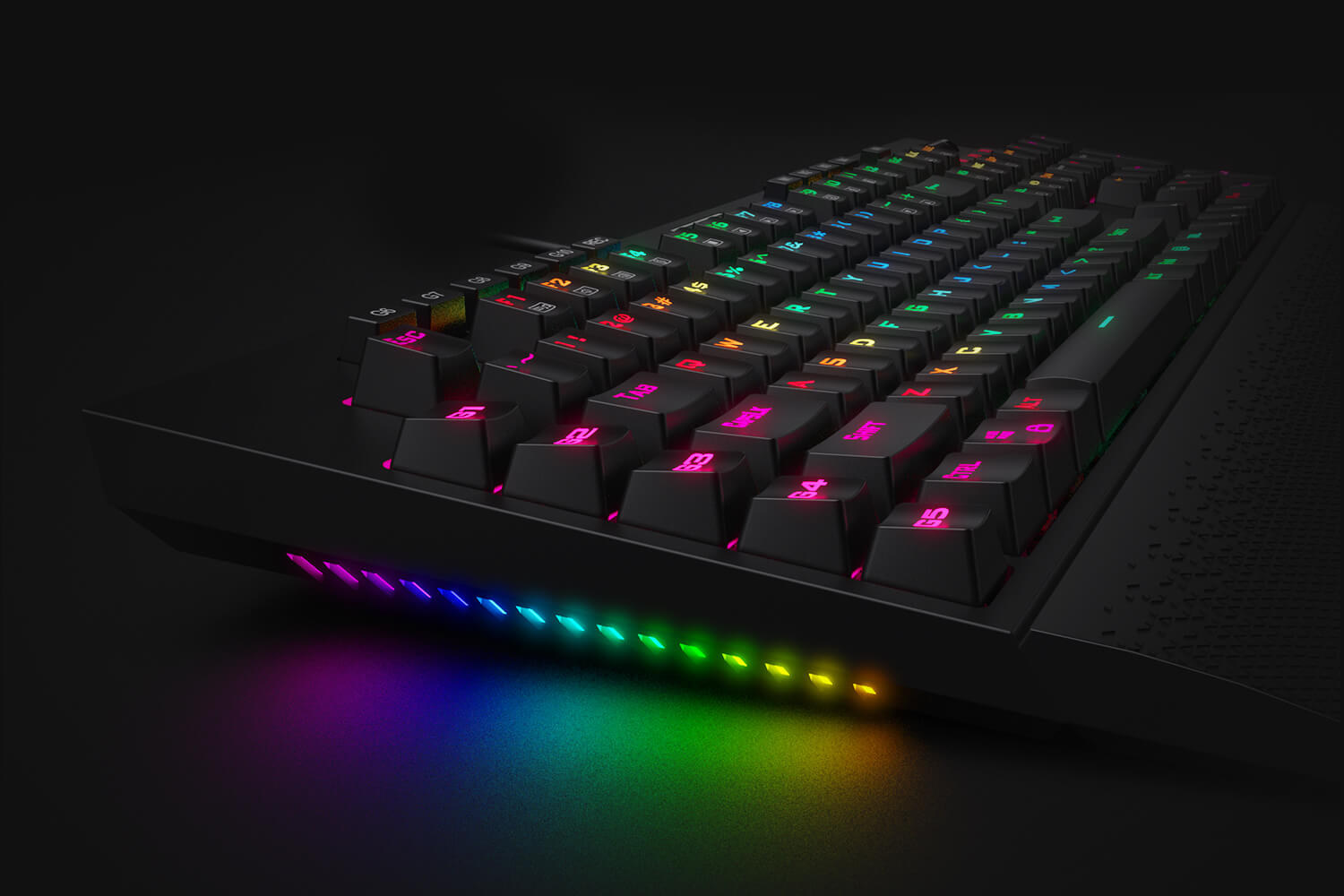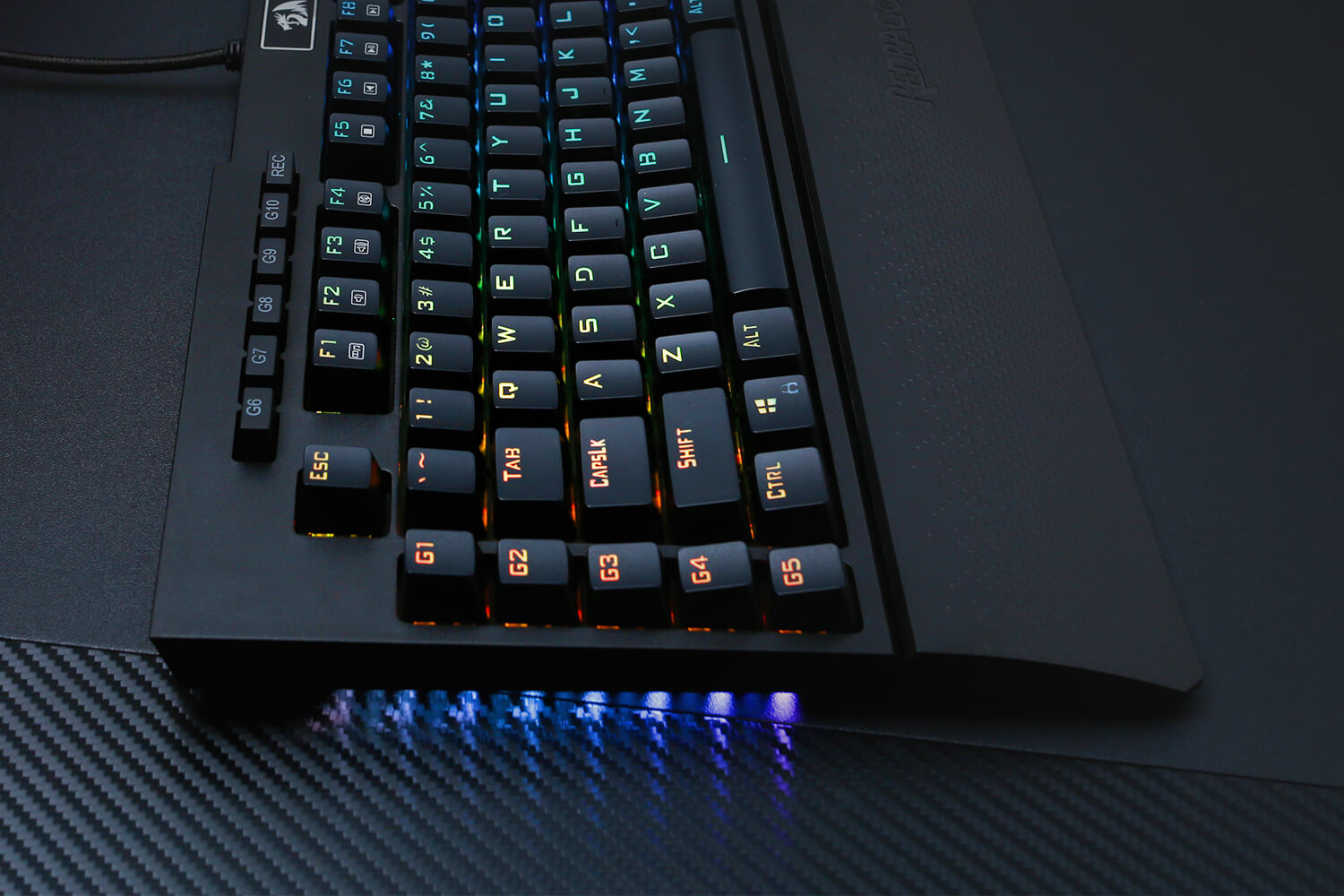 Dedicated Macro Keys & Media Controls 
10 programmable macro keys (G1-G5, G6-G10) on the keyboard allow recording macros on the fly without any additional software required to be installed. Easy to edit and customize your creativity. The controls let you quickly play, pause, and skip the music right from the keyboard without interrupting your game. The dedicated scroll bar at the top right allows adjustment of system volume/keyboard backlight brightness.
Software Optional 
All main features accessible from the keyboard. Optional software for more detailed operation available. 【Not support Mac OS, settings can be saved in keyboard on Win PC to be used on Mac】
N-KEY ROLLOVER 
104 keys anti-ghosting allows you to simultaneously activate multiple keys. The floating keys and OUTEMU blue switches will give you great gaming experience with fast response time and nice clicky sound. Ergonomically designed with a magnetic detachable wrist-rest, the wrist-rest offers great support during long sessions.
Gaming Keyboards Comparison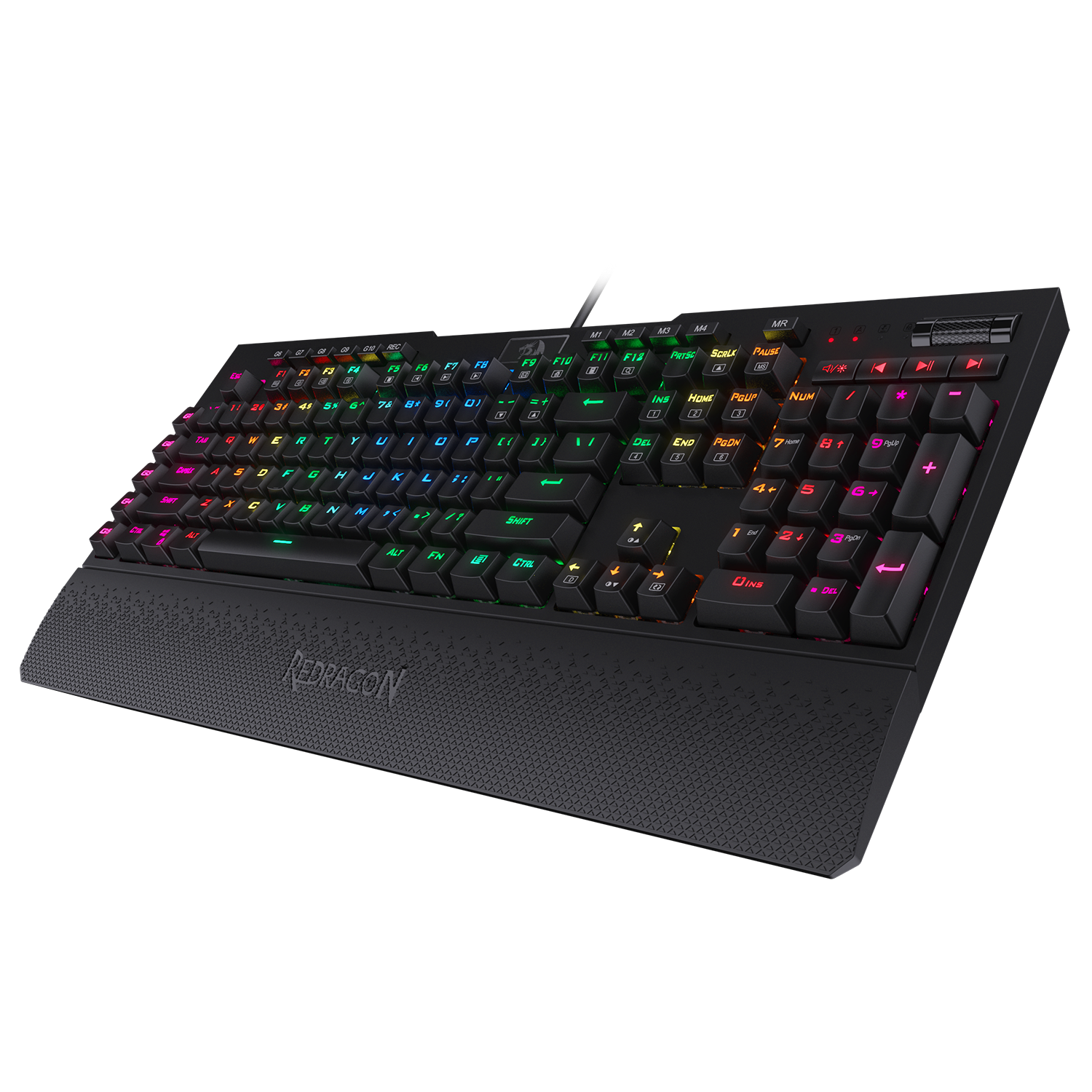 K586-PRO
Switch Type
Switch Height
Key Stroke Distance
Stroke Travel
Key Force
Keystroke Lifespan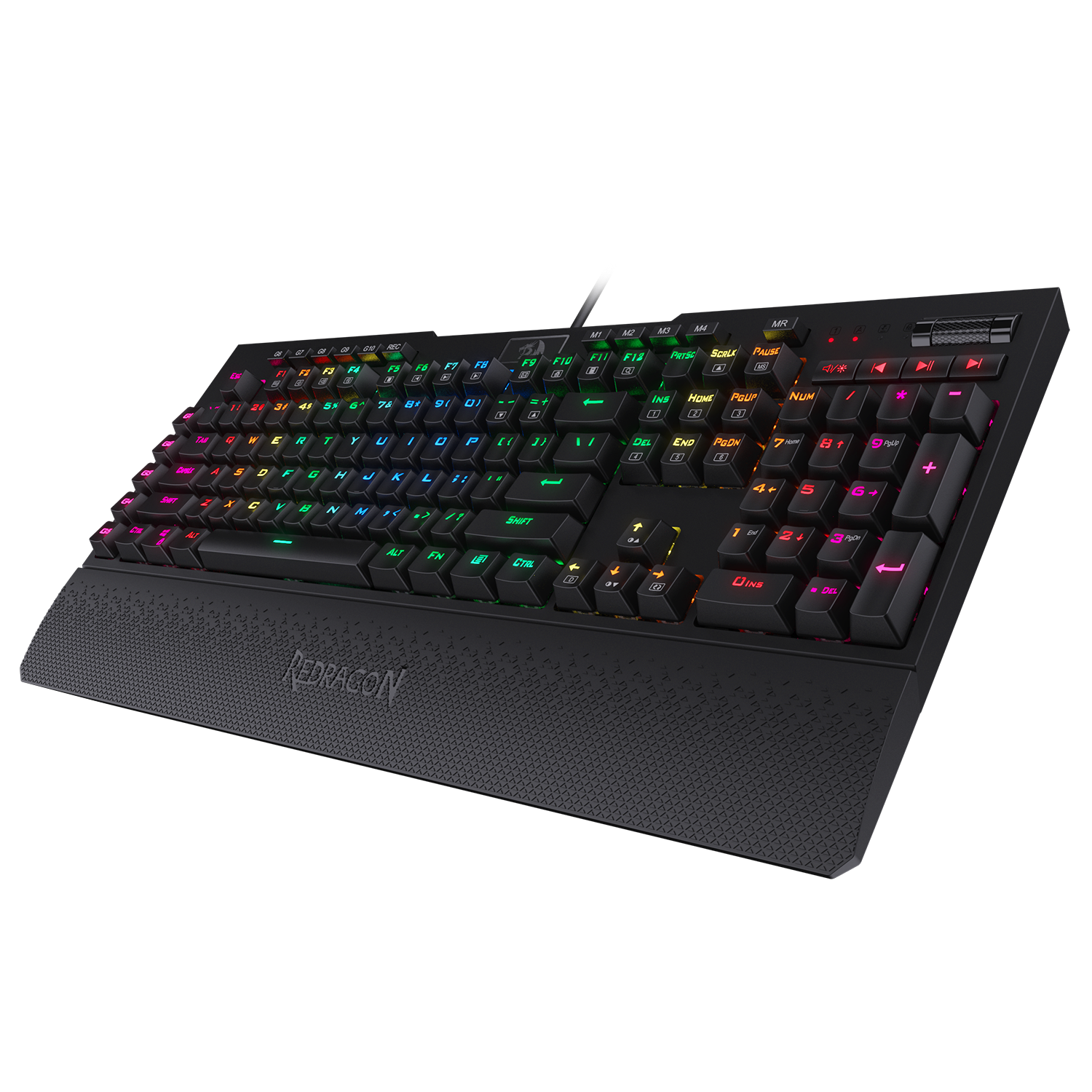 K586-PRO
Switch Type
Optical Mechanical Blue Switch
Switch Height
11mm
Key Stroke Distance
4mm
Stroke Travel
1.6mm
Key Force
55g
Keystroke Lifespan
100 Million
Specifications
Features
10 On-board Macro Keys
Media Control Panel
4 Customizable Profiles
Wrist Rest Support and Exclusive Driver
Design
Package Dimensions
20 x 8.3 x 2.8 inches
Key Switches
OUTEMU Brown & Red Switches
Keyboard Connectivity
Wired
Matrix
104 Keys (Full Rollover)
Package Included
1 x Redragon K586 Mechanical Gaming Keyboard
1 x Switch Puller
1 x User Manual
Compare with other Redragon keyboards here.
Reviews
Reviews
Product is Good in every way
worth the money we spent
Extra advantage we get from other mechanical keyboards is that this one has 10 macro keys that which we can program on the fly.
RGB colors for individual keys can be set from the keyboard itself
Cons
1) For macro keys if we set macro. they will change to their fixed color(G1 - G5 ) becomes green & (G6 - G10) becomes red, then their color cannot be changed or not change with color profile.
2) G1- G10 keys are by default set to F1 - F10 so cannot directly detect with AutoHotkey. If it was F13 to F23 we could have assigned macros with AHK
3) Only the mechanical keys color can be changed not other keys and indicators
4) White backlight is not exactly white its more kind of purple.
5) Software is Useless. Wont work as we expect it to do. if we program some keys from KB & then if we try to program other keys from software.. only the program from software remains..entire memory will be overwritten. then we have to reset the keyboard to set macros from KB.
6) Backlight flickers when we change the brightness.
7) Gkeys macro cannot be set from software
Price was a little high but the quality and functionality totally outweighs the cost!
I love this keyboard. It's my first mechanical keyboard, and oh man are these switches amazing. The different light patterns and effects are great, and I love that the wrist rest is magnetic. Awesome!
Download