Description
Durable Aluminum Frame for Long-Lasting Use
The Redragon K654 RGB Gaming Keyboard is built with a durable aluminum frame that can withstand even the most rigorous gaming sessions. The frosted texture metal frame not only makes the keyboard look more sophisticated but is also anti-fingerprint and easy to clean. With this keyboard, you can be sure that it will last you for a long time without any signs of wear and tear.
100% Hot-Swappable for Personalized Gaming Experience & Red Switches for Quiet Typing Experience
The Redragon K654 RGB Gaming Keyboard is equipped with a hot-swappable feature that allows you to change the switches as per your preference without having to replace the entire keyboard. Equipped with linear red switches that enable smooth and gentle keystrokes without any jams, these keyboard switches provide a flawless and quiet typing experience with satisfying click feedback.
Unique Gradient Design for a Distinctive Look
The Redragon K654 RGB Gaming Keyboard has a unique gradient design on its keycaps that sets it apart from other keyboards. The keycaps are made of innovative PBT mixed ABS material with never-fading letters, gentle touch, and exceptional durability. The comfortable keycap height combination conforms to ergonomics, making it suitable for prolonged use. Even without an RGB backlight, the keyboard has a distinctive look that will impress anyone who sees it.
Sound-absorbing Foam for Ultimate Smooth Typing and Gaming Experience
Adding 3.5MM sound-absorbing foam between the PCB and positioning plate effectively reduces the noise created by the shrapnel spring, significantly improving the keyboard's sound performance. With this feature, the Redragon K654 RGB Gaming Keyboard delivers pure auditory pleasure and the ultimate smooth typing and gaming experience. You can now enjoy the satisfying click feedback without the distraction of loud noise.
Fully Customizable
Customize the backlighting colors/speedy/mode and personalized macros with the software or onboard FN shortcuts according to your preference, providing unparalleled immersion, convenience, and efficiency.
Choose the keyboard switch that's right for you
Outemu Red
Outemu Blue
Outemu Brown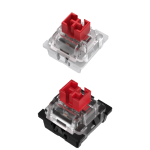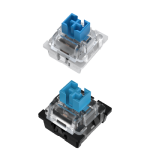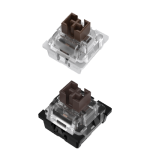 Operation Style
Linear
Clicky
Tactile
Operating Force
40g
60g
55g
Actuation Point
2.0mm
2.3mm
2.0mm
Total Travel Distance
4.0mm
4.0mm
4.0mm
Life Span (Keystrokes)
50 million
50 million
50 million
Sound Level
Quiet
Clicky
Gentle
Suitable For
Office/Gaming
Typist
Midway (Office/Gaming)
Specifications
Features
Weighted Aluminum Frame
3.5mm Sound Absorbing Foams
Upgraded Hot-swappable Socket
Mixed Color Keycaps
Mechanical Red Switches
Multiple Backlit Modes
Pro Software Supported
Design
Switches
Outemu Red Switches
Keyboard Connectivity
Wired
Package Included
1 x Redragon K654 keyboard
1 x User Manual
1 x Detachable USB Type-C Cable
1 x Keycap Puller
8 x Spared Switches
Compare with other Redragon keyboards here.
Reviews
Reviews
Loving the keyboard
Great quality, great interaction with customer service, Very helpful. The driver for the keyboard in the website was unavailable but the support team sent it over Very quickly.
Solid budget mechanical
Great weight and size, great construction, wish the RGB was more programmable but for the price point, and especially if you get this on sale, it's fantastic. Plus it's lovely to have a nonstandard color scheme that looks as pretty as this.
An amazing keyboard that feels very good to use
This is an amazing keyboard! It looks even better in person. The only thing this company needs to do now is make a matching mouse with the same color scheme!
Lovely!
A great beginner mechanical keyboard! Great sound and solid build. Would absolutely recommend to anyone looking to get into keyboards! Only downside is the software download for more control on the rgb and keys gave me some issues to download onto my computer. McAfee and Windows Defender had to be deactivated to download and open the file. Then Webroot said I got a trojan virus from thsi somewhere but it was just the Audio recorder which Webroot then deleted and it Redragon kept having this annoying popup that said they could not find the audio recorder file because it was deleted. I will try redownloading this later when I want to change up my boards color layout! Overall though, even with these technical difficulties with the software, it does not detract from how great this keyboard is!
Download