Description
100% Supported Win/Mac System & 3-Mode Connection
Coming in hot is the dual main systems supported K652 keyboard, essential Windows compatibility combines with 100% fully fits Mac OS. Take it to work or gaming at home, slide the side switch to change at ease. Geared with Redragon's advanced tri-mode connection technology, USB-C wired, BT 3.0/5.0 & 2.4Ghz wireless modes which make the user experience upgraded to another level in all fields.
75% 84 Keys Layout
The innovative design keeps the original 65% layout's length, which cuts out the numpad for larger mouse moving space. While adding the vital TOP function keys zone and extra 7 control keys, featuring compact with more convenience and practicality.
-35% Ultra Thin Board
Thanks to the loaded low-profile keycaps and switches, K652 keeps itself real low while having a mechanical typing experience. Not like normal laptop keyboards' mushy feedback and get your wrist well protected too.
Attractive Chill Colorway
Industrial style different grey colors decorated with energetic orange, a stark contrast fits great on any desktop. An extra full set with added 7 orange keycaps, makes it new every week.
Battery Level Seeable
FN + Right Shift to check the capacity now of the keyboard, no worries for your next intensive battle. The number keys 1-3 will show red when the battery goes under 30%.
Choose the keyboard switch that's right for you
Low Profile Red
Low Profile Blue
Low Profile Brown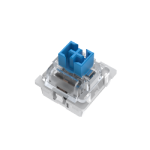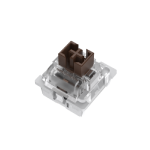 Operation Style
Linear
Tactile
Tactile
Operating Force
45±10gf
55±10gf
45±10gf
Actuation Point
1.2mm
1.2mm
1.2mm
Total Travel Distance
3.0mm
3.0mm
3.0mm
Life Span (Keystrokes)
50 million
50 million
50 million
Sound Level
Quiet
Clicky
Soft
Suitable For
Office/Gaming
Typist
Office/Gaming
Specifications
Features
100% Supported Win/Mac System
Bluetooth/2.4Ghz/Wired Tri-Mode Ultra-Thin Low Profile Gaming Keyboard
75% 84 Keys Layout
30% Cutted Ultra-Thin with Dedicated Media Control
Professional Software Support
Aluminum Top Plate
RGB Backlit
Extra Full Set with Added 7 Orange Keycaps
Design
Keyboard Size
12.5 x 5.0 inch
Switches
Low Profile Switches
Keyboard Connectivity
Wireless
Matrix
84 Keys (Full Rollover)
Package Included
1 x Redragon K652 gaming keyboard
1 x Detachable USB Type-C Cable
1 x User Manual
1 x Extra Full Set with Added 7 Orange Keycaps
Compare with other Redragon keyboards here.
Reviews
Reviews
The keyboard is worth to buy
I'm not sure if it's good for games, but, it's very comfortable, you can type very quietly. Keyboard backlight are just perfect in set up. The same with keys, thanks to the app you can set up every key as you wish.
Cons:
- backlight is not very bright, when it's bright in the room, it's not needed at all
Pros:
- you can connect it by wire (type-c or usb), lightspeed or Bluetooth. It's also can connect to the iPhone and works perfectly.
- easy to switch between bluetooth devices
- can work with windows or macOs
- backlights where you can set up every key
- every key can be set up
- comfortable for hands, not high
But generally I'm very excited that I've bought it and can recommend it to you.
This is a great choice for any minimal setup be it Mac or Windows
Cherry on top is the 3 made connectivity boa Bluetooth, Wireless or Wired mode
I actually won this keyboard in a giveaway! (Thanks Redragon <3) It looks and sounds really nice, more on the quiet side which I prefer. It's a tiny bit bigger than my previous keyboard, which is fine, but still smaller than standard keyboards. I love that they send an extra set of key caps in case you want to change out the color scheme. It came with a cute little sticker sheet as well. This is probably my 2nd favorite keyboard now.
Download