Description
Original Aluminum Board
The upgraded K556 PRO version keeps using the same tank-solid aluminum metal board material covered with the classic brushed surface process. Keep the keyboard steady and elegant on the desk, for a premium typing experience.
3-Mode Connection
Geared with Redragon's innovative tri-mode connection technology, USB-C wired, BT 3.0/5.0 & 2.4Ghz wireless modes which make the user experience upgraded to another level in all fields.
YES! TRUE HOT-SWAP
The transformative innovation with 99.8%+ switches compatible free-mod hot swappable Redragon keyboard is available now. The unique exclusive structure design of the socket makes the switch mounting easier and less wobbling.
Hot-Swappable Red Switches
Hot-swappable with almost all switch types in the market no matter 3-pin or 5-pin. Quiet basic linear mechanical switches and soft key travel makes every click easy to register. Easy to mod or update it with your wishing preference, no forum researching is required.
Vibrant Groovy RGB
Up to 20 preset backlighting modes are free to choose from by the keyboard itself. Brightness and flowing speed are also adjustable on board. Select your own preferred modes for any playing.
Pro Software Supported
Expand your options using the available software to design your own new modes and effects. Macros with different keybindings or shortcuts for more efficient work and gaming.
Durable Battery
Up to 150+ hours durability with lights off, and a 50+ hours lifetime with RGB lights. Fast less than one-night charging will get it back to life for the next day's new challenge.
GAMING KEYBOARD COMPARISON
Choose the keyboard switch that's right for you
Outemu Red
Outemu Blue
Outemu Brown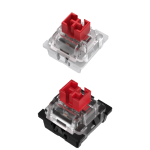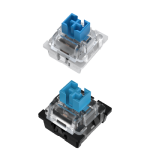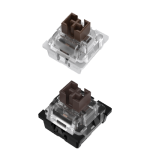 Operation Style
Linear
Clicky
Tactile
Operating Force
40g
60g
55g
Actuation Point
2.0mm
2.3mm
2.0mm
Total Travel Distance
4.0mm
4.0mm
4.0mm
Life Span (Keystrokes)
50 million
50 million
50 million
Sound Level
Quiet
Clicky
Gentle
Suitable For
Office/Gaming
Typist
Midway (Office/Gaming)
Specifications
Features
Bluetooth/2.4Ghz/Wired 3-Mode
100% Hot-Swap Socket
Free-Mod Plate Mounted PCB
 No drivers required for RGB lighting control
Hot-Swappable OUTEMU Red Switches
Aluminum Board
Design
USB Connector
Detachable Type-C Cable
Dimensions
435 x 124 x 39mm (17.1 x 4.9 x 1.6 inches)
Keyboard Connectivity
Wired/Wireless (Bluetooth v5.0)
Matrix
104 Keys (Full Rollover)
Key Switches
Redragon Mechanical Red Switches
Anti-ghosting
full N-Key rollover
Backlighting
Yes, 16.8 M per-key RGB lighting
Package Included
1 x Redragon K556 PRO Wireless Keyboard
1 x Detachable USB Type-C Cable
1 x Switch Puller
1 x Keycap Puller
Spare Switches
1 x User Manual
Compare with other Redragon keyboards here.
Reviews
Reviews
It was great for 2 months ...
For the first 2 months, this keyboard was great. It looks good and it's great to type on. I liked it so much that I considered buying a spare to toss in the closet for whenever this one died. Then 2 months after purchase the lights around the D key started acting up. My keyboard is set to solid blue all the time and that key was glowing a greenish blue. Then after ~2 weeks I noticed it and the keys around it were dimmer than the rest of the keyboard. I contacted Redragon about the issue, but never received a response. A few weeks after that, the 2/@ key started requiring multiple presses before it would respond. About a week after that the key stopped working entirely. I contacted Redragon again, but again they failed to respond. I have now had the keyboard for less than 4 months and as much as I like typing on it, will never buy another as it simply isn't durable and Redragon doesn't honor their own warranty.
Love it
Programmable individual keys. Also has many stock settings to choose from. Only minor complaint is the battery needs to be charged within a few days. But I guess I shouldn't be surprised since it's rgb. My other non rgb keyboard can last for weeks to months. I still think it's worth it and easy to charge
This is an excellent, solid bluetooth LED keyboard.
The bluetooth functionality was very easy to use, and I was able to connect the keyboard to my phones bluetooth without having to install any additional apps or software. The LED lights on the keyboard are always in motion and change colors as in the video I posted. The keyboard is very responsive and I didnt experience any lag. It also came with some Red Dragon stickers. The keyboard has a good amount of weight to it and the aluminum siding is very reflective and adds a nice touch to its appearance. Overall, an excellent bluetooth or usb keyboard that is well designed. A pleasure to use and look at with its vibrant LED lights.
The best wireless RGB mechanical keyboard for a great price!
This is the best mechanical keyboard I have ever used, and I have used quite a few! I love that it's a full keyboard with a Numpad, it's not a mini keyboard or a compact keyboard. You can use it wired, with the 2.4G included connector, or via Bluetooth, which is about the most flexible one can get and I absolutely love that!
I usually connect it to my laptop using the 2.4G connector, but I also connect it to my IPadPro and my Samsung Z flip 4 phone using via Bluetooth and it works! I also like to know that if it runs out of battery while I'm on the go, I can always use it in the wired mode.
The cable that comes in the box is USB-C to USB-C with a built-in dongle to convert one of the USB-Cs to a USB-A, this is the most futuristic cable design and other companies need to take note of it!
The box also comes with 8 red switches, and unfortunately, the pins of one of them arrived bent, that was a bit annoying but not a big deal.
The typing and gaming experience on this keyboard is something else, the travel space is just perfect and you hear the distinct click with every button push! I have to say though that it does get very loud sometimes, definitely not convenient for a classroom setup for example.
Overall, this is hands-down the best mechanical keyboard I have ever used! I think it's worth every penny and I highly recommend it.
Great product, outstanding customer service
High quality keyboard, quality matches the price. Nice and heavy.
It stands taller than any keyboard I've used before so that makes it a bit uncomfortable after a while. I suggest getting a wrist wrest.
But overall it looks, feels, and even sounds great.
Download