Description
RGB Gaming Keyboard with 5 Dedicated Macro Keys
5 dedicated macro keys make it possible to have five separate and unique macros. Recording macros can be done on the fly without any additional software. Easy and simple for daily use.
RGB Backlight & RGB Side Lights
18 backlight models allow you to type in the dark. You can adjust its brightness with a control wheel or FN + Up/Down. 5 modes of RGB side edge lighting. The color of each key lighting on the keyboard can be customized easily without installing software, a great choice to DIY your stylish keyboard.
Dedicated Media Controls
The multimedia controls let you quickly play, pause, skip the music right from the keyboard without interrupting your game. Also, designed with a volume/backlight adjust the wheel, it's easy to adjust volume or backlight brightness directly with the wheel in the upper right side of the keyboard. Very convenient and cool looking.
Tactile Brown Switches
Brown switches have a tactile bump without the click, unlike blue switches. Perfect for gaming and typing. 104 keys anti-ghosting allows you to simultaneously click multiple keys. The floating keys and Redragon brown switches will give you a great gaming experience with fast response and less switch noise.
DURABILITY
50 million times keystroke test, 55g actuation force, and 2.0 mm short travel. Special Double-shot injection molded keycaps never fade key font with waterproof and dust resistant mechanical switch.
Choose the keyboard switch that's right for you
Outemu Red
Outemu Blue
Outemu Brown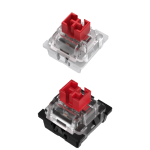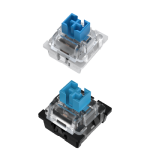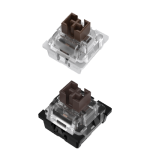 Operation Style
Linear
Clicky
Tactile
Operating Force
40g
60g
55g
Actuation Point
2.0mm
2.3mm
2.0mm
Total Travel Distance
4.0mm
4.0mm
4.0mm
Life Span (Keystrokes)
50 million
50 million
50 million
Sound Level
Quiet
Clicky
Gentle
Suitable For
Office/Gaming
Typist
Midway (Office/Gaming)
Specifications
Features
5 programmable macro keys
RGB side edge lighting
WIN key can be disabled for gaming
Dedicated media controls and volume/brightness adjusting wheel
All 104 keys are 100% conflict free, anti-ghosting
Full-Size keyboard with 104 standard keys, full numeric keypad
Design
Package Size
17.6 x 7.6 x 1.5 inches/span>
Switches
Outemu brown switches
Programmable macro keys
5
Material
Aluminum alloy +ABS
Package Included
1 x Redragon K580 Mechanical gaming keyboard
1 x User Manual
1 x Keycap Puller
Compare with other Redragon keyboards here.
Reviews
Reviews
I have had the K580 for several (3+) years now. I love it. It has never given me a single problem, whatsoever. After reading some reviews, I bought several packs of bumpers (basically small o-rings) and added them to the switches. I prefer it this way, but a family member prefers the keyboard with out them. I bought my kid one of these keyboards as well, and he loves it.
I have to have a 10-key for school, and the media controls... I can't live without them anymore. Being able to pause music, and simply roll the wheel to adjust my volume is so nice.
Other keyboards offer some of these features, but at a much higher price point. Redragon has made me happy.
I wanted the 580 Pro but it was out of stock. So I ordered the Vata 580 Brown. It feels nice and the colors are great. I got the brown switches because they were suppose to make less noise. They are quieter than the keyboard I replaced, but not as quiet as I thought it would be. Guess a mechanical switch just makes noise. The 580 Pro is an optical switch which I would think should make almost no noise. I would recommend this keyboard for those that don't mind a little noise. If the 580 Pro becomes available, I will sell the Vata to my friend and I will try the Pro.
I am a novice when it comes to mechanical keyboards. I wanted something that would be a good introduction to the mechanical keyboard world without breaking the bank. With extensive research aka a bunch of hours watching keyboard enthusiasts on YouTube, I ultimately landed with this one. I got the browns and I love it, not as clicky as the blues, but not as quiet as reds. Build is SOLID, good weight, no flex, and has media keys, 10/10 can use this for self defense based on how sturdy it is. Solid choice for any casual gamer or for office/work use.
I used to use consir keyboard. It is the first time using redragon gaming keyboard. It is very nice. The best thing is that it is very light so is easy to bring it to any place.
Download
FREQUENTLY ASKED QUESTIONS
Q
How to record a keyboard macro without software?
A
Step 1: Press [Rec] to start record (The four LEDs flash simultaneously).
Step 2: Press one of the five G keys and it lights up (G1~G5).
Step 3: Press keys to be recorded Step 4: Press [Rec] once again to save the recording. The [Rec] also lights up. For example, record 123 on G1: [Rec]→G1→123→ [Rec]
Q
How to change the edge lighting on K580 keyboard?
A
Press FN + [PAUSE] to switch 5 lighting modes on two sides.
Press FN + [SCRLK] to adjust the lighting speed on two sides.