Description
Unleash the Power of Gasket Mount Design and Dual Sound Absorbing Foams
The Redragon K649 78% Wired Gasket RGB Gaming Keyboard revolutionizes traditional screw fixing with its unique body structure. Precision-locked covers with gaskets are employed to assist in noise reduction and enhance flexibility, setting it apart from the competition. Experience even feedback and a remarkable typing feel with vertical cushioning that effectively reduces rigid noise.

With the addition of two 3.5mm sound-absorbing foams located between the PCB and a silicone gasket, this keyboard significantly diminishes sound resonance between the metals and minimizes cavity noise. Immerse yourself in a world of clear and pure switch traveling sound, free from any extra string mushy noise.
82 Keys Layout
The innovative design keeps the original 65% layout's length, which cuts out the numpad for larger mouse moving space. While adding the TOP function keys zone that is critical to many users, no FN combo keys anymore, featuring compact with more convenience and practicality.
Hot-Swap Gold-Melt Switches
The brand new upgrade with nearly all switches(3/5 pins) compatible, the free-mod hot-swappable socket is available now. The exclusive next-level socket makes the switch mounting easier and more stable than ever.

Armed with the brand new customized switch of Redragon's own development and production, 42g actuation force + 1.3mm hype-short pretravel distance. It provides a totally refreshing typing feedback about the linear switches, light-speed fast and quiet precise.
Pro Software Supported
Expand your options using the available software to design your own new modes and effects. Macros with different keybindings or shortcuts for more efficient work and gaming.
Bumblebee Color Keycaps
In a classic black and yellow color scheme with innovative PBT material, it is sporty and energetic (Opaque keycaps). Along with two extra red decor keys (ESC & SPACEBAR), bring you back to Redragon time.
Choose the keyboard switch that's right for you
Purple
Mint Lemon
Transparent
Gold-Melt
Bean
Rose
Maple
Cypress
Carnation
Stars
Neon
Parrot
Wukong
Silver
Peach
Lime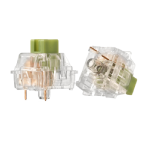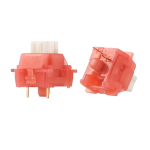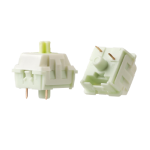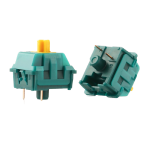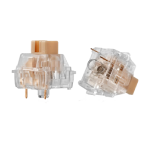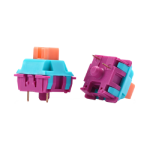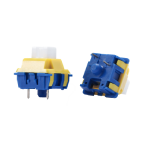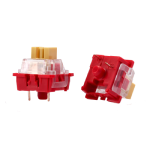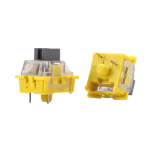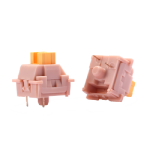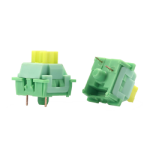 Operation Style
Tactile
Linear
Linear
Linear
Linear
Linear
Linear
Tactile
Tactile
Tactile
Linear
Clicky
Tactile
Linear
Linear
Tactile
Operating Force
35±10gf
37±5gf
42±5gf
42±15gf
35±5gf
40±10gf
45±10gf
50±10gf
45±5gf
40±10gf
40±5gf
40±10gf
40±10gf
35gf
40±10gf
35±10gf
Actuation Point
1.8mm
1.8mm
1.5mm
1.3mm
2.0mm
2.0mm
2.0mm
2.0mm
2.0mm
2.0mm
2.0mm
2.0mm
2.0mm
2.0mm
2.0mm
2.0mm
Total Travel Distance
3.3mm
3.8mm
3.6mm
3.5mm±0.4mm
4.0mm±0.3mm
3.6mm
3.5mm±0.4mm
3.5mm±0.4mm
4.0mm±0.3mm
3.2mm
4.0mm±0.4mm
4.0mm±0.4mm
3.3mm
4.0mm
3.3mm
3.3mm
Life Span (Keystrokes)
50 million
50 million
50 million
50 million
50 million
50 million
50 million
50 million
50 million
50 million
80 million
50 million
50 million
50 million
50 million
50 million
Sound Level
Soft
Soft
Gentle
Quiet
Soft
Slient
Soft
Clicky
Clicky
Slient
Gentle
Clicky
Gentle
Quiet
Slient
Slient
Suitable For
Office/Gaming
Office/Gaming
Office/Gaming
Office/Gaming
Office/Gaming
Office
Office/Gaming
Office/Gaming
Office/Gaming
Office
Office/Gaming
Typist
Office
Office/Gaming
Office
Office
Specifications
Features
82 Keys Layout
Gasket RGB Keyboard
Sound Absorbing Foam
 Hot-Swappable Socket
Quiet Custom Linear Switch
Pro Keyboard with Pro Driver
Design
USB Connector
Detachable Type-C Cable
Keyboard Size
13.1*5.5*1.4 inches
Keyboard Connectivity
Wired
Matrix
82 Keys (Full Rollover)
Package Included
1 x Redragon K649 Wired Keyboard
1 x Detachable USB Type-C Cable
2 x Extra Red Keycaps
4 x Gold-Melt Switches
1 x User Manual
Compare with other Redragon keyboards here.
Reviews
Reviews
It's like MX reds but lighter on the hands and awesome!
I fell in love with the mech switches of this keyboard that I literally ripped it off this keyboard to put on my preferred hot-swap mechanical keyboard. The keys feel like MX reds but lighter on the hands and the activation distance is less than 2.0 which makes for a really quick response when pressing each key.
That said, the distance being lesser than 2.0 can be a disadvantage in gaming if you're like me who built up the bad habit of bottoming out the key presses... so I'm now training myself to get used to not bottoming out on the WASD which I don't really see myself getting to do so for a really long while - actually looking to replace the WASD mech switches just for the sake of it but oh well hahaha
Keep in mind that this keyboard's materials are mostly made of plastic so keep that in mind when purchasing. What I do like though is that the keycaps are all made of PBT Plastic, a welcome upgrade to my good ol ABS plastic keycaps! Not to mention they look cool too. The only thing of a dismay is the fact that the keycaps used in this keyboard do not have transparent lettering so the RGB light doesn't really go through the keycaps themselves - not so bad if you have a different keycap set that you can use for this keyboard.
Seriously well worth the purchase! To the point that I'm sad that Redragon doesn't sell these gold-melt switches separately!
Great keyboard for price
Good price-quality keyboard, the redragon orange keys feel very good to the touch both for playing and working, the keyboard is super comfortable, despite the plastic frame it feels good.
lightning-fast response time is really amazing!
The keys are incredibly responsive, ensuring that every keystroke is registered accurately, even during intense gaming sessions.
also the durable construction and sturdy key switches ensure that the keyboard will endure countless keystrokes without losing its performance edge!!
this redgraon Gaming Keyboard enhances your gaming performance and elevates the overall experience.!
Download