Description
YES! TRUE HOT-SWAP
The transformative innovation with 99.8%+ switches compatible free-mod hot swappable Redragon keyboard is available now. What does this mean for you? You can easily switch out switches and modify your keyboard to your heart's desire. The exclusive structure design of the socket makes switch mounting easy and reduces wobbling, ensuring your gaming experience is seamless.
Wired 78 Keys for Ultimate Functionality
The Redragon K628 Pollux features a wired 78-key layout that offers the ultimate balance of compactness and functionality. With separate arrow keys and number keys, you'll have everything you need at your fingertips. The 78-key layout also allows for the smoothest habit curve, so you can seamlessly transition from your old keyboard to the Redragon K628 Pollux.
Hot-Swappable Red Switches
With quiet basic linear mechanical switches, soft key travel makes registering every click easy. Upgraded sockets allow mod or update the switch with your wishing preference, no forum researching is required.
Vibrant RGB Lighting and Sleek Design
Not only does the Redragon K628 Pollux offer top-notch performance, but it also looks great on any desktop. With up to 20 preset backlighting modes to choose from, you can customize the RGB lighting to match your mood or preference. Plus, the new music sync mode will bring your desktop to life with a stunning light show. The mix of white and grey colors gives this keyboard a modern and sleek look, making it a stylish addition to any setup.
Sleek Mix+ Grey Design
The keyboard's sleek design features a mix of white and grey colors that will fit in with any desktop. And to add a personal touch, the Redragon K628 Pollux comes with an extra set of keycaps so you can customize your keyboard to your unique style.
Pro Software Supported
With pro software support, you can expand your options by designing your own new modes and effects. Macros with different keybindings or shortcuts make work and gaming more efficient.
Choose the keyboard switch that's right for you
Outemu Red
Outemu Blue
Outemu Brown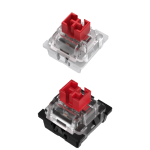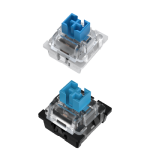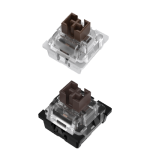 Operation Style
Linear
Clicky
Tactile
Operating Force
40g
60g
55g
Actuation Point
2.0mm
2.3mm
2.0mm
Total Travel Distance
4.0mm
4.0mm
4.0mm
Life Span (Keystrokes)
50 million
50 million
50 million
Sound Level
Quiet
Clicky
Gentle
Suitable For
Office/Gaming
Typist
Midway (Office/Gaming)
Specifications
Features
100% Hot-Swap Socket
Free-Mod Plate Mounted PCB
Dedicated Arrow Keys and Numpad
Wired 78 Keys Layout
Hot-Swappable Red Switches
Vibrant Groovy RGB
Design
Switches
Outemu red switches
Keyboard Rollover
Full Key with 100% Anti-Ghosting
Package Included
1 x Redragon K628 Grey Keyboard
1 x User Manual
1 x Key Puller
1 x Detachable USB Cable
Compare with other Redragon keyboards here.
Reviews
Reviews
Great keyboard
This keyboard has the same buttons as a 100% but is smaller
that is a true game-changer that caters to both gaming enthusiasts and professionals. Right from the get-go, I was impressed by the keyboard's solid build quality and striking design. Its ergonomic layout ensures a comfortable and natural hand positioning, which is essential for prolonged gaming sessions.
It's a fantastic investment for new gamers looking to unleash their full gaming potential!
highly recommended!
Download