Description
Bluetooth/2.4Ghz/Wired Tri-Mode Ultra-Thin Low Profile Mechanical Keyboard
Here comes Redragon innovative 1st-Gen 3-mode connection technology, USB-C wired, BT 3.0/5.0 & 2.4Ghz wireless modes which advanced your use experience to next level in all fields.
Worry-Free Wireless
Built-in upgraded 3.0/5.0 Bluetooth and 2.4Ghz wireless chips, K618 offers a real-wireless and no-latency connection for all devices in the market. Easy to toggle among different wireless devices set no limits of possibility.
30% Cutted Ultra-Thin Low Profile Gaming Keyboard
Low profile designed throughout the whole keyboard from the bottom board, middle red mechanical switches and the top keycaps aim to shorten the distance to actuation as much as possible.
More Extra Practical
Set with 4*5 on-the-fly macro keys and a dedicated function area for media control. Convenient to rec frequently used macros without software, play the next song, or just scroll for volume adjustment.
More Details Redefinable
Along with tank-solid material is the Redragon core software driver support, 16.8 million colors backlighting, standard keys remapping, and infinite keybindings are all available for personal re-mod.
5 Devices Switchable
With 3 Bluetooth devices storable, a 2.4Ghz wireless mode, a wired mode, K618 can save and switch connections to five devices simultaneously. One keyboard is good enough for most of the devices in your home.
Solid Use Durability
Equipped with an advanced 1900 mAh lithium battery, the keyboard provides a prolonged using time in wireless mode. Low battery indicator makes sure the keyboard will always online if you don't forget to recharge.
Choose the keyboard switch that's right for you
Low Profile Red
Low Profile Blue
Low Profile Brown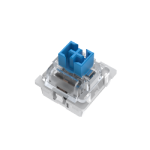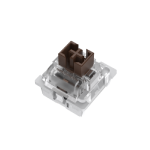 Operation Style
Linear
Tactile
Tactile
Operating Force
45±10gf
55±10gf
45±10gf
Actuation Point
1.2mm
1.2mm
1.2mm
Total Travel Distance
3.0mm
3.0mm
3.0mm
Life Span (Keystrokes)
50 million
50 million
50 million
Sound Level
Quiet
Clicky
Soft
Suitable For
Office/Gaming
Typist
Office/Gaming
Specifications
Features
Bluetooth/2.4Ghz/Wired Tri-Mode Ultra-Thin Low Profile Gaming Keyboard
Low Profile Linear & Quiet Red Switches
30% Cutted Ultra-Thin with Dedicated Media Control
Professional Software Support
5 macro keys
RGB Backlit
1900 mAh battery (30 hours)
Design
Keyboard Size
437*147*17mm
Switches
Low Profile Red Switches
Keyboard Connectivity
Wireless
Matrix
104 Keys (Full Rollover)
Package Included
1 x Redragon K618 gaming keyboard
1 x Detachable USB Type-C Cable
1 x User Manual
Compare with other Redragon keyboards here.
Reviews
Reviews
Great office keyboard
Bought this keyboard with the brown switches for the office and I love it! comfortable to type on and I like that it is low profile. It is sturdy enough for my uses and it looks unassuming and professional enough to be in an office. I also like the illumination. I can modify it without any software. I use it wired so I can't really comment on the wireless.
HORUS K618 Ultra-slim Wireless Mechanical Keyboard
The colorsss
Love the effect/sequences/colors!
Love that it's wireless OR wired! I've had many wireless doodads, but not RECHARGEABLE ones! So that's pretty neat. HOWEVER: I had some issues with the BT/2.4G: while gaming, the "w" (moving forward" wouldn't work? Though that odd; but when I plugged it in via USB, it was fine. So I dunno what to think of that.
Amazing keyboard! Easy setup and High Quality
I bought this keyboard to use with my laptop, phone, and some gaming systems. Setting up the Bluetooth was easy, I connected it to my phone 5 minutes after it arrived without instructions.
This really is a close match to my Logitech G815. At around 1/3 the price, I can't say I won't be getting another if it goes as well as the mouse. Amazing products!
Customer image
Great for Laptop Typing
If, like me, you tend to put your keyboard on your lap for typing, you'll find this to be more comfortable than most. It's lightweight, thin, and has no sharp edges to dig into your leg. I also have the Horus 619, which does not have wireless, but is otherwise nearly identical...I paid a good bit more for it than for the 618, but I didn't get it from Amazon, and it was several months ago, and prices change. At any rate, I'd say that this is the best deal on a gaming keyboard I've had to date. It's also about half the price of the keyboard it's replacing...a Corsair that had its cable go bad, with no possibility of replacement. Never again will I buy a keyboard that doesn't have a replaceable cable. Oh, and the eight spare switches (plus keycap puller and switch puller) doesn't hurt, either. Not that I've had to swap any switches out yet, but they were clearly thinking ahead.
Download