Description
75% Hot-Swappable Wired RGB Gaming Keyboard
Redragon 75% layout K628 in wired mode meets the user's need for separate arrow keys and number keys. The 78-key layout provides the ultimate balance of compactness and 104-key functionality, allowing for the smoothest habit curve.
YES! TRUE HOT-SWAP
The transformative innovation with 99.8%+ switches compatible free-mod hot-swappable Redragon keyboard is available now. The unique exclusive structure design of the socket makes the switch mounting easier and less wobbling. *Compatible with almost all the MX style SMD-LED mechanical switches on the market (including Gateron, Kailh, etc.)
Hot-Swappable Red Switches
Hot-swappable with almost all switch types in the market no matter 3-pin or 5-pin. Quiet basic linear mechanical switches, soft key travel makes every click easy to register. Easy to mod or update it with your wishing preference, no forum researching required.
Vibrant Groovy RGB
Up to 20 presets backlighting modes are free to choose by the keyboard itself. Brightness and flowing speed is also adjustable on board. New marvelous music sync mode will light up your desktop discotheque vibe, quite a light show to get immersed.
Pro Software Supported
Expand your options using the available software to design your own new modes and effects. Macros with different keybindings or shortcuts for more efficient work and gaming.
Numbers Matter A Lot
Smart 78 keys layout with a full number pad 0-9, +-*/ and dot keys, the history of compact keyboard never has numpad is over now. Input the data or fill the excel efficiently as usual, no more combo number keys or mode switch.
GAMING KEYBOARDS COMPARISON
K628 Castor 75%
Dimension/size
Keyboard Weight
Switch Type
Keys
Connection
Extra G Keys
Wrist Support
Backlit
Software
Dimension/size
13.97×4.1 in
Keyboard Weight
0.47 kg
Switch Type
Red Switch (Hot-Swap)
Keys
78
Connection
Wired
Extra G Keys
0
Wrist Support
x
Backlit
RGB
Software
✓
Dimension/size
13.9×4.1 in
Keyboard Weight
0.51 kg
Switch Type
Red Switch (Hot-Swap)
Keys
78
Connection
Wired/BT/2.4Ghz
Extra G Keys
0
Wrist Support
x
Backlit
RGB
Software
✓
Choose the keyboard switch that's right for you
Outemu Red
Outemu Blue
Outemu Brown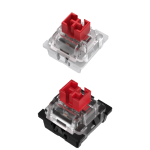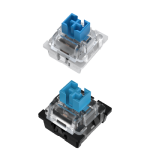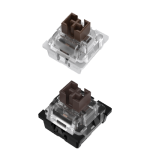 Operation Style
Linear
Clicky
Tactile
Operating Force
40g
60g
55g
Actuation Point
2.0mm
2.3mm
2.0mm
Total Travel Distance
4.0mm
4.0mm
4.0mm
Life Span (Keystrokes)
50 million
50 million
50 million
Sound Level
Quiet
Clicky
Gentle
Suitable For
Office/Gaming
Typist
Midway (Office/Gaming)
Specifications
Features
100% Hot-Swap Socket
Free-Mod Plate Mounted PCB
Dedicated Arrow Keys and Numpad
Wired 78 Keys Layout
Hot-Swappable Red Switches
Vibrant Groovy RGB
Design
Switches
Outemu red switches
Keyboard Rollover
Full Key with 100% Anti-Ghosting
Package Included
1 x Redragon K628 Keyboard
1 x User Manual
1 x Key Puller
1 x Detachable USB Cable
Compare with other Redragon keyboards here.
Reviews
Reviews
The keyboard is diffrenly different from all the other gaming key boards I own from redragon, I was expecting to hear a lot of loud clicking because normally those are the type of gaming keyboards I buy from redragon but NOPE
it's not a loud type clicking it's very smooth to the touch I actually brought the 75% one because you have a selection between the 65% or the 75% and i choose the 75%. This keyboard have a lot more features then the other keyboards you can go to the redragon website and download the software which allows you to fully customize the keys and the RGB light show on the keyboard definitely is a game changer from all types of MODES.
The key board have with the lights I will name a few that I found I love using, you have RAINDROP, RESPIRE,ROTATING STORM,COLLISON,NEON_STREAM,BLOSSOMING and a lot more it actually shows you on the program itself the effects that it does on the keyboard as you are selecting it I never had a keyboard with such customization on it!
it's a great keyboard for gaming obviously and it's seriously beats all the competition out of the water with anything and everything you are looking for in a gaming keyboard this keyboard feels like it's the top of the line quality with it's sturdiness and durability it's a MUST BUY OF 2022! seriously!
A couple of years ago I got my first mechanical keyboard, made by a well known manufacturer of keyboards and mice. I loved the feel and the look, but there were a few things about it that I did not love. Still, it was way better than a cheap membrane keyboard. However, I have been moving back and forth between two residences in different cities in the last two years, and I had left my mechanical keyboard in city M when I unexpectedly moved back to city H for a while. I hated the membrane keyboard on my old system there, and then became aware of the Redragon Kumara K552 that was available at a local retailer at an amazing price (like a third of what I paid for my other mechanical keyboard), so I bought one. I liked most things about it, but it was defective (several dead keys) so I took it back to the shop and exchanged it for a new one. That sample was flawless, and I really liked that keyboard. Then I moved back to city M and my older, more expensive mechanical keyboard. It is still a good product but it definitely felt worse than my Kumara. Then last week I got an email from Redragon about Castor and Pollux, and I really liked the look of Pollux. The one thing I missed on the Kumara was dedicated numeric keypad keys, and the Pollux has those, so I ordered one, and it arrived today. Really fast shipping and delivery! I cannot say how much I like the layout of this keyboard! I am still getting used to it, but I love that it is so compact and yet has the numeric keypad. For me it is pretty much the perfect size. Then the hot-swap and socketed switches is killer. I love that I can mod this keyboard if I want to. Although I like the "clicky" blue switches of the Kumara, the red switches on the Pollux have a really nice feel, maybe a bit light but a nice, smooth feel and a great and consistent sound. The USB-C cable is a great touch, and all the little extras (spare switches, switch and keycap pullers) are nice.
Cons: The Kumara has a metal plate which gives it a bit of heft which I kind of miss, but despite the lighter weight the Pollux still feels solid. Also the rubber feet on the Pollux are better and it really sticks in place. The Caps-Lock and Num-Lock indicators are hard to see on the Pollux. I am a terrible typist (even though I spend my day at a keyboard) and I tend to bump the Caps-Lock key when I type the letter "A". My other-brand mechanical keyboard has an offset Caps-Lock which leaves a little space between that key and the "A" key, so I hit the Caps-Lock less often using the=at board; I kind of miss that. I am not a gamer, and I do not like the font on either of my Redragon keyboards, though maybe the Pollux is a little less assertive? I have not compared them side-by-side. Speaking of side-by-side, I dislike the keycap legends that put the shifted character to the right of the unshifted character; I prefer one above the other in a more conventional layout. Obviously not a deal breaker, since I am on my second Redragon keyboard. Finally, the software installation was a bit scary. It would have been good if there was a README or something, the software updated the firmware on the keyboard and I was not sure what it was doing, what I needed to do and when, and whether it was all working, but in the end it seemed fine. At least it has functioning software, unlike the Kumara.
Anyway I have had this keyboard for a couple of hours now and I already love it!
After downsizing to a TKL a few years ago there were more than a few times where I missed having the numpad so when I saw the layout on the Redragon Pollux, and the fact that it had standard hot swap sockets, I was sold. The functionality of any missing keys are accessible by holding the function key and pressing the key they've mapped that function to. The placement of these remapped functions is intuitive and easy to remember, but if you need to use the F row keys without taking your other hand off of the mouse then this probably isn't the keyboard for you. They've also conveniently mapped media key functions like volume and pause/play to the Z-M keys. The only thing that's outright missing from a full size keyboard is the second enter key.
It comes with Redragon branded red linear switches which felt way better than I expected. I liked the switches from my old keyboard so I just swapped them in but the stock switches felt good too. Unlike most Redragon keyboards, this one has north facing standard 5 pin hot swappable sockets which means you can install switches from other switch manufacturers like Cherry, Gateron and Kailh. The RGB LEDs stick up a bit from the PCB so they recommend using switches with the little cutout for the LED on the bottom, but even V2 Zealios (which don't have that cutout) snapped in without a problem.
The plate mounted stabilizers are pretty loose and will need some level of modification to fully eliminate the rattle. Honestly, I've heard worse from more expensive keyboards but there is definitely a lot of room for improvement. Since the board is hot swappable, you could also install enthusiast grade plate mounted stabilizers if you wanted.
The keycaps are the standard double shot ABS shine through caps that come with most gaming keyboards. The mapped functions are printed in white on the top of the keys, which isn't the cleanest look, but isn't a deal breaker. If you want to put different keycaps on it then you'll need to find a set that includes the smaller right shift and right modifier keys as well as the small 0 and + for the numpad.
The RGB backlighting is vibrant and animates smoothly. There are about 20 modes to choose from including the expected ones like the color wave and spinning color wheel. You can cycle through them by holding FN and pressing the right alt key. Holding FN and pressing the arrow keys controls the brightness and speed. Holding FN and pressing the space bar will allow you to cycle through single colors for modes that allow it. Pressing FN and backspace will toggle the backlighting on or off.
There are tiny red LED indicators for caps lock and num lock on either side of the 2 key on the top row. They're recessed enough that they're visible but don't interfere with the rest of the RGB lighting. I've included a picture with my review so you can see what it looks like. You can lock the windows key by pressing FN+Win and the Win key will light up white (more of a purple tinged white because RGB keyboards struggle with pure white backlighting) to indicate that it is locked.
There is downloadable software you can get from the website on the box but I never bothered with it because you can do everything except program macros directly from the keyboard itself.
The only real annoyance I have is that the detachable USB C port is on the left side of the keyboard and the included USB C cable isn't a right angle plug so it sticks out further than I would like. Since it's detachable I can buy a right angle cord if it still bothers me later on.
For around $60 you're getting a unique layout that actually balances form and function in addition to a path to further customization if you choose to take advantage of it.
I pre-ordereed this keyboard because I loved the layout and was not disappointed when it arrived! It really is super easy to hotswap like it says in the description, I took out the outemu reds and put in kaihl switches with ease and not having to change anything about the PCB or the switches. I also put on some custom keycaps, but had to keep a couple of the original keycaps that came with it because the sizing wasn't the same as the standard (mostly the right shift, fn, ctrl, and alt keys) . This is actually looks super cool with the black and rainbow keycaps though, especially with some of the really fun rgb settings on this keyboard. Overall, I'm super happy with my purchase and would highly recommend this board for anyone who wants to downsize but still needs a number pad!
Download