Description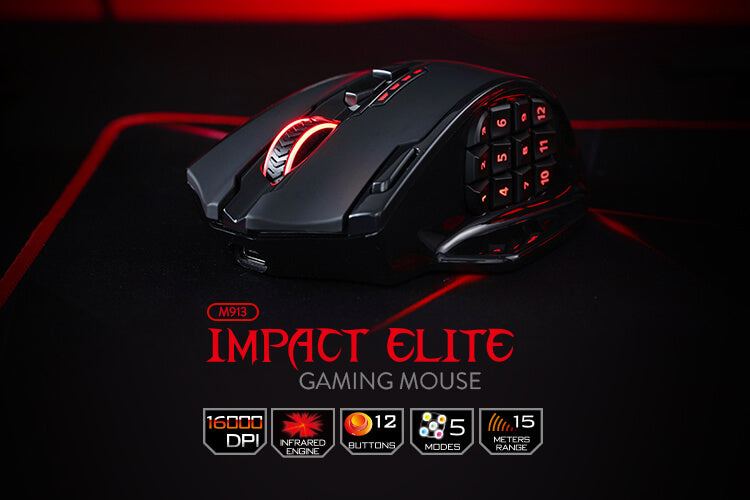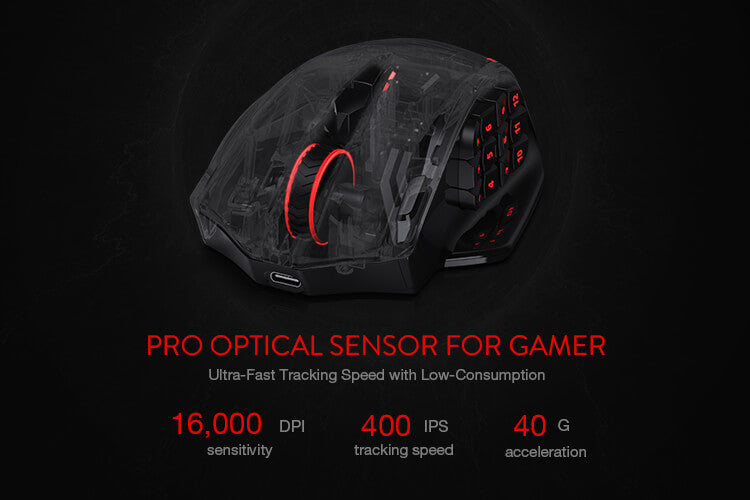 Wireless/Wired, 2 Roads to Win
BOOM! Dual modes of 2.4Ghz wireless and USB-C wired mode assemble with 12 side buttons MMO gaming mouse feature. Wireless/wired mode plus easy-access keybinding shortcuts maximize your damage.
Lightning-Fast Is Not Just Saying
Waterproof Surface, Anti-slip Rubber Base. Waterproof coating prevents damage from spilled drinks or other accidents. Heavy duty anti-slip rubber backing keeps it secure in one place.
Stay Power-On Day to Night
Low-consumption advanced chip combo with 1000mAh battery capacity, long-hours of use is guaranteed with the most possibility. Eco mode with backlit off levels up the durability up to 80 hours.
5 DPIs Designed for Esports
Equipped with 5 onboard DPI levels (1000/2000/4000/8000/16000) which allow you to switch among different needs at ease. Personalizable DPI ± 100 meets your unique need and shortens the get-used-to time.
Uncompromised Driver Support
16 buttons including 12 side buttons and 16.8 million color lighting effects are all customizable with its own software, even in wireless mode. Ahead to the victory in your exactly wanted way.
Low Consumption & Eco Mode
Geared with low consumption Pixart 3335 sensor, long-hours of use about 80 hours is available in ECO mode. The mouse will automatically turn into sleep mode after 9 minutes with no movements.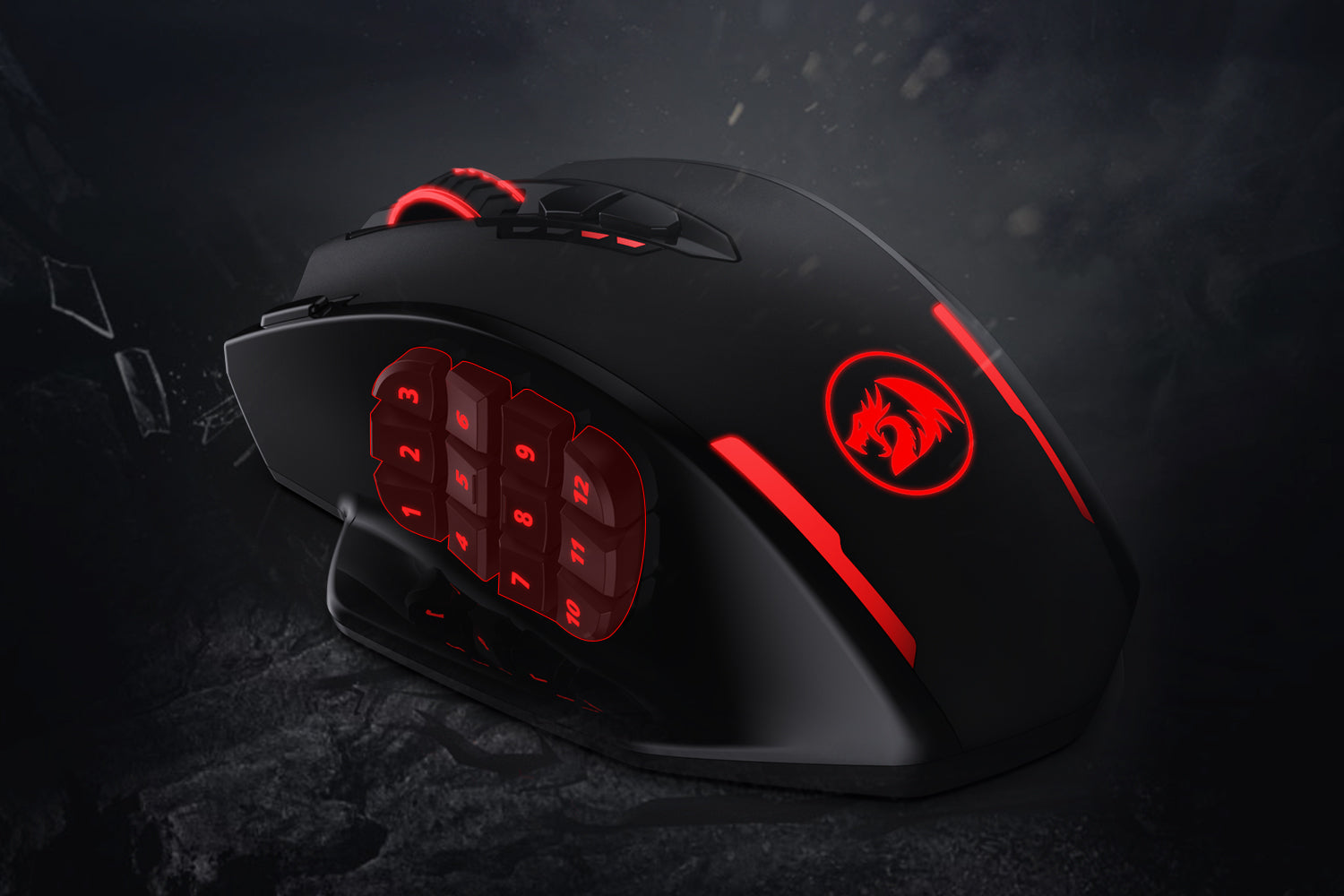 12 Side Buttons Mouse In Wireless
Redragon M913 is the first Redragon wireless MMO gaming mouse with 12 programmable side buttons. The most perfect combo with wireless function plus side shortcuts aim for higher user experience.
Dual Mode, Limit-Breaker
Easy to switch through wireless and wired mode and get fully charged with USB-C cable for only 4 hours. 1000 Hz Polling Rate with 40G acceleration can be activated in any mode.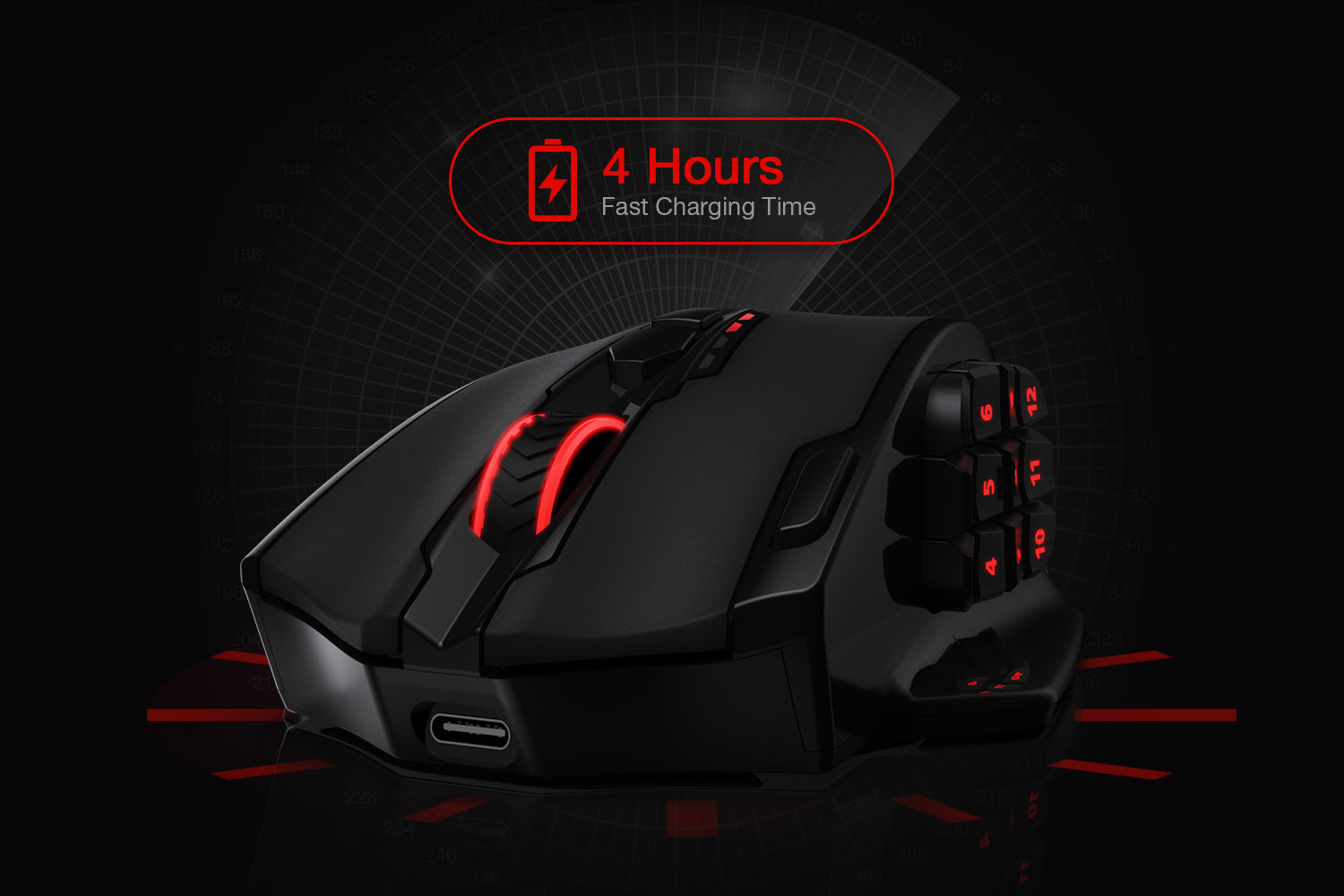 Specifications
Features
Dual modes of 2.4Ghz wireless and USB-C wired mode
Professional Programming Software
5 onboard DPI levels (1000/2000/4000/8000/16000)
20 buttons include 12 Side Buttons
16.8 million color lighting effects
80 Hr Battery and Pro Optical Sensor
Low Consumption & Eco Mode
Design
Connectivity
Wired/Wireless
Mouse Button Durability
20M L/R Click
Sensor
Optical Pixart 3335
Polling Rate
125/250/500/1000 Hz
Size
4.82" x 3.62" x 1.65" (122.5 mm x 92 mm x 42 mm)
Hardware Platform
PC/Mac/Linux/Unix
Package Included
1 x Redragon Impact Elite Gaming Mouse
1 x User Manual
1 x Detachable USB Type-C Cable
1 x 2.4Ghz Nano Receiver
Reviews
Awards and Reviews

"GREAT VALUE AND RRECOMMENDED AWARDS"
READ FULL REVIEW

Reviews
Honestly the grip and design is amazing both allow you to have a high advantage over other. Also the grip if so good because it slightly small allowing a tighter grip on the mouse
IDK
I REALLY LIKE THIS MOUSE BC U CAN KINDA CHEAT UN MINECRAFT
Very nice mouse
WHY DID I GET THIS MY BRAIN CANT FUNTION WITH MORE THAN 2 BUTTONS, love this mouse it's great besides the fact there's more buttons than I have functions for. Would recommend for final fantasy or mmo, actually anything that req you to click more than 1 2 3 and 4 on your keyboard
Redragon Impact Elite M913
Recently, I have been gaming with this wireless mouse from Redragon and it has been wonderful! I love the programmable side buttons—it's great for MMO's! The RGB on it is really nice too! You can also easily adjust the DPI with the top buttons. And it's so perfect for my setup! ☺️
Features:
🤍 Dual modes of 2.4Ghz wireless and USB-C wired mode
🤍 45 Hr Battery
🤍 12 Side Buttons MMO Mouse
🤍 Up to 16000 DPI
🤍 Pro Software Customizable
Excellent
Received in very good condition in a nice, practical box for frequent transport.
After 2+ weeks of use:
Superb color and brightness (despite my photos...).
Well-presented application. Once mastered, it's easy to use for, among other things, button and light configuration.
Buttons well laid out. I'm used to mice with multiple buttons and use them all regularly.
I was worried that with so many buttons I'd have trouble finding each one when I needed it, but the 12 buttons on the side and the 4 extra on top are easy to use.
Battery mode = several hours of autonomy with continuous use (++ 10h)
Works identically with cord and fast charging even when used.
Negatives:
Not very user-friendly website. Difficult to find downloads.
Details:
I'm 100% happy with the Redragon M913, both in use and for the price, which is well below what I would have expected for this quality.
I would have liked the caster side buttons and infinite roll option, but by no means a necessity.
In conclusion:
All that remains to be seen is the hardware's endurance.
Download