Description
Upgraded K530 PRO Hot-swappable Keyboard 
Function Upgraded YES✔, Price Increased NO✗, that is the ultimate brand-new K530 Draconic PRO. New 3 modes connection, 61 keys fully hot-swappable PCB plus original compact 60% layout. This time, you will not regret having one, the wait is over.
Enjoy the Freedom of Wireless
Built-in upgraded 3.0/5.0 Bluetooth and 2.4Ghz wireless chips, K530 Pro offers a real-wireless and no-latency connection for all devices. Easy to toggle among 3 different wireless devices via side switch (2.4Ghz/BT1/BT2).
WIRELESS AND WIRED MODES 
Geared with Redragon innovative tri-mode connection technology, USB-C wired, BT 3.0/5.0 & 2.4Ghz wireless modes which make the user experience upgraded to another level in all fields.
YES! TRUE HOT-SWAP
The transformative innovation with 99.8%+ switches compatible free-mod hot swappable Redragon keyboard is available now. The unique exclusive structure design of the socket makes the switch mounting easier and less wobbling.
HOT-Swappable Red Switches 
Hot-swappable with almost all switch types in the market no matter 3-pin or 5-pin. Redragon K530 mini wireless gaming keyboard is equipped with pluggable OUTEMU red switches, which are linear, top-to-bottom switches. These switches require less force to press down and the keys feel smoother and easier to use. No tactile "bump" but responsive. A great choice for work and play!
Pro Keyboard with Pro Driver
Download it and use it to have a different user experience, endless typing and backlighting are waiting for you -- the show-maker.
USB-C & USB-A In One
K530 PRO upgraded the keyboard itself and the included cable accessory too, making the standard USB-C to USB-C wired cable to a 2 in 1 wired cable (with both USB-C/A jacks). Make the wired connection more easier and convenient with your devices.
Gaming Keyboards Comparison
DRACONIC K530
Keys
Size
Connectivity
Switch
Hot-Swappable
Backlight
With Software
Keys
61
Size
11.5*3.9*1.4 in
Connectivity
Wired & Wireless
Switch
Outemu Red/Blue/Brown
Hot-Swappable
✓
Backlight
RGB backlight
Software
✓
Keys
61
Size
11.5*3.9*1.4 in
Connectivity
Wired
Switch
Outemu Red/Blue/Brown
Hot-Swappable
✓
Backlight
RGB backlight
Software
✓
Keys
61
Size
11.5*3.9*1.4 in
Connectivity
Wired
Switch
Outemu Brown
Hot-Swappable
✓
Backlight
Single color (Pink)
Software
×
Keys
61
Size
11.5*3.9*1.4 in
Connectivity
Wired
Switch
Outemu Red
Hot-Swappable
✓
Backlight
RGB backlight
Software
✓
Choose the keyboard switch that's right for you
Outemu Red
Outemu Blue
Outemu Brown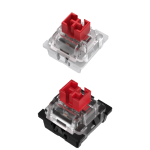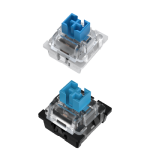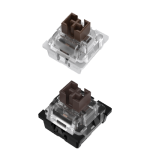 Operation Style
Linear
Clicky
Tactile
Operating Force
40g
60g
55g
Actuation Point
2.0mm
2.3mm
2.0mm
Total Travel Distance
4.0mm
4.0mm
4.0mm
Life Span (Keystrokes)
50 million
50 million
50 million
Sound Level
Quiet
Clicky
Gentle
Suitable For
Office/Gaming
Typist
Midway (Office/Gaming)
Specifications
Features
Bluetooth/2.4Ghz/Wired 3-Mode
100% Hot-Swap Socket
Free-Mod Plate Mounted PCB
 No drivers required for RGB lighting control
Hot-Swappable OUTEMU Box Brown Switches
Dedicated for FPS Gamer
Design
USB Connector
Detachable Type-C Cable
Dimensions
291.7 x 101.7 x 36mm (11.48 x 4 x 1.42in)
Keyboard Connectivity
Wired/Wireless (Bluetooth v5.0)
Matrix
61 Keys (Full Rollover)
Key Switches
Redragon Mechanical Red Switches
Anti-ghosting
full N-Key rollover
Media Keys
Available as a layered function
Backlighting
Yes, 16.8 M per-key RGB lighting
Package Included
1 x Redragon K530 Wireless Keyboard
1 x Detachable USB Type-C Cable
1 x Switch Puller
1 x Keycap Puller
Spare Switches
1 x User Manual
Compare with other Redragon keyboards here.
Reviews
Covered by Other Major Media
Reviews
Ideal Keyboard for Small Spaces
I got this keyboard through a giveaway, which came to me on a Sunday. Although it's not like the keyboards I usually use, this turned out to be a great fit for my pc as my room is quite small. After some adjustments on my end, I fell in love with the keyboard. It doesn't hurt to say that my cat has claimed this keyboard as his!
Great Mechanical Keyboard!
Play Video
The packaging was great everything inside was there, they give you extra switches to replace incase you want to do that including the tools you need to replace your switches. The keyboard connected to my pc and on my iPhone as well, it paired pretty fast without a problem for both of my devices. LED on the keyboard is really good and bright with different color variations you can do, if you're looking to get your first mechanical keyboard I would recommend this one 💯
Great keyboard for the price
1. Great Quality
2. Not to loud, but still mechanical
3. Battery life is alright for Bluetooth. I keep mine plugged in most of the time anyway.
4. The RedDragon keyboard software gives a lot of customizable options for the RGB
5. Perfect size, doesn't take up to much room at all when gaming. Still comfortable for regular typing though.
6. Not sure if it matters to you, but is is pretty heavy for as small as it is.
Overall, I will definitely buy from RedDragon again in the future.
Can I give this 6 or 7 stars?
What a keyboard! Swappable switches saved a return because I ordered the wrong switches with the keyboard so I just swapped them out for the correct ones. Bluetooth, USB, and 2.4 Ghz all in one with full, customizable RGB? More of this, please. All of my main keyboards are Redragon but this is far and away my favorite one. Pricey? A little, but a lot of keyboard for the money.
Download