Description
Wireless and Wired Mode
Featuring dual wired and wireless modes. Easy wireless setup with an included dongle that allows for low latency connection without interference up to 10 meters. Switch to a wired connection with a type-c cable. Enjoy the freedom of being wireless while still not compromising performance by going wired.
Abundant Battery
Enjoy the wirelessness longer with the upgraded 2400mAh battery. Allows for usage up to 10 hours.
Made for Gamers
10 key-less(TKL) design with added macro keys and dedicated media keys makes the keyboard ultra-compact and portable. Saves space in any setup and ideal for minimalistic desk setups. Included wrist-rest supports the wrist during long gaming marathons and clips to the keyboard with magnets.
Linear Red Switches
Equipped with OUTEMU Red Linear switches. 40cN force allows for easy strokes and is light on the fingers. 2mm actuation point allows for fast responsiveness. Great for FPS and MOBAs.
Programmable Macros
Dedicated macro-keys are easily programmable. Macro can range from just one key to several keys. 5 macros close to WASD for easy access and 5 more on the top allows for 10 different and unique macros.
Professional Software
Use the software to make some unique macros on your keys. Complex and cool combo can be activated with just only one click.
Dual Wireless/Wired Modes
Easy to choose the wired or 2.4G wireless mode just via a type-c cable. Working and typing wireless or gaming and entertaining with wired mode.
RGB Side Lights
In addition to the 18 RGB modes for the main keys, there are 5 modes of RGB side edge lighting. Angled down and to the side, they will dazzle up your desktop!
Gaming Keyboards Comparison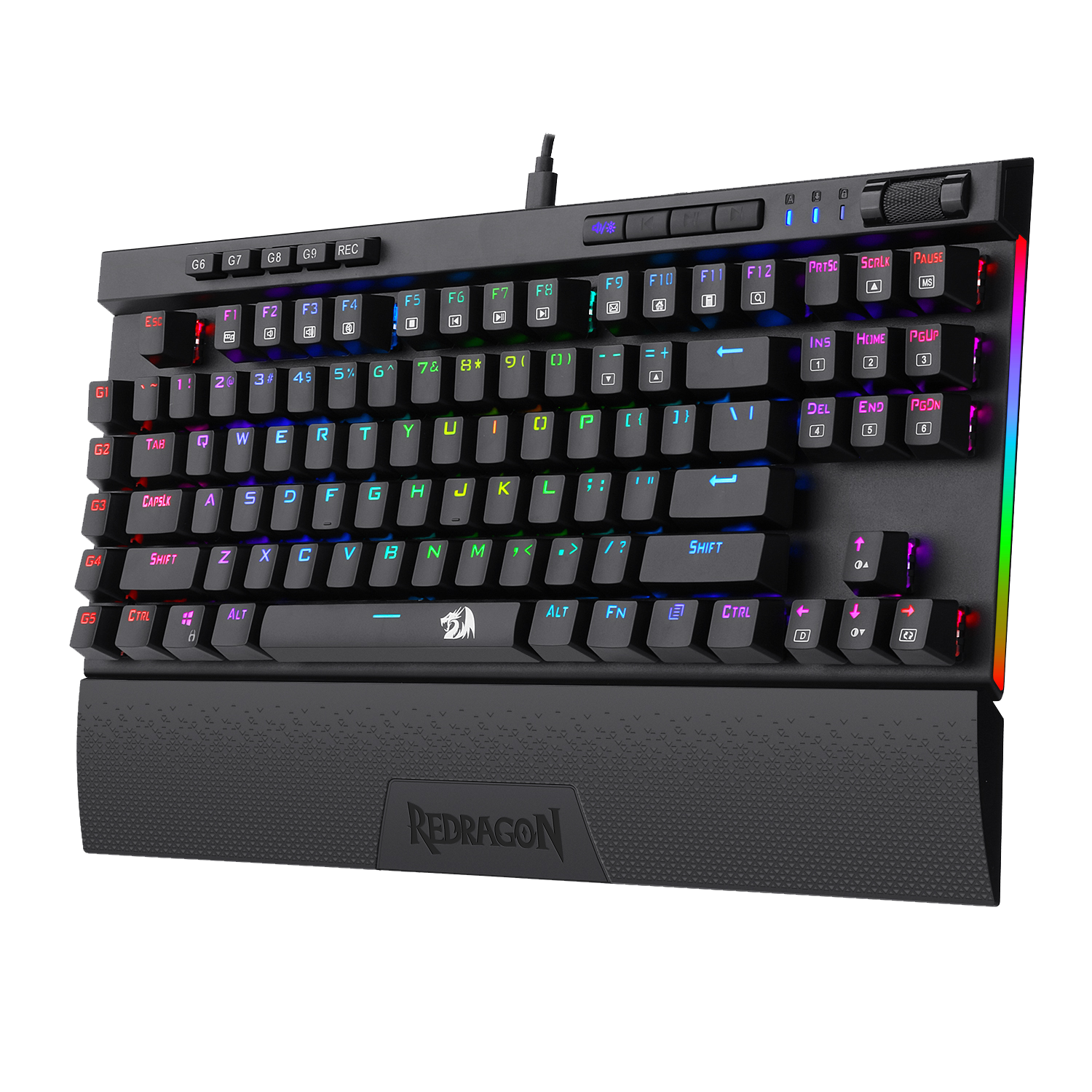 K596
Switch Type
Connection
Key Force
Keystroke Lifespan
Wrist Rest
Software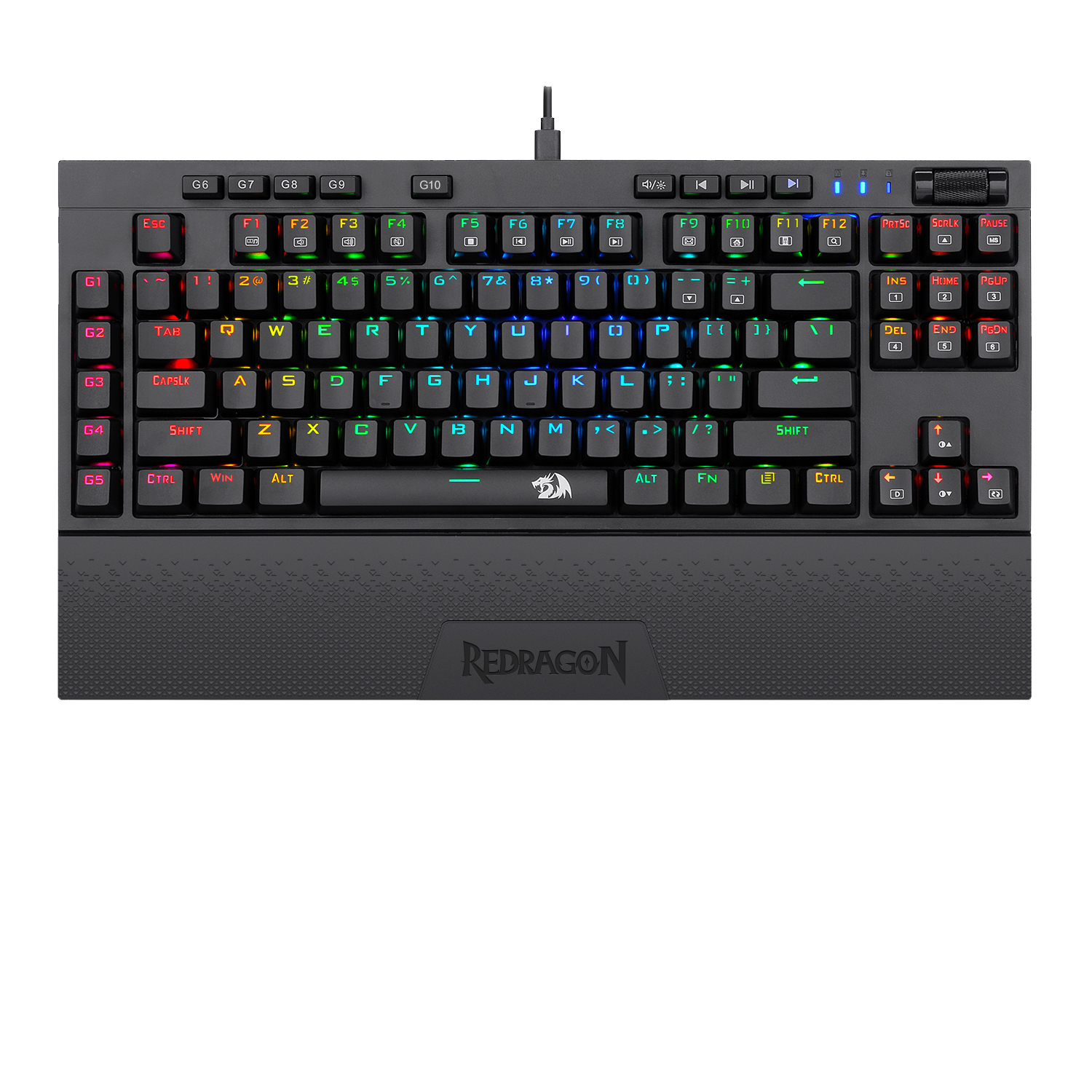 K596-Wireless
Switch Type
General Mechanical RedSwitch
Connection
2.4G and Wired
Key Force
60g
Keystroke Lifespan
50 Million
Wrist Rest
✓
Software
✓
Choose the keyboard switch that's right for you
Outemu Red
Outemu Blue
Outemu Brown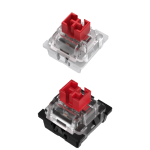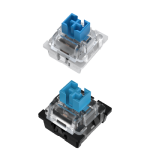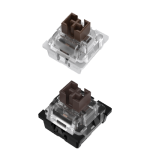 Operation Style
Linear
Clicky
Tactile
Operating Force
40g
60g
55g
Actuation Point
2.0mm
2.3mm
2.0mm
Total Travel Distance
4.0mm
4.0mm
4.0mm
Life Span (Keystrokes)
50 million
50 million
50 million
Sound Level
Quiet
Clicky
Gentle
Suitable For
Office/Gaming
Typist
Midway (Office/Gaming)
Specifications
Features
87 keys TKL compact layout
Keyboard with dongle
2400 mAh Battery
10 Onboard Macro Keys & Wrist Rest
10H Play Time
Linear Red Switches
Design
Dimensions (including wrist rest)
218 (L) x 386 (W) x 42 (H) mm
Weight
1.26 kg / 2.78 lbs.
Switches
Outemu Red RGB mechanical switches
Wrist Rest
Yes, detachable
Anti-ghosting
Full N-Key rollover USB and 2.4 GHz
Media Keys
Dedicated volume and media playback controls
Backlighting
Yes, 16.8 M per-key RGB lighting
Connector
Wired or 2.4G wireless mode just via a type-c cable
Package Included
1 x Redragon K596 TKL Wired/Wireless Mechanical Gaming Keyboard
1 x Detachable USB Type-C Cable
1 x User Manual
Compare with other Redragon keyboards here.
Reviews
Awards and Reviews
"Best Budget Wireless Gaming Keyboard"
READ FULL REVIEW

Reviews
VISHNU K596 Wireless Keyboard
A Welcomed Addition
I didn't know what to expect at first when receiving this keyboard as I'm used to 100% keyboards, but I really like how it performs for me. The program used for it is helpful as well, so you don't have to remember the function commands. It also has good weight to it as well. The scroll wheel in the right corner is my favorite feature of it no doubt. The magnetized wrist rest is very strong too so you won't have to worry about it accidently slipping off with minimal effort.
All-in-all, it's a very welcome addition to my setup.
Nice
Personally I've used this keyboard for a long time, now and I really like it very nice and I do like the lack of a numpad gives me more room to work with, the only thing I don't like is whatever the key with the paper icon is, cause I'd constantly press that key when I never wanted to, so I just removed it but other than that this is a really nice very customizable keyboard, highly recommend.
At first I didn't really like the OUTEMU Red Linear switches. Once I got used to them I love'm! This is a great keyboard for the price. So far no complaints.
The 1st thing I noticed is that the outer shell of the keyboard is made of plastic and it looks pretty basic, however when you pick it up you immediately feel the weight and that it is sturdy and solid, meaning it won't break easy. While you hold it in your hands without the keyboard touching any surface when you hit the keys you very clearly hear a sound as if you were tapping on a metal surface. This made me really sad because the sound was not nice at all, but after I put it down on my desk I started pressing the keys that metallic reduced alot to the point that while i was playing or doing something I could barelly hear the metallic sound. The only way for me to notice it is if I am activelly trying to listen to it or if I am typing in complete silence. This means that since I am constantly using headphones or earing music I never get to notice the metal sound. One thing I am not a fan are the media and macro buttons that work and feel very well for non mechanical switches but after you get used to mechanical switches everything else feels like a downgrade. The volume wheel feels great to use (it feels heavy and sturdy) and allows me to change the sound volume as fast or as slow as I want. One thing I don't like is the fact that the macro buttons when active are always green and that the media buttons are always red, it would be better if I could program the colors like the rest of the keyboard. The wrist rest feels cheap when you look and when you pick it up but that felling quickly goes away when you use it, the magnetic clamps are very strong (you can hold the keyboard in the air with them) and the textured surface doesn't bother me at all. Using it in the wireless mode the battery lasted for 5 days with at least 8 hours of use everyday. The connection was always stable and I never felt the slightest lag while using it, but I have to say I've only tested it 30 cm apart from the usb dongle. The side lights are good to have but I turned them off because I barely noticed them. There lights work as expected and there are a ton configurations that you can explore and use. The software only works in wired mode but it is very easy and intuitive to use. It would be good if there was a batery indicator apart from a blicking red light that lets you know you need to plug it in to recharge. The overall feel of the keyboard is excellent, I am very happy to have bought. All my complaints are minor ones that don't affect the overall quality of the keyboard. With all this features, TKL, macros and media keys for this price it is the best buy you can make. I
Download